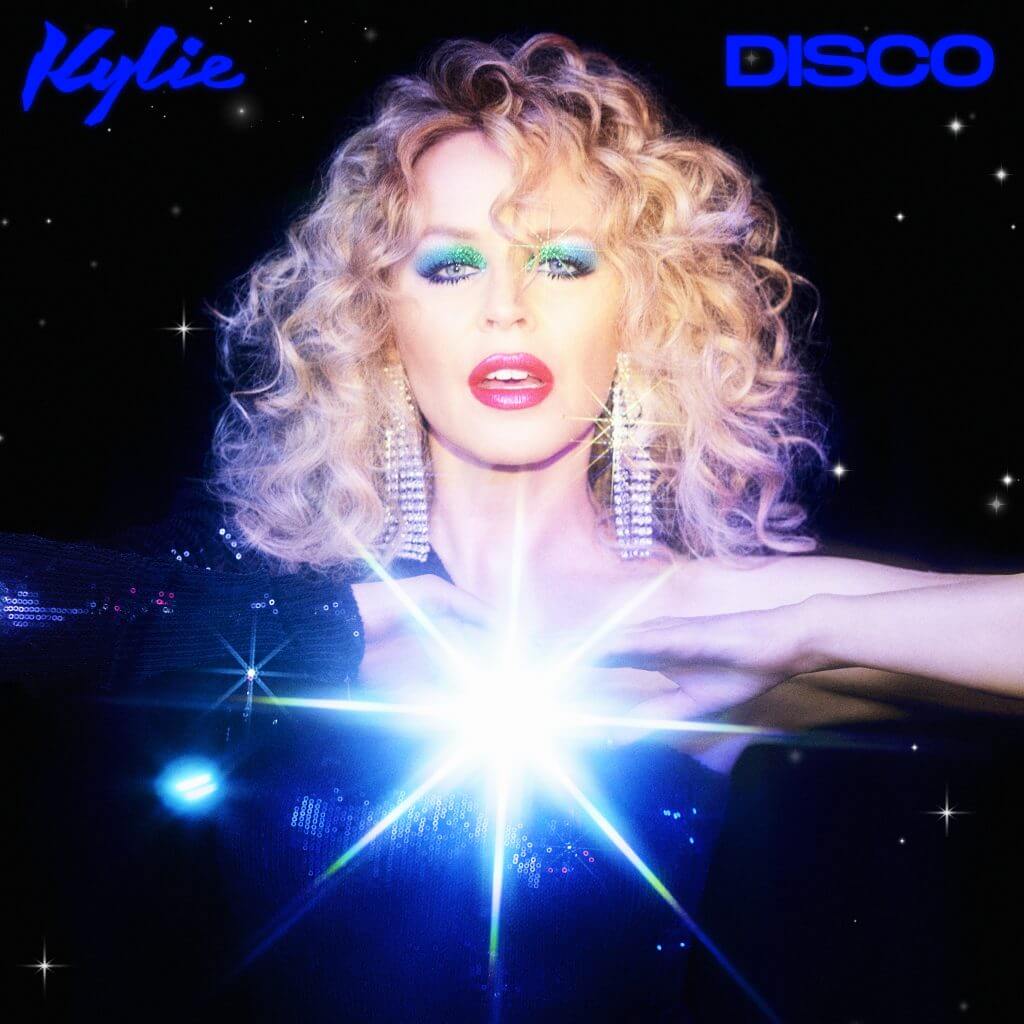 "Dancе through the darkness, togethеr eternally…"
An intergalactic phenomenon occurred on social media this past week – at least, in certain circles of Gay, Political and/or Stan Twitter™.
In a feed almost exclusively dominated by hopes, fears and outrage from an anxious world awaiting the results of the United States presidential election, every now and then, a brief transmission from outer space twinkled in between the number crunching, "legal ballots" and blue and red-filled maps: it was Kylie, blissfully crooning away, inviting us to come into her world once more.
Kylie Minogue performing on GMA with election results scrolling by underneath is fully sending me, we really won today. pic.twitter.com/j5Tbsfuh8h

— Joey Nolfi (@joeynolfi) November 6, 2020
Disco, released on Friday (November 6), could be considered the worst-timed album of Kylie Minogue's career: not only does it arrive amid a pandemic that's physically kept us from entering into any disco, but in the same week as the world at large watched America struggle to uphold democracy itself in the grips of a petulant, unhinged cult leader.
Kind of a weird time to cut loose, to say the least.
"There was a point during lockdown and during all of that where I guess maybe the album was kind of finished. And I did question, what does this mean? What's the point? There's so much happening in the world and there's no discos open. But the main question that kind of reassured me to keep going was, 'What will I achieve if I don't release it?' And the answer, that's really easy, was absolutely nothing. So we stuck with Disco," Kylie told NPR of the making of her new record.
At the same time, the Art of the Glittery Escape is what Kylie does best, and perhaps more than any other pop star: she is a manifestation of joy, the personification of a reassuring smile, and the music always follows suit.
Kylie's delivered the finer feelings as an endlessly reliable dance-pop diva for well over three decades in the form of an endless array of euphoria-inducing smash hits, from "I Should Be So Lucky" to "Better the Devil You Know" to "Spinning Around" to "Can't Get You Out of My Head" to "I Believe in You" to "All the Lovers" and well beyond. Her discography, like a pure white diamond, shines on and on and on. She's got too many smashes (and maybe a few too many greatest hits collections), and every day is another anniversary of something major in her catalog.
But with Disco, Kylie's made it abundantly clear that she's got no intention of skipping a beat and slowing down anytime soon. In fact, it's one of her fastest albums to date.
Two years ago, her country-tinged Nashville foray Golden found Kylie doing her best Dolly Parton drag and recalibrating musically – a moment she needed to process a breakup, reflect on life and reignite her passion. But by the time she hit the road to tour the album, the "Your Disco Needs You" crooner already had her sights set on the dance floor yet again.
"The album Golden was more introspective, dealing with stuff…I'm always cautious to say it wasn't a breakup album…I was reclaiming my sense of self," she told Zane Lowe.
"I did the Golden Tour…the final section of the show was Studio 54, and it was our fantasy version of what it might be like…and it was just the coolest place to be. All the dancers had characters. We had Elton John there…a version of Grace Jones, Andy Warhol…I knew then, even though I was promoting Golden album, that this was a really nice place to be."
Following her headlining set in the Legends slot at Glastonbury in 2019 – the festival's most-watched set of all time, which she considers to be the "wipe the slate clean" moment in her career, Kylie got to work on her fifteenth record. She recruited a small group of tried-and-true collaborators, including the legendary Biff Stannard and Sky Adams, plus a few new faces – emphasis on just their faces.
By the time the album was taking shape, the (first) lockdown was already in motion in March in the United Kingdom (and much of the rest of the world), requiring Kylie to engineer the vocals herself, write with her collaborators over Zoom, and record in her living room with an old microphone, YouTube tutorials and GarageBand.
"I just felt, if kids are doing this — making albums in their bedroom — then, come on, Minogue, you've got to be able to do this," she explained to the New York Times.
As a result, at least nine songs from the album came directly from Kylie's living room, as well as the four deluxe tracks.
"I joked when we were working on the album, I said to the people I was working with, 'I'm going to need an engineer credit for this.' I said it as a bit of a throwaway thing, then by the end of the album I thought, 'I'm totally getting an additional engineer credit!' I did all the plugging together and stressed about it," she told The Sun.
The story of Disco, then, is also very much the (ongoing) story of the pandemic, as with many of the other best records released in 2020, and that comes across in the album experience – even when it wasn't always intentional.
"Say Something" kicked off the campaign in July, and proved to be an accidentally profound first step in the campaign.
The intergalactic dream of being less socially distanced one day perfectly captured the wistful mood, though it was penned well before there was ever talk of COVID-19. But fate found Kylie singing those moving words in a different way in 2020 – "we're a million miles apart in a thousand ways" – resulting in a song that will stand the time as a time capsule of the present moment, and one of her newest classics.
"Say Something" is also the most overt "message" song on Disco, an otherwise unrelenting flurry of DJs, dance floors and real grooves that doesn't seek to do anything other than provide the nostalgia and instantly feel-good vibe that the very literal title invokes.
Throughout the album and its accompanying visuals are myriad nods to Studio 54 and the sights and sounds from the heyday of disco. She captured that energy in the horse-mounted explosion of glitter of the "Say Something" video, and again, disco stick in hand, at Fabric nightclub for the intimate and camp, Xanadu-like video for follow-up single "Magic," a Katy Perry "Chained to the Rhythm"-recalling, horn-filled, twinkling wink-wink of an invitation out onto the (hypothetical) dance floor.
"Do you believe in magic? Do you? Do you? Do you?" she coos.
"'Magic' is a kind of hors d'oeuvre for the album. The main course will be coming in a while—and leave space because there is going to be tiramisu. It feels classic, grown-up, and polished, but there's still an element of surprise with the falsetto notes," she explained to Apple Music.
The hits on Disco are fast and frequent, including "Real Groove," a kind of Reverse-"Really Don't Like U"-Warholian Experience, in which Kylie's quite confidently aware she's got no competition in the room – a very "She's Not Me" Madonna kind of lyrical energy.
"I saw you dancing with somebody, looking like me and you / She know how to party, but nothing like me and you," she sasses on the track, which is surely the best "Groove" since Victoria Beckham's own.
As Disco is, of course, rooted in the past, Kylie supplies ample nods to beloved musical blueprints who've paved the way before her, including the ABBA and Bee Gees-inspired "Last Chance."
"I can't compare with these all-time epic, amazing songs. So what I tried to do was absorb them, try to understand them and then just stay on my own path," Kylie explained.
"This is the last chance for the first dance," she warns on the last call anthem, a wildly fun and frantic falsetto plea before the bar turns on the lights and everyone crawls back home. (Also, a bonus point for the line "let's make some magic, supercalifragilistic love.")
Elsewhere, she's directly name-dropping the disco classics: "Now I'm leaving behind all the stress in my mind, singing 'I Will Survive,'" she cries out on the brilliant "Where Does the DJ Go," which is an absolute highlight.
The track feels like the embodiment of Disco, and a distant cousin to almighty Light Years call-to-arms "Your Disco Needs You": the Gloria Gaynor reference, the strings, the Chic-style grooving, the Donna Summer "No More Tears (Enough Is Enough)"-style dramatic intro, the appropriately topical absence of the DJ, the desperate holding out for a hero. It's all here.
"The world's trying to break me / I need you to save me!" she pleads on the track, which bursts with all the nervous energy of the last night out before lockdown.
While she's done disco throughout her career ("Step Back in Time"!), Disco is most spiritually connected to 2000's Light Years ("Your Disco Needs You," duh) and 2001's Fever, a la "More More More."
The alluring standout "Miss a Thing," however, supplies all the lusty, breathy energy of Body Language's "Chocolate." (Plus, the way she repeatedly purrs the word "Slow" – a most intended reference!) There are so many deliciously lusty moans above the intoxicating strings on the song, you'd never know she was actually near tears while recording the tune at home alone.
"I was due to fly to LA in March and work on it with on of the key writers, [Finnish songwriter] Teemu Brunila. Then of course lockdown happened so we ended up working remotely. I had a meltdown one day with him. I was trying to do this vocal and I was so exhausted, and stressed, I couldn't. I felt like I was failing him and me. I didn't go to the full cry, but I came close. All this, and yet we've never met. I can't wait to give him a hug when we finally can," she revealed to Apple Music.
That's the thing about Disco: despite all the escapist joy, there's still a hint of an uncertainty, and a frustrated desire to get out and move lingering just below the surface. It might all play like breezy dance tunes, and perhaps would come across that way in a pre-pandemic world, but in 2020, there's a certain desire for a life lived not too long ago in these songs, recorded largely alone in her duvet fort of an at-home studio.
"There really is some correlation that I'm just discovering, or being forced to look at, [with] where disco began. You know, people needed to find a place of expression and belonging, and disco lights shine out of the darkness. That's kind of what we're going through at the minute. I'm finding some kind of bridge," she told NPR.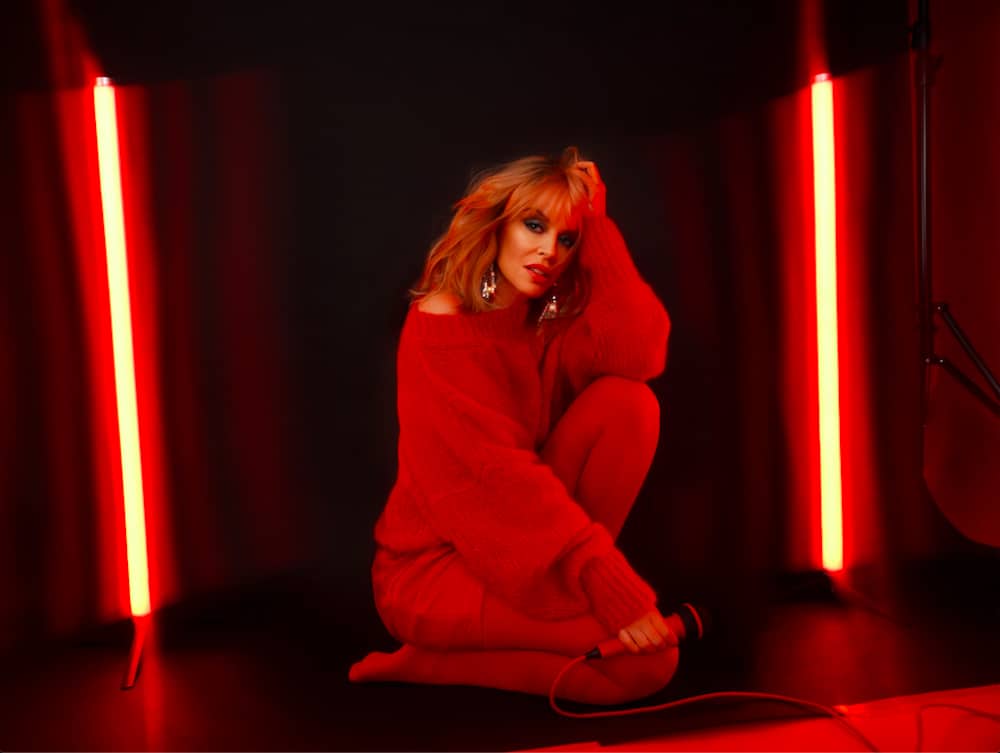 She drifts into a more lush, '80s state of mind on the dreamy "Dance Floor Darling," which conjures the earnest, E•MO•TION-al energy of Carly Rae Jepsen, dropping loving references to Studio 54 while doing the Electric Slide. Boogie woogie, woogie!
Before getting too comfortable in the established groove however, the BPM suddenly kicks up two-and-a-half minutes in, like an abrupt decision made by the DJ to bump up the energy in the room.
"So what you waiting for? Get up on the floor," she demands as the track spirals into a euphoric ending of Daft Punk-like vocoded bliss.
Disco is also largely space-age camp, with plenty of silly lyricism about outer space, which is, and always has been, a constant in Kylie's music, from traveling light years, to the stars coming out and filling up the sky, to getting cosmic in the stars. The poppers rush of "Supernova," an X-adjacent surge of strings and interplanetary grooving is another stellar, immediately addictive blast-off to add to the list.
"Shining like a supernova, brightest of the stars / From another galaxy, like Jupiter and Mars" a robot voice declares as Kylie shimmies and takes off through the sky, delivering some especially fabulous high notes along the way. When will Neil Armstrong? (No one tell her Jupiter and Mars are still in our galaxy, it's fine.)
"I was like a lonely star at night, waiting for someone to share the light," she croons on the hypnotic, immediately replay-friendly "I Love It," another dreamy, on-the-nose bout of disco strings and sexy bass.
"I was thinking about dimensions of stars and star fields and galaxies — I keep going back to that. I think the attraction there is it's endless, these stars can seemingly burn forever. And of course, none of them do. You know, it's all a bit existential, and I think that's why I latch onto it and try to tap into those thoughts," she explained to NPR of her galaxy brain.
If there's any (relative) lowlight on Disco, it's "Monday Blues," which plays like a too-chipper Monday morning alarm clock.
"Come on!" she urges, shaking us awake before excitedly rattling off the days of the week across urgent horn blasts. It's a bit too up, in the way that "Better Than Today" sticks out on Aphrodite, and could have easily traded places with the deluxe edition offerings, including "Hey Lonely," or sexy summer night groove "Till You Love Somebody," or the super silly "Fine Wine." (Speaking of Kylie Wine is out now.)
Looking for a place to take a breather on Disco? Better make that bathroom run quick: the album, as a whole, is fairly unrelenting – if a little too fast. The record could have absolutely benefitted from some extended intros and outros, or even, yes, a non-stop mix version, a la Confessions on a Dance Floor, especially given that it's meant to be an homage to an era when Donna Summer moaned "I Feel Love" past 8 minutes with ease.
Aside from the brief break from "Supernova" into "Say Something," the album's only comedown moment is final track (on the standard edition, anyway) "Celebrate You," her unbelievably sweet ode to a fictional Mary – or, perhaps, her audience at home – "Queens and fairies, and muscle Marys" anyone?
"I've never written a song in the third person before. The character of Mary was born out of mumble-singing melodies. Mary is anyone and everyone needs reassurance that we are enough and we are loved. The last part of the album has a pretty high BPM, so 'Celebrate You' is the wind-down. It's last orders at the pub – all of the family's there, and Auntie Mary's had a few too many. I've introduced you to this stellar landscape, we've gone to supernova, but we've come back down to Earth. This is about heart and connection," Kylie explained to Apple Music.
That shimmering chorus is one of Kylie's most endearing, and the embodiment of her Showgirl spirit.
"Everything I like about myself is better with you / Scream it to the world like what the hell, I celebrate you." Those final, sweeping coos – "I celebrate you-u-u-uuuu" – will make for such a tear-filled moment live one day, in the round, under a disco ball in the darkness, just as she said she dreams of doing for a Disco tour one day.
While the actual genre is having its moment in the sun once again in this year's best records in varying flavors – Dua Lipa's Future Nostalgia, Jessie Ware's What's Your Pleasure?, Lady Gaga's Chromatica and Róisín Murphy's Róisín Machine, among others – Kylie has been our disco queen for (light) years already.
Sure, she's had her fair share of experimental turns off the road over the years – from "Where the Wild Roses Grow" to "GBI" Impossible Princess to Golden – she's never, ever actually strayed too far from the mirrorball for long: Disco is where the heart is, which is why the album feels so immediately Kylie.
And while Golden wasn't exactly everyone's cup of whiskey, and Kiss Me Once proved to be an unfocused but enjoyable (and unjustly maligned!) offering of flirty pop fun, Disco feels like the first start-to-finish victory lap on the dance floor for Kylie since 2010's impeccable Aphrodite, squeezing in effortlessly somewhere between Light Years, Fever and X. More impressive is that she even managed to muster the can-do attitude – and her way around a microphone, Zoom calls and YouTube lessons – to craft her own cosmic disco in a way she's never had to do before, knowing full well that no one would even be able to dance to this record when it was done.
So sure, the timing of Disco couldn't have been worse. Or is it? Mere hours after its release, the at-home hopefulness of Disco already started to hit different.
Much like "Say Something" accidentally soundtracked a socially distanced world mid-pandemic, the sound of Disco will now forever be associated with the toppling of an unhinged force of evil and the promise of a better, kinder future. There's plenty of work to be done, but as we dance and smile in a collective sigh of relief, our "I Believe in You" goddess of pop and Mighty Aphrodite arrives just in time to join the celebration with her healing energy.
"I think disco is a place of expression and a place of losing yourself or finding yourself. When you shine a light on a mirror ball, the light is infinite. It colours you and it affects your being in that moment of time. And the night might not last forever, but I think the notion of disco as a place of escape and abandon is something that most of us have got somewhere within us," Kylie said upon the album's release.
Make no mistake, however: as much as our disco will always need her, now more than ever, the feeling is absolutely mutual.
"It's hard to dig deep and stay positive. And I had a moment like that, during the first lockdown where I had to confess to someone else that I was struggling. And actually, if I wasn't able to work on the album, I perhaps would have gone the other way," she revealed to the BBC.
Already, the mission statement of the record has come to life in an incredible way: just one day after the album's release, Kylie appeared in front of all of us – virtually, anyway – in an all-too-brief spectacular, Infinite Disco, a 50-minute concert featuring entirely new, stunning mixes of album tracks and classics from the vault alongside longtime musical director, Steve Anderson.
The tight set included jaw-dropping surprise after surprise for longtime fans: a pulsating new mix of "In Your Eyes," "Supernova" sandwiched in between "Light Years" (twenty years later, we're still flying KM Air!), the latest "Slow" reinvention, her most versatile song, now with a gasp-worthy "Love to Love You" breakdown, "All the Lovers," "Love at First Sight" – even a few cheeky, fleeting lines of "Come Into My World" and "I Should Be So Lucky."
As the hour flew by, so did the bulk of Disco, which slid into the setlist as though it's lived in her discography for years already, enhanced by sleek laser lights, cosmic projections and '70s-style lit dance floors, dancers in tight formations (and tighter clothes), and the voices of the incredible House Gospel Choir. She sounded truly incredible while sashaying around the stage in her chic golden ensemble (those "Supernova" high notes!), living it up on the galactic dance floor somewhere far, far away. For now, anyway.
As she crooned that chill-inducing plea over and over – "love is love, it never ends, can we all be as one again?" – the choir carried the hopeful message up to the rafters and beyond, far, far into the heavens above. A holy experience and a crucial, celebratory escape, on top of an already overwhelming and historic day – in a good way, for once. Tears abound.
Disco couldn't have come at a better time.





Disco was released on November 6, and is available in CD and vinyl formats.
This album is featured on the MuuTunes Spotify playlist. Subscribe!
You can also subscribe to MuuTunes on Apple Music.
Photo credit: Simon Emmett / BMG UK