"Are you ready to die? / Got my Shinigami eyes on…"
Well, it's about damn time.
Our favorite Canadian sword-wielding cyber-fairy-space-princess Grimes is back on Wednesday (January 26) – not without a battle – with her brand new single from forthcoming EP Fairies Cum First, a prelude to her album Book 1, "Shinigami Eyes."
It's not exactly new to fans: in fact, she first teased a tantalizing taste of the track showing off her lightsaber skills in the pool almost a year ago, and a snippet of the song lingered in the "Music" section on Instagram Story for months.
However, she…didn't want to release it as The Single. At first, anyway.
"The reason is I was teasing it so long, I was getting in a fight with everybody about which songs are first. I have a problem where I always fight the single, even 'Oblivion' and 'Genesis' back in the day," she said during an Instagram Live session. "I always want to put out my weird songs. This is just the classic Grimes…rigamarole."
Luckily, bullying works (not actual bullying, please do not bully Grimes), which is why fan demand and label pressure eventually convinced her to bring out the track at last.
The Death Note-inspired track is full of signature Grimes-style vocoded angelic goodness drizzled on top of throbbing beats and an ominous undercurrent, co-produced with Illangelo, who also worked on melancholy trance anthem "Player of Games."
For the uninitiated, Death Note is a popular anime from the mid '00s, very generally about a high school student named Light Yagami who discovers a notebook, called a Death Note, that allows him to kill by writing someone's name in the book, gradually thrusting society into absolute chaos. (Basically, a burn book gone very wrong.)
Shinigamis, or Gods of Death, are a race of beings in the series that extend their lives by killing humans using the Death Note. If a human makes contact with a Death Note, the human obtains the power to kill. A human can make a deal with the Shinigami to obtain the power of Shinigami eyes, which allows them to see other people's names and remaining lifespans. The cost for the eyes is half of the human's remaining life. (I know, it's a lot of lore – I recommend giving the series a watch on Netflix. It's good.)
As a result, "Shinigami Eyes" is broadly about wielding an all-seeing, all-knowing destructive power, like the Shinigami entering the human world. And, fittingly, the menacing track is all about being in full control and calling the shots. ("We do what I like / Always what I like / Baby, it's a fine time / Shinigami prime time…and you can't say no.")
The concept is further demonstrated in the accompanying visual buffet of a music video, directed by Brthr.
"The music video is about this all-powerful AI who's masquerading as the best pop star of all time, who can alter time and space and has unlimited power and has control of the simulation," Grimes further explained on her IG Live.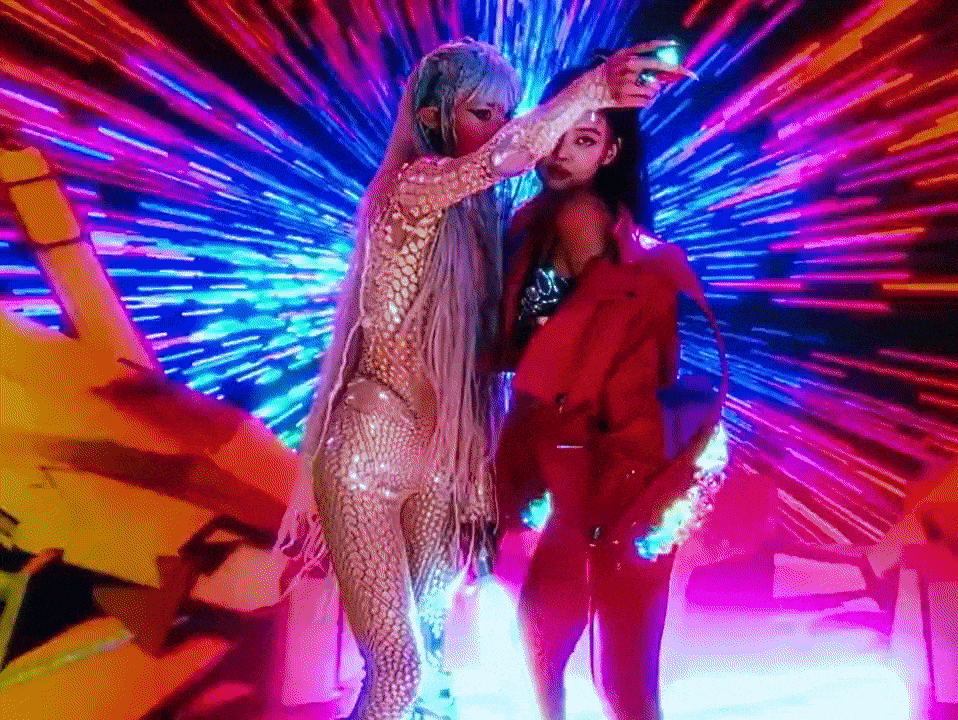 The clip also casually features BLACKPINK's Jennie (!) looking gorgeous as ever while supplying her best virtual world-traversing bad ass presence, as well as Dorian Electra and artist Ryon Wu.
The music video was also sort of done on the fly: the scenes were shot on something called an XR stage, where the effects are rendering live in the camera. Grimes explained on her Instagram Live that they were figuring out how to make it look good in realtime, and that half of the effects were effectively experiments while learning the technology on the spot.
It's all extremely cool, and one big, bright, chaotic, video game-like sensory overload, similar to the metallic sheen and metaverse-ready futuristic style of aespa, and feels like the natural progression from the medieval-meets-virtual world Grimes has been building out, even prior to Book 1, with Miss Anthropocene's "Violence" through to "Player of Games."
Grimes' trajectory over the past decade – especially in the past three or four years – has been fascinating to watch. While finding her footing as an increasingly public persona (something she's been openly uncomfortable about online), she's also been pushing her visuals to new pop star heights, supplying vibrant looks and choreography and indulging in all of her ultimate nerdy fantasies while pondering the future of music and AI and technology. And radical utopia.
Throughout all of this, the music truly has not faltered. In fact, musically and visually speaking, this current era is already hitting as one of 2022's early highlights.
Book 1 remains one of the year's most anticipated records, and the wait isn't getting any easier. If only we had the Shinigami eyes to know exactly when it's coming…