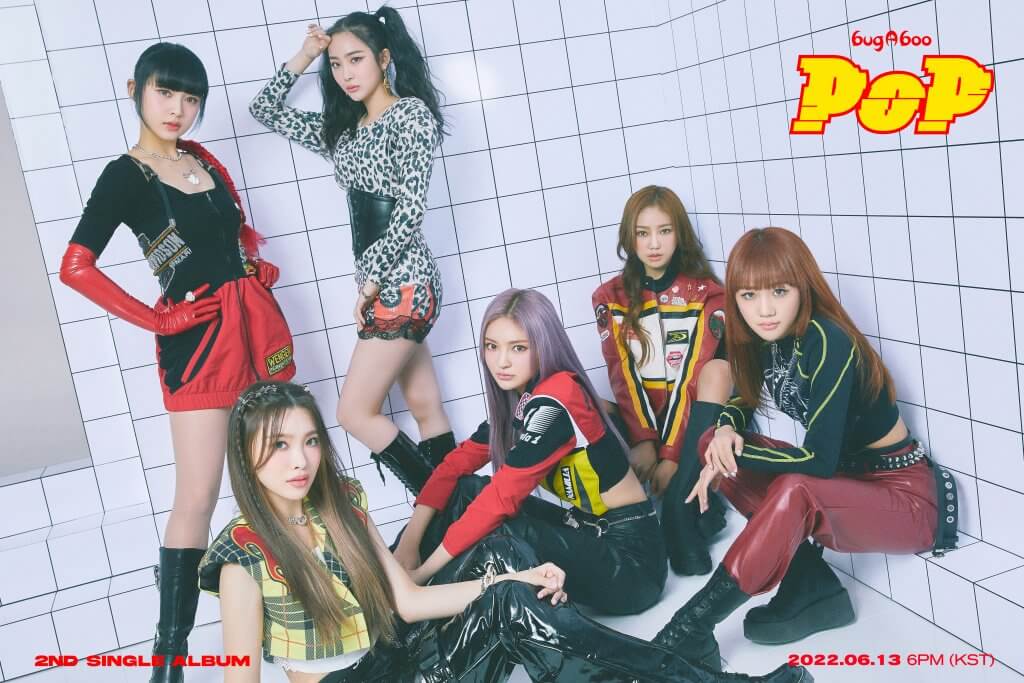 "Break it out, bang it down…"
There once was a talented troupe of Children of Destiny who declared: "I wanna put your number on the call block, have AOL make my email stop, 'cause you a bugaboo."
One rising girl group out of South Korea is now also taking a stand against the frightful bugaboo – and they're determined to conquer their fears once and for all.
In a sea of singing and dancing troupes, bugAboo is one of the rookie groups on the K-pop scene to watch: the cross-cultural A Team Entertainment six-member group – made up of members CHOYEON, EUNCHAE, YOONA, RAINIE, CYAN and ZIN – hails from Taiwan, Japan and South Korea, and features a handful of familiar faces who've already appeared as hopeful trainees on survival shows, like Produce 48.
The girls made their official debut back in October of last year with their self-titled banger "bugAboo" – yes, that's "bugAboo" by bugAboo, which is just good marketing – armed with an appropriately spooky-themed music video that found the newly debuted members hunting down their traumas in the form of ghosts, just in time for Halloween.
And now, as of this month, they're making their first-ever comeback with "POP."
Fittingly, the boldly-titled track is a burst of in-your-face confident energy, surging through the speakers with "bop, bop, bop, bop"-s and "blah, blah, blah, blah"-s aplenty, co-written with hit-makers Melanie Fontana and Jon Asher, who also wrote Britney's "Mood Ring" together.
The accompanying music video finds the girls triumphing over their fears once again, featuring choreography from Street Dance Girls Fighter star Harimu, who's danced backup for CL and Jeon Somi.
The group describes the bugAboo mission statement as "being a surprise to the world" while "overcoming a fear of surprises," promising to "stimulate their viewers' imagination and curiosity with their contrast of beauty and creepy elements." They're basically determined to put the boogie monsters of our minds in heels and make them dance to cheery, upbeat pop tunes – and that's a concept I can get behind.
I spoke with bugAboo about their first-ever comeback with "POP," solving girl group disagreements, and their hopes and dreams for future concepts.
How would you describe the vibe or sound of bugAboo to someone who hasn't been introduced to your music yet?
RAINIE: Our title track "POP" shows bugAboo's sweet and unique charm, and it's a very cool song, so I hope you send lots of love to bugAboo!
EUN CHAE: I want to say that bugAboo's vibe is energetic and relaxed, and our song style is definitely focused on high energy. You can feel our energy in every performance, choreography and song.
ZIN: bugAboo sends hopeful messages to people with unique and strong beats!
Your comeback single is called "POP," co-written by some new collaborators for you: songwriters including Melanie Fontana, Jon Asher and Lindgren. They've all done some really huge K-pop hits. What was it like to record the track, and why was it picked as the comeback song?
YOONA: When we were recording "POP," it was challenging at first because I was trying too hard to perfect it. But as time passed, I got to blend in with the song and eventually had lots of fun while recording it. When we first heard the track, we could imagine ourselves singing and dancing to this song and showing our fans how much fun we have, so we chose this song as the title track.
CYAN: We studied and shared feedback among the members during our vocal training and practice session. I had a lot of fun recording the track! The main reason why we came back with "POP" is that it is a bubbly, refreshing summer song.
CHO YEON: For me, the most challenging vocal technique is singing high notes. I had a bit of a hard time when recording "POP" because most of my parts required singing high notes. Originally, "POP" was a candidate for our debut track, but we decided to save this track for later. I'm glad we finally have a comeback with such an amazing song and we're able to share this song with everyone.
Can you explain the meaning of the lyrics, and also what it means to you?
RAINIE: The lyrics represent our confidence and each member's unique color.
CHO YEON: "POP" has an image of popping candy. A popping candy is sweet yet it has sparkling or tangy texture, and it represents our two sides of being super sweet and not so sweet.
ZIN: "POP" gives sweet yet chilling vibe which correlates with bugAboo's multiple sides.
You told a ghost-hunting story with your first music video. What can you tell us about the idea behind the "POP" music video?
CYAN: In our first music video, we started in the "bug" world and ended up defeating our trauma in the "boo" world. For the "POP" music video, we are having a festival because we're happy to finally defeat our trauma.
CHO YEON: In the "POP" music video, we show the multiple sides of the group that explains our universe. We also continue to break down the fear in us in the music video.
YOONA: In this music video, we have a unique power; CHO YEON breaks trauma with a baseball bat, CYAN fights with a gun, RAINIE punches, EUN CHAE uses her cell phone to capture the moment, ZIN can create a shield, and I can stop time!
It's a single album, which means we have another track to look forward to as well: "Easy Move." Can you tell us more about that song?
RAINIE: It has a message of holding hands, not worrying about a thing, and getting over any challenge or difficulty on our mind.
EUN CHAE: The B-track "Easy Move" tells a story of bugAboo getting out of the way and looking for new answers, and it represents our unlimited possibilities.
ZIN: Compared to "POP" it is a mellow and dreamy song, but it tells a powerful message.
This is your first comeback since your debut. Did preparing feel different than your debut? Do you feel more confident, or is there even more pressure?
YOONA: I think I was nervous because we wanted to show how much we've improved to people who love us and we also wanted to promote bugAboo to more people. But since this is not our debut album and we already had some experience now, we can show what we prepared with more confidence.
CHO YEON: We had a quite long hiatus after the debut, so I had some concerns and questions on my mind about how to present what we've prepared for the seven months. We definitely practiced harder to ease the nervousness!
CYAN: I think we got more confident and relaxed compared to our debut. We now know how to synchronize ourselves and how to find cameras, so we prepared the album with more confidence!
What's something you learned about being a pop star/girl group that you didn't realize or know before your debut?
RAINIE: Now that I'm an idol and getting so much love from our fans, I'm just happy and fans always motivate me to work harder.
EUN CHAE: I didn't know anything about broadcast stations or music shows. I didn't have much knowledge about rehearsals and I only saw waiting rooms for programs on TV. When we actually visited broadcast stations, I learned that we go through multiple rehearsals for one show and that there are waiting room etiquettes because we often share the room with other idols, including senior artists. There is still so much more to learn, but when we debuted we learned a lot every day so it was very exciting.
ZIN: There is actually not much difference on and off the stage! We have to always behave as idols, even after getting off the stage, for our fans.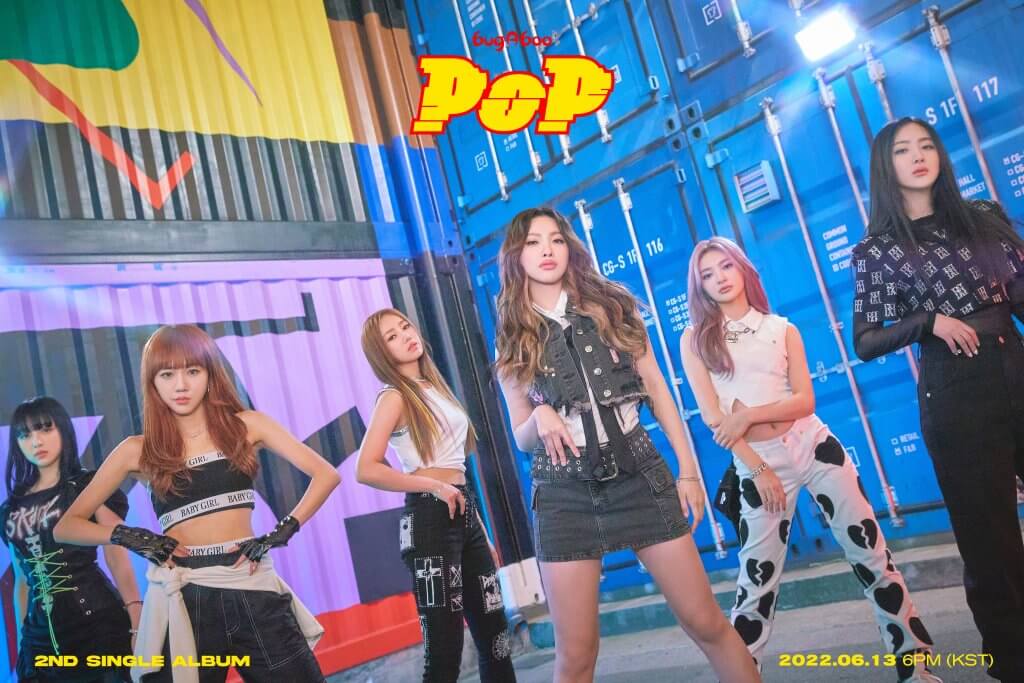 It's not always easy being in a pop group. How do all of the members communicate, and how do you work through creative/personal differences with each other?
YOONA: Our group always tries to talk honestly and solve any issue as soon as possible.
CHO YEON: I personally get over a hard time by talking to our reliable members and by reading letters from RAINBOO. When we have differences in anything, we first speak each other's opinions and listen to them to meet halfway.
CYAN: We regularly hold a family meeting where we talk honestly about complaints or wishes for each other. That's how we solve everything!
You now have an official fanbase name (RAINBOO). What is something memorable that you have experienced from interacting with your fans?
RAINIE: I have so many good memories with RAINBOO, but I think my favorite moment was reading their handwritten letters filled with supportive words. That made me so happy.
EUN CHAE: For our last fan sign event for the debut album, we got quite used to meeting fans and actually felt closer to them. The last fan sign is especially memorable because I was so sad to see all RAINBOOs crying and saying goodbye to us. I can never forget them crying, it broke my heart.
ZIN: I remember every moment of RAINBOO being happy after we perform for them. Especially for this showcase, we could meet them in person for the first time so I'll remember that moment for a long time.
What genres or sounds would you like to explore with your next comebacks?
YOONA: I'd love to try Latin or Jazz music.
CHO YEON: I want to try R&B and hip-hop. I love those genres, so I want to try and show my dancing and singing to many more people.
CYAN: I want to try a very pure style in the future! We've shown more girl crush moments so far, but I want to prove that we can do a pure concept as well!