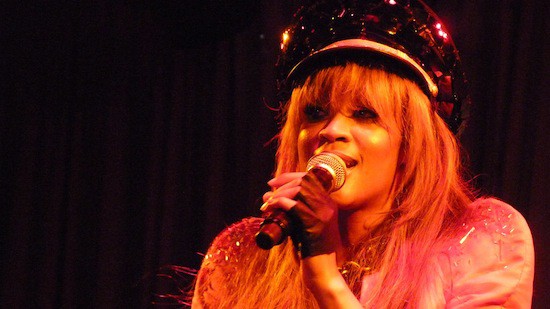 Photo courtesy of Travis Holliday.
Last Friday night, the boys of the fabulous monthly NYC gay party GUMBO took their show on the road–migrating from their usual locale at the Galapagos Art Space in Brooklyn's DUMBO to the Canal Room in Tribeca.
After a spirited opening (and NYC debut!) by electro-pop vixen 21st Century Girl, "Impossible" crooner and Bajan beauty Shontelle hit the stage to tear into some of her biggest hits off of her last two studio albums, Shontelligence and No Gravity.
But prior to her performance that night, the singer was kind enough to spend some time chatting with all three of MuuMuse's contributors–myself, Sam and Alex–before trekking upstairs to hit the stage at around 1:30 A.M.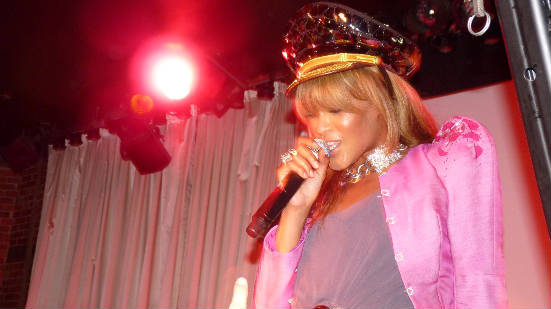 Photo courtesy of Travis Holliday.
Decked out in a seriously fierce mirror ball-bejeweled soldier's hat and a fresh-to-death poofy pink jacket, the Barbadian chanteuse cheerfully tackled our overly eager (and perhaps ever-so-slightly alcohol induced) series of rapid-fire questions, resulting in a deluge of some rather juicy Excluusives along the way.
Once the boys and I stopped buzzing about Shontelle's general ferociousness and probing for details about her wardrobe (we here at MuuMuse always have our priorities in order), we got down to business: The set-list for the night. As we got on the subject of "Say Hello To Goodbye," we asked: Would this be the last song from the No Gravity era?
"I think that will probably be the last one from that album," she said of her latest single. She also confirmed the rumor that a re-release was in the works for No Gravity–that is, until Motown Records folded. "Now I'm on Republic. It's a brand new label, brand new situation, which is probably going to mean a brand new album."
"Actually," she continued with a smile, "we just decided which single is going to be next." And–after all three of us began incessantly demanding the title of the song, she finally caved in: "My new single–look out for it, it's called 'Reflection.' It's coming out soon. You guys are the first people to hear that!"
And how will it sound? "It's not a ballad. I'm not going to be emo on this one–for once!" she joked. "It's like the happy song–it's going to be everybody's happy song, I'm telling you."
Aside from the new single, Shontelle also revealed that she's been spending plenty of time in the studio cooking up brand new tracks. "I've been working with a lot of good people, like Tony Kanal from No Doubt, The Runners…Rockwilder ("Lady Marmalade," "Dirrty"), and a bunch of other people," she explained, noting: "Yeah, this is all fresh. You guys are getting a lot of juice!"
So there you have it, Muusers: A new (non-ballad) single called "Reflection" due out shortly, along with an upcoming studio album with a producer's list that includes Tony Kanal, The Runners and Rockwilder. Not too shabby for a backstage interview, eh?
After the boys and I said hello to our goodbyes and shuffled out, the songstress took to the stage just minutes later to perform several tracks to an energized audience, including "Perfect Nightmare," "T-Shirt," "Say Hello to Goodbye," an acoustic moment of "Battle Cry," "Impossible," and even a good chunk of Rihanna's "Man Down," the song she co-wrote for her Bajan buddy's last studio album, LOUD.
Best of all, however, was when Shontelle returned to the stage for a surprise premiere a brand new track. The song–which I'm going to go ahead and guesstimate is called something along the lines of "Ready To Go"–is a complete and utter club slayer that finds Shontelle shouting out loud against a storming, surging beat. "Just play that fucking music!" she viciously demands in her most boisterous, bossy number to date, as the boys below thrashed and fist pumped all around the stage.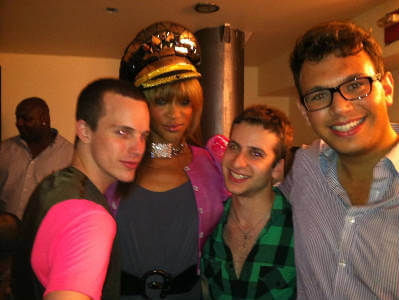 Blurry bliss with Shonteezy.
A major thank you to Ben and Casey, the boys of Outspoken NYC, Team Shontelle and everyone else involved at last week's GUMBO party for yet another fabulous night out!