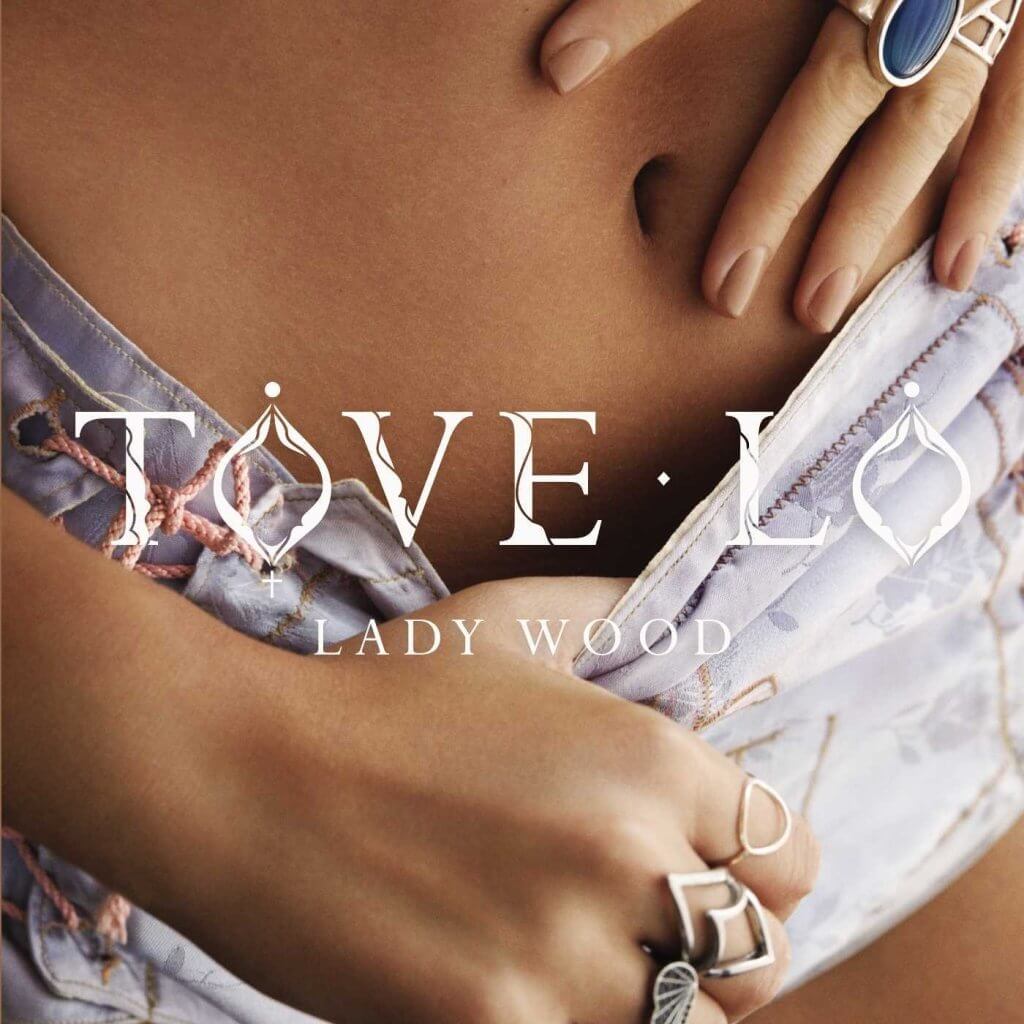 "The world is beautiful, so why don't you feel anything?"
Tove Lo is addicted to the rush.
When she first arrived on American radio waves, she was already high: "Habits (Stay High)," the first Top 5 hit by a Swedish act in America since Ace Of Base's "The Sign" 20 years before, introduced the world to the singer-songwriter with a few chemical vices and a dirty mind. Drugs, sex, self-doubt: a squeaky-clean, empowering pop machine in the midst of an era of sterile #ItGetsBetter anthem-makers, Tove Lo was not.
The album that followed, Queen of The Clouds, a collection of instant mini-aural orgasms built on sweeping choruses and brutally honest lyricism, was easily one of the year's best pop records.
A little over two years have passed. Where's Tove gone? Has she sobered up? Tied it down? Found Jesus? Not quite. In fact, she's living life more recklessly than ever before.
Lady Wood is confrontational. The title alone, and the blatant vaginal/masturbatory imagery on the cover, is hard — in more than one way. As she described during an album preview and in interviews preceding the album's release, Lady Wood isn't meant to actually come across as flippant. There's no real female equivalent to "ballsy" or "cocky," but she's all these things on her thrill-chasing, emotionally volatile 2016 follow-up.
Tove loves telling stories and splitting albums into sections, which she does again on her second go-around in two chapters: "Fairy Dust" and "Fire Fade." As the titles might suggest, the tempo, themes and beats move from thumping euphoria to more muted moments. (Fairy Dust, the accompanying visual, communicates the overall story of Lady Wood even better, like Lana Del Rey's Tropico…and hang on tight until the credits.)
Once again primarily hitting the studio with anonymous Swedish production duo The Struts, Lady Wood maintains the DNA of her debut — the chilly, tribal-like pulsations and distant howls — and stretches it into moodier territory, matching the musical climate while maintaining that undeniable Swede-pop edge. Cuts like the brooding "Influence" and lead single "Cool Girl" simmer and brood under the surface rather than all-out exploding like "Habits" or "Talking Body," but are no less well-crafted.
Title track "Lady Wood" isn't just one of the album's most pulse-raising offerings, but a mission statement for the first half of the record: "I know what people say about you / They say the same about me," Tove declares across the throbbing production — a shadowy underground club anthem for the fucked-up. Later on, the song (and album's) title later slips in during the bridge: "Perfect imperfections with mistakes and unlearned lessons / Yeah, you give me wood / Give me lady wood."
Tove's a cool girl, didn't you know? She's down for whatever: the Oscar Holter-produced, zero fucks-filled "True Disaster" is sort of like Taylor Swift's "Style" meets the Drive soundtrack; an ode to destructive love with the bad boy (or girl). "Vibes," the only track to feature another voice (aside from Wiz Khalifa's rap on "Influence"), which belongs to singer-songwriter Joe Janiak, pulls back the production slightly to folkier proportions and a shuddering chorus, as the two ride each other's highs and feel it all together.
But just as Nelly Furtado once taught us, all good things must come to end. "Fire Fade" marks the album's gradual comedown, as Tove comes back to Earth and surveys what she's done.
"Don't Talk About It," one of the productions co-crafted with Ilya, finds Tove in a numb fame-fueled daze, swallowing down her insecurities in the midst of flashing lights and piles of paper: "Pretty faces put in place to match the scenery / Take our pics, it's like a fix for your anxiety," she sings. It plays like Tove's own take on one of the depressed bops off of Terror Jr's Bop City.
Celebrity, like drugs and sex, is a fleeting high, but Tove is intent on keeping the superstar feeling going strong inside, in spite of self-doubt. "Hate on this world 'cause reality sucks / Feeling their doubt, shut them all out," she murmurs on atmospheric album highlight "Imaginary Friend," an ode to the inner voice that keeps her marching onward, co-penned with Lorde and BROODS collaborator, Joel Little.
The Oscar Görres("OzGo")-produced "Flashes" sees Tove flipping the script on a lover who doesn't feel the same flack in front of the public eye: "When I fuck things up in front of camera flashes, what about you?" she spits above a slow-marching, echoing beat.
Like the emotions, the production gets complicated on the ironically titled "Keep It Simple." With an opening synth progression that totally recalls the segue before "Brave" on Kelis' Flesh Tone (anyone else hear it?), the track later breaks into a shuffling, stinging post-chorus ("I ain't ready, I ain't ready"), building louder like the voices in her head as she tries to convince herself to move on completely from the dude before.
But Tove is beholden to no one but herself: she's a feminist pop hero, really — a cool girl in every sense. She loves and fucks freely in label-less love affairs, gets wasted and fucks shit up. Often. And there isn't any kind of moral judgement or life lesson attached to her choices. She just thrusts her Lady Wood in our face, chasing the next high to feel alive.
While Queen of the Clouds soared higher in terms of delivering more instant-feeling pop hits, her follow-up dives deeper into Tove's psyche, coming harder with a more cohesive sound and a more ambitious artistic vision. This Lady Wood is a grower, not a shower.
"I know that I'm a handful / But you get me, know what you signed up for / Live up to the best and the worst of your dreams," Tove cries on closer "WTF Love is." "I wouldn't have it any other way." Same.





Lady Wood was released on October 28. (iTunes)