Madgeluma are here to take us far, far away from our troubles to a land called Medellín – and not a moment too soon.
Following the debut of her Madame X collaboration with the irresponsibly attractive Colombian reggaeton superstar and future father of my children Maluma, Madonna – err, Madame X, thank you very much – took over her old stomping grounds, MTV, for an old school live-stream premiere. It was a mess, but iconically so.
In typical live-stream fashion, the all-around-the-world (you always love me more miles away…) telecast was chock full o' delays, with diehard fans asking questions from Milan, New York City, Sao Paolo and London. And Madonna, in her signature subtle fashion, made sure everyone knew she fucking hated it by mocking the awkward pauses at every opportunity.
We did sort of get some information crammed into the half-hour session: Madonna originally moved to Lisbon solely to be a Soccer Momdonna, but then got bored as a controver-see-all artisté would, met painters and musicians in living room sessions, got inspired by fado and the other sounds in the culturally rich streets of Lisbon, and set to work on a world music-inspired record with Mirwais.
She also validated me, and all other true lovers of music that isn't spoken in one's native tongue with a solid statement: "Music is the soul of the universe. Even if we don't understand the words, we can still connect to the vibe, the soul, the feeling and the emotion of the music, and we can still relate to it. It doesn't matter what language people are singing in…we will always be, in a primal way, connected through music." (Now, go stan BLACKPINK!)
She also expanded upon the theme of nostalgia in "Medellín" – specifically, what she meant by being "naive again: "Naive in terms of not caring about what people think. I feel like when I started my career as an artist, I was naive, and that was the good thing…you don't think about judgment or what people are going to say…and you are free and pure in your expression. I wanted to be able to go back to that time in my life when I was just starting out in New York, and I didn't care what people thought…that is also the time in my life that I was 19, and I was given the name Madame X, so it all comes full circle."
Mirwais came up as well: she "wasn't sure if he was going to like the direction" of the new record – but lo and behold, he did. "He's a very intelligent guy, very philosophical and very political…inevitably, all of our work will become all of those things," she explained. (AKA: American Life 2.O is coming!)
Of course, daddy Maluma himself came beaming in from Miami on his royal throne – and, unfortunately, about a ten minute delay.
"Hello Mr. Safe," Madonna shouted at Maluma. And, after about three minutes of delay, Maluma finally heard it and called Madonna "Mrs. Crazy." So, now we know their pet names for one another – and then it was over.
"That's the most boring conversation I've ever had with Maluma," Madge concluded.
Iconic quotes also included "ask me banal questions, then" and "we were connected before Instagram, people." Leave it to Madame X to make even the most awkward of premieres highly entertaining.
And then, the video (mercifully) arrived.
The plot of "Medellín," essentially, is that Madame X – clearly a cousin a to Erotica's Dita, as well as Kill Bill's Elle Driver – is an immensely horny cha-cha instructor dancing her life away to dodge her haters ("Madame X loves to dance, because you can't hit a moving target…") and finding various ways to smush her face directly up against Maluma's face, which…is exactly the same video concept that would come to my own mind upon working with Maluma.
She one, two, cha-cha-chas up against him, shakes her cha-chas at his objectively perfect and adorable face, reels him in with her little whip – hell, she even licks his toes.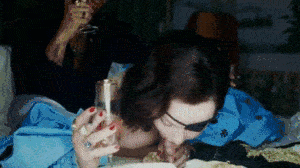 Oh, absolutely. And who among us would not? (Slow down, papi…)
There are small flashes of iconic Madge moments of yesteryear: the opening prayer is more or less the MDNA Tour opening, the grainy footage in the dancing scenes is all sorts of Erotica, the flailing 'round the horses recalls Confessions, a wedding dress moment harkening back to "Like A Virgin," and her chic runaway steed ensemble is all sorts of 1995 Versace campaign. To die for, obviously.
Thirst aside, the joyousness and romance of the song is captured in the chemistry-heavy clip. (I do hope they banged.) Madame X brought the living room sessions and animated singalongs from the streets of Lisbon that inspired her new record to life in this video, and she looks happy and beautiful with all of her fierce footwork, In Bed With Madonna foreplay and festiveness. (And, obviously, any time Maluma makes direct eye contact with the camera, it's over for me.)
Madame X is many things: a cha-cha instructor, a spy, a whore, a nun, a bitch, a lover, a sous-chef, an anthropologist, a deep sea diver, but one thing she's certainly not is dull – and she never will be. All hail the Queen.
This song is featured on the MuuTunes Spotify playlist. Subscribe!
You can also subscribe to MuuTunes on Apple Music.
"Medellín" was released on April 17. (iTunes)