If you or a loved one are experiencing frequent, inexplicable urges to loosen up your buttons, or if you suddenly find your legs lifting upward at random intervals, or if you feel an overwhelming assurance that you are hotter, freakier, rawer and more fun than the girlfriends of those around you, fear not. There's a perfectly logical scientific explanation: The Pussycat Dolls are back.
Yes, that's right: PCD managed to stage a reunion before the release of Her Name Is Nicole, now available for pre-order on Amazon.
Granted, it's not quite all of the Dolls.
Leading up to the announcement of their return, a verified Pussycat Dolls account popped up on social media, which was following seven people: founder and professional girl group wrangler Robin "Ringleader" Antin, Ashley "Butterfly Effect" Roberts, Nicole "Hot as a Stove" Scherzinger, Jessica "Show Me" Sutta, Kimberly "High Kick" Wyatt, Melody "Even if I'm not featured…" Thornton, and the American-Israeli legend herself, Carmit "Don't Call It a Carmback" Bachar.
Upon a reveal of the original PCD logo art, the girls all switched their profile photos to match the new account – except, of course, for Melody who, in 2009 The Circus: Starring Britney Spears fashion, kept hers the same, keeping that same "even if I'm not featured…" energy a decade later.
Today, and every day, make like Melody Thornton going rogue on the mic at #TheCircusTourStarringBritneySpears in Phoenix, Arizona in April of 2009 and assert yourself – even if you're not featured, you know what I'm saying?#PCD #TBT #ThursdayMotivation #PreOrderHerNameIsNicole pic.twitter.com/L4wbFann5j

— Bradley Stern (@MuuMuse) October 4, 2018
Hours later, the (pussy)cat was out of the bag: PCD is back, and heading out on a UK reunion tour in April 2020. (Yes, of course I'm going, but more on that later.)
The group will, however, only be reuniting as a quintet: Melody opted out, with the girls vaguely citing "prior commitments" and music obligations as the reason. Her disinterest in participating in a reunion is perhaps not a surprise to a majority of pop fans who even had a passing interest in PCD.
Melody famously chose to voice her disdain for the group's configuration, which was effectively Nicole and her back-up dancers, by…sometimes going rogue on the mic.
In honour of the Pussycat Dolls reunion, a moment for the time Melody Thornton went rogue doing adlibs and Nicole Scherzinger was visibly raging pic.twitter.com/VXoIyQuPDZ

— Joey (@JoeyEile) November 28, 2019
And in keeping on the subject of girl groups, good ol' Chezza shared some incredible thoughts about the Dolls…and Nicole…and Britney…at the time.
Pussycat Dolls reunion has reminded me of the best interview Girls Aloud ever did. I miss this Cheryl, I'm howling. pic.twitter.com/8QZneFug9v

— Calum Sherwood (@CalumSSherwood) November 29, 2019
PCD was a unique scenario: Nicole was unsubtly positioned as "the Beyoncé" of the group, but more than being the lead vocalist, she was almost exclusively the only vocalist on most of their songs, and certainly during their live performances. (Well, minus the Melody outbursts.)
They also did better than you might even remember: in a four year span, the Pussycat Dolls sold over 54 million records, making them one of the best-selling girl groups of all time.
But by the time Nicole's chart-evading solo non-hits of 2007 came and went (#JusticeForWhateverULike), as well as "Jai Ho!" and "Hush, Hush" in 2009 – infamously billed as The Pussycat Dolls Feat. Nicole Scherzinger at the time – Melody, and later, the majority of the Dolls, had basically had it.
For everyone asking where Melody is…. #XFactor #XFactorCelebrity #PussycatDolls pic.twitter.com/EZvnYjiiWg

— POP CULTURE ENTHUSIAST (@northernlawd) November 30, 2019
They've all since gone on to do various things on their own, with most finding success overseas releasing solo songs and doing variety and competition shows – standard fare for post-peak girl group members. But despite all of the emphasis on Nicole throughout the girl group's existence, and despite her perfectly solid solo pop – "Don't Hold Your Breath" alone, hello – she never managed to break through in America…not without the Dolls by her side, anyway. (I also reserve a theory that at least part of the reason is that her last name was deemed too difficult to pronounce/memorize.)
As it turns out, a decade mends a lot of wounds…as does the promise of cashing in on nostalgia. And speaking of throwbacks: let's talk about the return of Carmit Bachar – or, as she was born, Carmimmaculate Bachalmighty.
For those of you less versed in all things Pussy(cat): Carmit is one of the founding Dolls, dating all the way back to the group's 1995 origins as a fledgling burlesque group in Las Vegas. She's danced for, like, everyone – from Aaliyah to Jennifer Lopez, and even in Janet Jackson's infamous Super Bowl 2004 halftime performance.
Her return is welcome, to say the least: she is a PCDeity.
With the announcement of their reunion came a string of promotional interviews, in which they mostly elaborated on how much time has passed – they've got husbands and babies now! – and cited the Spice Girls reunion as inspiration for their own. (At one point, Nicole iconically points out that they outsold Little Mix in the UK.)
Now, I'm no body language expert, nor am I trying to instigate doll-on-doll drama – as I genuinely want this comeback to stick(witu)- but Nicole Scherzinger's facial journey throughout some of these interviews is fascinating. She did stress the fact that she was working on three shows across three continents at the time, and rehearsing for their upcoming performance. But is she just…tired? Serving Grand Dame regality? Bored of the same questions over and over? Or coming to terms with the fact that she's been stuck back in a girl group once again?
No matter, because their comeback performance on the X Factor: Celebrity finale on Saturday (November 30) made one thing very clear: the Dolls are coming back strong.
This is how you stage a genuinely fantastic comeback performance after a decade.
The drama of each girl rising to the stage. The oh-so-Britney-esque purr of "Are you ready?" That hype mix of "Buttons."
Yes, Dolls. Yes!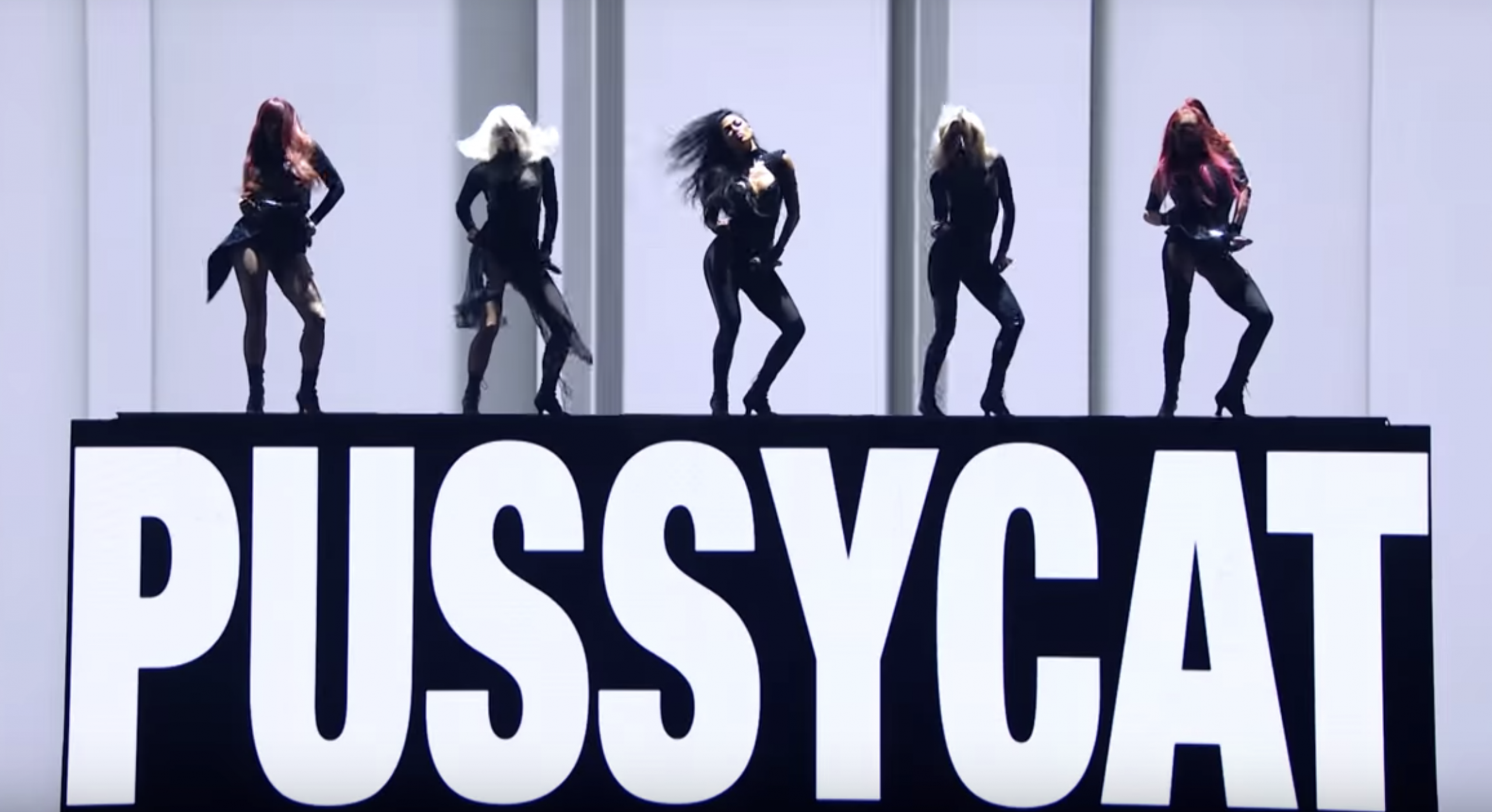 Serving "Pretty Girls" 2015 Billboard Awards looks, the ladies looked as fit and fabulous as they did a decade ago – better, even.
The hair flips! The stage dive! The windmill arms! The #SomethingMoreUrban mix of "When I Grow Up"! The pyrotechnics! The absolute audacity of Nicole Scherzinger declaring "I'm a hot topic" in the year 2019! The YELP note!
Points deducted for skipping the iconic dance break – but then points immediately won back for the revival of the Juicy Couture-biting peak mid-'00s aesthetic glittery PCD hoodie for "Don't Cha."
And then, just when they've got us edged properly with a million man dance break, the big reveal: a new song.
They tricked us! New material from PCD already?! The song's called "React" – and it sounds GOOD – especially when accompanied by a Flashdance water drop and a fierce-as-fuck final pose. The signature Kimberly leg lift is back!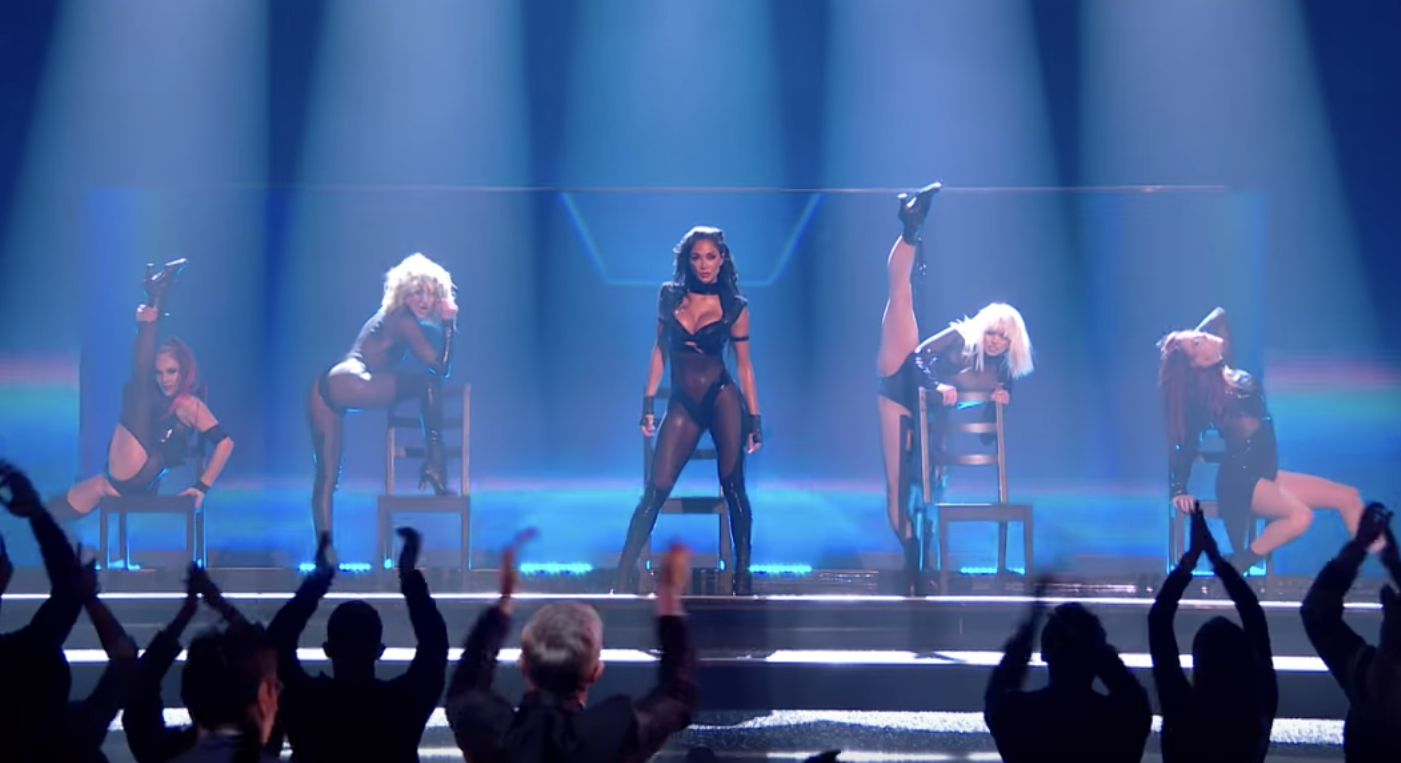 I'm overcome by all of this, truly.
Sure, the other girls still didn't sing, nor were they featured. They weren't singing or featured on those old records and performances in the first place! Of course it's still The Nicole Show! Get with the program!
But really: whether the non-Scherzy members of PCD even want to be featured more prominently on the vocals remains unclear. One would assume that if they've gone through the trouble of reuniting, they're all in agreement about how the band works.
What we actually need is a Red Table Talk conversation with all the members sharing their candid thoughts about their past and present formation.
As for the comeback performance itself: this is pop! Girl group glory! Dancing! Hair flips! Choreography! Hello! In the year 2019, when everyone's mumbling and fumbling their way around the stage! We don't deserve it, but the Dolls came through for us in our time of need, anyway.
Now go bid on a PCD hoodie on eBay, start stretching out those legs, and I'll see you all at the Pussycat Dolls Tour in 2020.
Oh, and ladies? Drop "React." Now.
#REACT 🚨 COMING SOON. pic.twitter.com/BfopFltn2M

— PUSSYCAT DOLLS (@pussycatdolls) November 30, 2019