Rina Sawayama is feeling so confident, and she's got her boys to thank for that.
The rising London-based pop star has kept her fans fed with her fresh, early '00s-meets-future pop sound, which she's continued to refine for years. I first wrote about Rina back in 2016 after discoverinf her smooth and sultry R&B anthem for the lonely digital souls on the Internet, "Where U Are. It's safe to say she's since evolved and made more than a few IRL friends ever since, including her idol and mine, Utada Hikaru.
On Friday (January 17), Rina debuted her latest single, "Comme Des Garçons (Like The Boys)."
The track was crafted alongside Bram Inscore, who's worked extensively with Troye Sivan, as well as Britney's "Heaven on Earth" and "How I Roll" co-penner herself, Nicole Morier. Right off the bat from the song credits alone: gay rights.
The club-ready, strut-friendly cut is described as "about trying to alchemize the confidence of the gay men that have always shown Rina love."
"When I was writing this song I wanted on one hand to lyrically explore the idea of people having to adopt negative male tropes to appear confident, whilst on the other sonically paying homage to the early 2000s dance tracks that made me feel confident. The idea that the socially acceptable version of confidence is in acting 'like the boys', otherwise as a woman you get called a bitch – but in the club, we reclaim the word 'bitch' as a sign of ultimate confidence ('yes bitch', 'work bitch'). I wanted to sit these two together and make a club fashion banger that makes you feeling like THAT bitch whoever you are," she explains. (Funny enough, her idol Hikki's "On & On" tackles some similar territory.)
The springy dance beat and catchy chorus are already enough to satiate the dance-pop loving boys and girls (and everyone in between/outside of the binary), but there are certain elements that strike a chord: there's just something about a cooly spoken list of labels and designers ("Miu Miu, Prada, Mugler") and assuring phrases ("it's gonna be okay / Yeah, you've come a long way") that does the trick to unleash the inner That Bitch™, conjuring early memories of Lady Gaga, L.A.M.B.-era Gwen Stefani and shades of the original blueprints, Madonna's "Vogue" and "Express Yourself."
"Comme des garçons / Like the boys, like the boys / Comme des garçons / I'm so confident…"
That single cover alone deserves plenty of praise: a mighty nude Rina, backed by a massive holy disco ball, standing atop a pile of nude men, a la Kylie's "All the Lovers" music video? It looks like the greatest, gayest retro sci-fi LGBTQ warrior epic – an early contender for best art of 2020, for sure.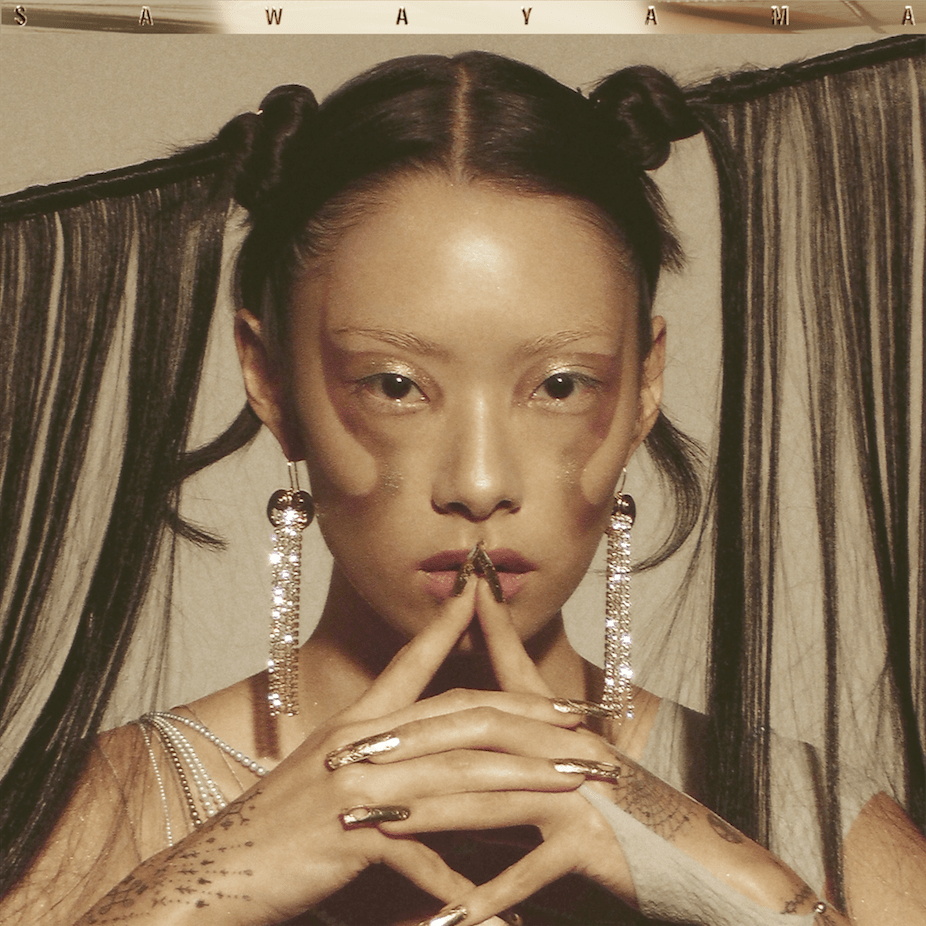 But wait, there's more! Along with the song, Rina also announced her debut studio album, SAWAYAMA, dropping on April 17 – and the cover art for her debut is certainly striking.
"The album ultimately is about family and identity. It's about understanding yourself in the context of two opposing cultures (for me British and Japanese), what 'belonging' means when home is an evolving concept, figuring out where you sit comfortably within and awkwardly outside of stereotypes, and ultimately trying to be ok with just being you, warts and all," she says of the upcoming release.
With any luck, Rina (and all her warts) will supply us with one of 2020's most exciting pop debuts. Then again, who needs luck when you have confidence?
This song is featured on the MuuTunes Spotify playlist. Subscribe!
You can also subscribe to MuuTunes on Apple Music.
Photo credit: Dirty Hit