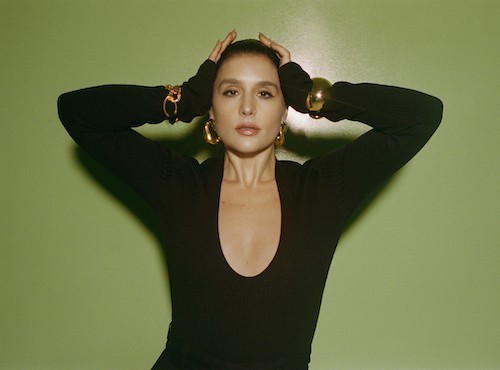 "Push, press, more, less…here together, what's your pleasure?"
Jessie Ware is no stranger to dance music.
That's how we first met her a decade ago, crooning across skittering, mind-melting productions from acts like SBTRKT and Joker, as well as lifting off with the popular Disclosure remix of her debut single, "Running."
Left to her own solo career devices, Jessie's silky, self-described "malleable" voice found its way onto more soulful, Sade-ish, funky electronic productions ("Sweet Talk," "Night Light") and lump-in-throat power balladry ("Wildest Moments") on her still-masterful 2012 debut, Devotion, crafted with Dave Okumu of The Invisible, Kid Harpoon and Julio Bashmore.
She refined that sound further with the warm and lush Tough Love in 2014, complete with superstar collaborators (Ed Sheeran, Benny Blanco) and standouts like the euphoric "Champagne Kisses," "Say You Love Me," and the sweeping, wedding ceremony-worthy "You & I (Forever)." A few years later, she turned inward for what was her ambitious and Most Personal Album to Date™, 2017's Glasshouse.
And then, after touring that record, Jessie began to feel…bad.
She referred to the period after her 2018 Glasshouse Tour as a "shitty time," leaving her feeling so disillusioned that her mother, Lennie, the co-star of her successful podcast, Table Manners With Jessie Ware, suggested that she quit singing together.
"I went too big on the last record with my show, because I needed to make the live experience feel 'legitimate.' I don't feel like people give a shit about that," she admitted.
To make what would eventually become What's Your Pleasure?, a relinquishing of her self-imposed Serious Artist Responsibilities, Jessie needed to tell new stories and draw from inspiration outside of just her own experiences.
"I'd said everything in bloody Glasshouse that I needed to say. I got rid of all my demons haunting me, of feeling like I was inadequate or faking it. Nothing's really changed. I just have another kid — what am I going to write about, wet nappies? I needed to tell other people's stories," she told Billboard.
And that meant getting back to exactly where she started: dance music. But as opposed to being a soft-spoken guest on the scene as she had done, it was time to fully embrace the disco diva persona and bask in the spotlight.
As the seemingly endless amount of names mentioned throughout this album cycle's press run suggests, What's Your Pleasure? is a record rich with influences – never a blunt copy of anything particular, but clearly the studied, appreciative work of producers, songwriters and an artist with a deep passion and respect for the ones who've paved the way.
Largely crafted with Simian Mobile Disco producer James Ford, songwriters Danny Parker and Shungudzo, the album feels like a crate digger's dream, channeling all sorts of influences from yesteryear into the future: Prince, Jimmy Jam & Terry Lewis, Donna Summer, Giorgio Moroder and Earth, Wind & Fire, to name just a few.
"It was everyone from Minnie Riperton to Mary Jane Girls, Louis Taylor, Lisa Stansfield, we went everywhere," she said.
What's Your Pleasure? – like Robyn's Honey was to 2018, and Róisín Murphy's Overpowered was to 2007 – is a sophisticated dance floor getaway, rooted in and inspired by '70s and early '80s disco and dance-pop, as well as more modern electronic production – but don't call it (just) a disco album.
"I feel quite tentative about saying that I've made a disco record because I feel like I'm learning so much about the genre. It's not just disco. It's dance, it's house, it's soul," she clarified in conversation with Róisín for Interview – who should be looking into booking dates for the two of them to do a joint headlining tour in 2021, just saying.
In fact, the opening few seconds of the record, the gorgeous "Spotlight," are "really nods to musical theater and jazz." And then, she takes a step out into the darkness onto the floor, the disco ball drops, the smoke machine starts up, and the album truly begins.
Start to finish, What's Your Pleasure? is as suggestive as it is sophisticated. The throbbing title track for instance, is a standout that could potentially pique the interest of pop radio ("I could imagine Kylie Minogue singing this," she said) that feels elegant in design, despite its clearly less-than-proper lyricism.
"Is this love too hot to handle? / Make a wish, blow out my candle," Jessie winkingly coos, which has all the seductive energy of any breathy Kylie come-on, and maybe some Goldfrapp, too.
"I wanted to do a record that was driven by music and less by lyrics. The lyrics are always important, but it was very much about a beat dictating where we went. It felt fun and freeing. You'd be like, 'How're we going to navigate a Jessie Ware song around this beat?' I liked the challenge," she said.
As a cherry on top of her "Pleasure," Jessie revealed an incredibly sexy accompanying visual on release day featuring dancer and choreographer Nicolas Huchard (as seen on the Madame X Tour) striking a pose in glam dresses, corsets, earrings and pearl necklaces. And along with the "Spotlight" music video, which finds Jessie herself indulging some choreography, it perfectly captures the emancipated, delightfully queer energy brimming from this record.
To that end, yes: What's Your Pleasure? is for the girls, gays and everyone in between in the LGBTQ+ community.
"This album was a form of a thank you to the community, with them totally in mind to be able to have that safe space where we can dance, feel free and express yourself. Where you don't have to quieten yourself down. I've had such generosity from that community that I feel indebted to them," Jessie revealed, who also has a gay brother who she suspects has name-dropped his sister in a Grindr conversation at least once.
Jessie traverses several eras on her fourth studio album foray, from the funky, flirty, Prince-esque "Ooh La La," which also offers a Grace Jones "Pull Up to the Bumper" naughtiness ("Open up the door, you know I like it / Ooo la la, Chivalry was dead but you revived it"), to "Step Into My Life," a fun and dreamy-eyed disco stormer in collaboration with Kindness.
"Now's the time to step into my life," she tip-toes on the twinkling chorus, recalling Anita Ward's "Ring My Bell," not unlike what Madge did in moments of Hard Candy.
Then there's the Control-era Janet Jackson-style "Soul Control," co-created with Morgan Geist (Storm Queen). It's as irresistible, catchy and danceable as any '80s Jam & Lewis production, just as she intended.
"I had Janet Jackson in my head in this one. It's a really energetic number…these are the highest tempos I've ever done, and I think I surprised myself by doing that. I wanted to keep the energy up—I wanted people to think, 'When is she going to calm this album down?'" she explained.
She smartly lifts from another '80s classic, Bananarama's 1983 hit "Cruel Summer," on "Mirage (Don't Stop)," a hypnotic banger suited for a summer day disco affair, co-crafted with her Devotion partner Kid Harpoon, BBC Radio 1's Benji B, Matthew Tavares and Dua Lipa's "Physical" co-scribe, Clarence Coffee Jr..
And then there's the sugary-sweet "Read My Lips," punctuated by flirty smooching sounds and some of her most cutesy lyrics to date ("we've been talking for a while, boy / I got your message on my phone"), which she describes as a nod to Lisa Lisa & Cult Jam's 1985 freestyle hit, "I Wonder If I Take You Home." (Kylie fans will also know that one from Body Language's "Secret (Take You Home).")
Jessie also dips into modern dance floor territory on What's Your Pleasure?, including one of the album's major triumphs, "Save a Kiss," which now accidentally doubles as a quarantine-era anthem. With a four-on-the-floor Robyn-like throb, Jessie promises us she "won't be long" on the absolutely stunning IOU on the dance floor.
"When I wrote it, it was about me feeling guilty about being late back home, and being like, 'Save a kiss for me tonight – I promise you I won't be long.' I guess with the escapism, people need a bit of that. If I can offer that hour of escapism and joy to distract them from the realities of what's gong on at the moment, I think that's a service I'm hoping to deliver," Jessie explained.
The song, or perhaps the album as a whole, was also influenced by 1981's hypnotic "Love Me Tonight" by Fern Kinney, which she said she learned about from James Ford through the co-producer of "Save a Kiss," British DJ Midland.
"Apparently during the AIDS epidemic in New York, this would be the closing song they'd play [at clubs]. It's such a beautiful song. So many people were losing their loved ones and friends and it became really significant. I was so intrigued by the story," Jessie told Gay Times.
Midway through the album, Jessie teams up with Robyn's Honey collaborator Joseph Mount of Metronomy for the first time on the album's gentle, gorgeous electronica comedown, "Adore You," which may go down as one of the better Pregnant Pop Star songs ever. (No offense to "Someday (I Will Understand)," of course.)
"Actually it was me thinking about my unborn child and thinking about, like, I'm falling for you and this bump and feeling like it's going to be a reality soon. I think Joe did such an amazing job on just making it feel hypnotic and still romantic and tender, but with this kind of mad sound. I think it's a really beautiful song. It was supposed to be an offering before I went away and had a baby, to tell my fans that I'll be back…I have such fond memories of it," she said.
"In Your Eyes" follows, the first song written for What's Your Pleasure?, which was inspired by British soul singer Lewis Taylor and Lisa Stansfield and, according to Jessie, captures the post-Glasshouse Tour depression about the state of her career that she was feeling.
"It was very much coming off the back of having quite a low point in music…I think you can feel the darkness in it. And that maybe I was feeling the resentment and torturing myself. I think that the whirring arpeggio and the beats in this song very much suggest that it's a stream of consciousness," she reflected.
Towards the very end of the record, she digs into darker, more dramatic sounds and themes, exploring an almost obsessive attraction and evoking Röyksopp, Kylie's "Confide in Me" and Massive Attack.
"I know you better than yourself, you're the only I know / I follow you through the night like a dog with the scent of your cologne," she croons, almost pleading.
"It's very dark, almost like the end of the night when things are potentially getting too loose. It's also a difficult one to talk about. It's about someone feeling like they know you well—maybe too well. There are anxieties in there, and it's meant to be cinematic. I wanted that relentlessly driving feeling like you'd be in a car and you just keep going on, like you're almost running away from something," Jessie explains.
The song lifts off into more hopeful territory in its final minute, guided across gorgeous strings by English composer Jules Buckley.
"I've been waiting my whole life for someone who makes me feel like you do / It's complicated, I can't lie to you," she sings as the song builds to its optimistic finale, background singers soulfully wailing up to the heavens and all. Much like the album as a whole, it's a triumphant journey from beginning to end.
The album's closer, "Remember Where You Are," is her mother's favorite, as she declared on the latest episode of Jessie's podcast with Zane Lowe: "Zane, aren't you glad that Jessie's made a record that's kind of…more groovy?" Lenne amusingly said, vaguely shading Jessie's slower records.
The song plays like an Earth, Wind & Fire classic unearthed, but was directly inspired by bleak current events, like Boris Johnson getting into office and Trump's visit – and almost didn't make the album at all.
"I umm-ed and ahh-ed about whether it should go on the record. I thought it could mark the start of the next record, but it felt greedy and silly to not give it how I've been giving out music in the last couple of years. That's how I wanted this album to feel. There's confidence now," she elaborated.
"The heart of the city is on fire / Sun on the rise, the highs are gonna fall / But nothing is different in my arms / So darling, remember…remember where you are," she assures within a gorgeous swell of voices on the massive number – an appropriate sign-off message of security in uncertain times.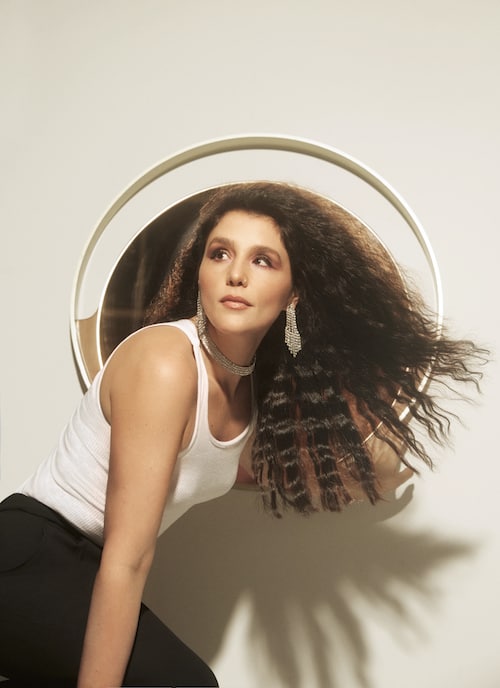 The confidence on display throughout this record, especially on songs like "Remember Where We Are," represents where Jessie Ware, four albums deep into her career, rightfully stands as an artist in a notoriously competitive, unfair and often unwelcoming industry.
"I got so tired of apologizing for being in the room. It wears you down and you believe you don't deserve to be there. I finally feel like I do deserve to be there. I suit being a 35-year-old woman. I feel comfortable in my skin and with the music I'm making. I don't want to complain because I know lots of people don't get to a fourth album. I know I've got so much to appreciate. I just got disillusioned. I've always been in my own lane, musically, but people wanted me to get into the commercial lane, which I don't think suits me. I made this record out of feeling and groove instead," she explained to Elle.
Like Dua and Lady Gaga, Jessie's delivered an inspired dance record in the middle of a pandemic. And like Future Nostalgia and Chromatica, the resulting feeling is…well, bittersweet.
This is an undeniable Album of the Year contender, screaming to soundtrack this summer's nights out, and yet, there's no dance floor to run to, no rooftop pool, nor an overcrowded hole-in-the-wall to scream-sing along, flirt and bring somebody home. For now, all we can do is escape into the music – which was her intention from the start, even if she didn't realize how escapism is all we have at the moment – and settle for…well, aural sex.
"I want there to be an element of escapism and fantasy, and that's what I was writing when I was making it. I wanted that to take me away to an imaginary place and an imaginary situation, which I think lots of people can relate to right now. I want people to feel sensual. I want people to want to have sex, even if they can't have sex," she told Róisín (who then called her a "dirty tramp," to which Jessie said "takes one to know one"…really, get into that chat.)
As for what to expect next in better days to come? As with everything in life, it all comes down to Britney Spears.
"I just want [the live show] to be like the Britney Spears 'I'm a Slave 4 U' video — dripping off the walls, everyone's sweating, everyone's in the mix," she told Billboard. Whenever live music starts up again, this ought to be one hell of a show. (Again, Róisín, let's make it a double feature.)
Regardless of The State of Things, Jessie's hit her stride with What's Your Pleasure?, her strongest, most assured, sexiest set to date – not that she's ever missed the mark.
But by taking herself a little less seriously and focusing strictly on what actually feels good, rather than what she, or any music industry executive, thinks she "should" be doing, she's done herself the biggest favor in finding her groove. And wow, what a moment most pleasing in her career.





This album is featured on the MuuTunes Spotify playlist. Subscribe!
You can also subscribe to MuuTunes on Apple Music.
Photo credit: Carlijn Jacobs / Interscope Records