Not much is going right in 2020, but Legendary is one of the few exceptions – and happy escapes – of the year.
The voguing reality competition series launched at HBO MAX at the end of May, which quickly proved to be a success for the network. In fact, it's already been renewed for a second season.
As a white Jew boy from the suburbs of Connecticut, I'm not going to sit here and pretend I know much at all about ball culture, aside from its various appearances throughout pop culture over the years, from Paris Is Burning to Madonna's "Vogue" to Pose. I do know, however, that it feels like an honor to even be a (virtual) guest in their house.
Legendary is ultimately a mainstream production, structured to provide outsiders with an introductory glimpse into a long-standing tradition and understanding of an underground subculture – much like RuPaul's Drag Race is to the art of drag. Even though the competition is tightened and packaged neatly for TV, the show still feels groundbreaking in terms of its presentation of ball culture, as well as the heartwrenching struggles for acceptance and stories of survival from the largely queer, Black and Latino contestants. And, like Drag Race, it's also providing a massive platform for the community, and feels like it could be the start of an equally major franchise.
The entire season was a joy to watch from beginning to end, as the various Houses competed weekly for the $100,000 grand prize. The Houses performed throughout nine balls, competing across a range of traditional categories and themes, from Vogue Femme to Old-Way to Face to Body (thank you for your blessings, Jazzul Escada and Jarrell Gorgeous Gucci) in front of MC Dashaun Wesley, who reliably kept the energy up with his hosting skills, and judges Law Roach, the fashion expert and polarizing equivalent of the show's Simon Cowell, the always encouraging Megan Thee Stallion, co-executive producer Jameela Jamil, and the "Wonder Woman" of Vogue herself and standout star Leiomy Maldonado, with guest judges ranging from somewhat WTF (Nico Tortellini?) to incredible (Tamar Braxton, and Dominique Jackson, who stole the show with an unexpected squabble, and a most iconic monologue – "I am ballroom.")

https://www.instagram.com/p/CCMDF8epMcs/?utm_source=ig_embed

In what was a most eerie glimpse of what life would soon become, the finale of Legendary was taped during the first week of the production shutdowns amid the pandemic, resulting in an audience-free filming to quickly tie up the season. There's a tension of uncertainty throughout the episode, and it's just plain spooky to see the Houses compete in total silence as opposed to feeding off the frenzied energy of a crowd – but then, they're also very lucky they even got to close out the season properly without having to do a Zoom session reunion and crowning.

https://www.instagram.com/p/CCeNGMShEDL/

Without spoiling the actual events of the finale, there was a $100,000 prize-worthy performance to kick off the episode: a tango-turned-vogue between Leiomy and Dashaun – and it was, truly, well…legendary. The passion! The drama! The lighting! The technique! The two absolutely turned it out in what was easily one of the best, most mesmerizing displays of the craft on the whole show, proving exactly why they landed their respective positions as representatives from the ball scene.
Simply put, to quote Law: they did…what needed…to be done.
And that's not all: after completely changing the at-home performance game on the BET Awards, fellow judge Thee Stallion herself also took to the stage later on in the episode to perform her massive smash, "Savage" – with a vogue twist. She even gave us some armwork, too. We need this remix on streaming, stat.
And now, if you haven't yet, I highly recommend that you do what needs to be done too, and watch the first episode for free on YouTube. (And no, this is #notsponsored – just #stanning.)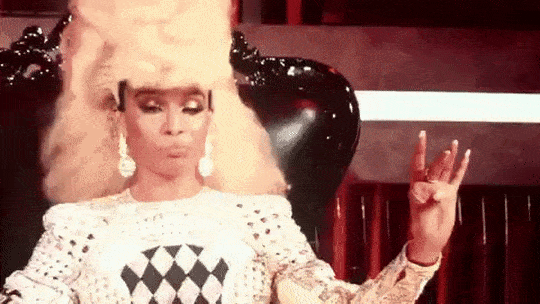 Disclosure: Products featured on this website use affiliate links, and may earn me a commission for purchases made through the links.