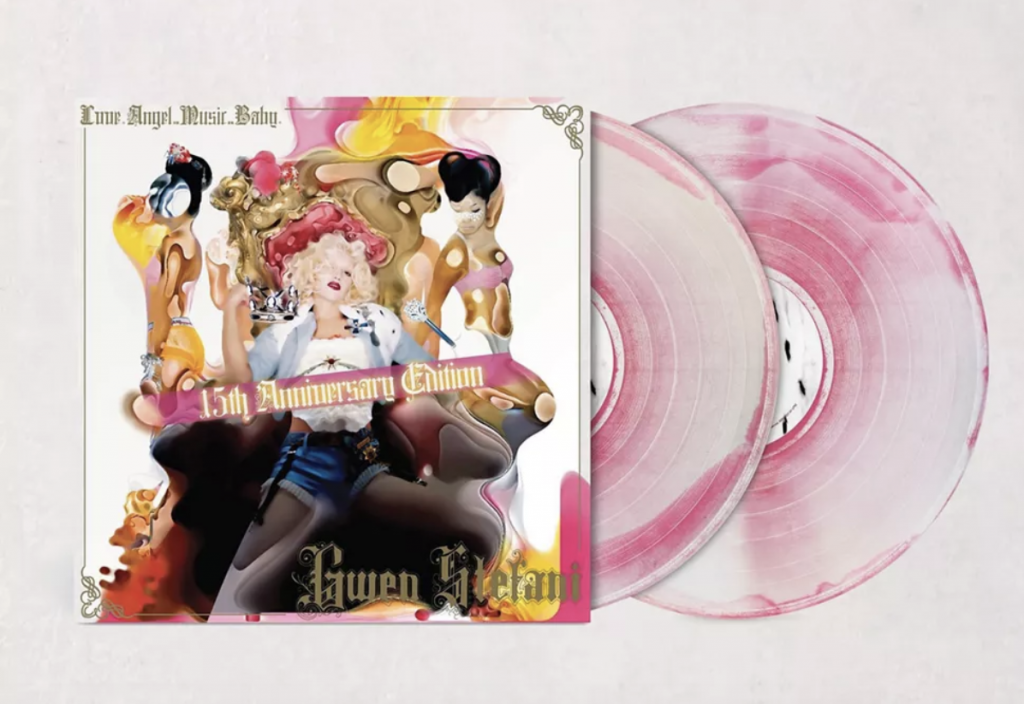 "How did the years go by?"
Well over a decade ago, way before she ever sat in a swivel chair on The Voice or entered a recording studio to do a duet with her country music boyfriend – 16 years in fact – Gwen Stefani broke out of her No Doubt shell and released her still-incredible debut solo record, Love. Angel. Music. Baby. in 2004, an Alice in Wonderland-meets Harajuku district bubble pop electric explosion of electro-pop goodness, including "What You Waiting For?" and "Hollaback Girl."
And yes, this shit is still, in fact, bananas.
Urban Outfitters is set to release last year's 15th anniversary reissue of the album as a limited double vinyl, and it's out on Friday (August 14).
Gwen Stefani's 2004 solo debut LP sees her pairing up with collaborators from Dr. Dre to Andre 3000 and beyond. This special 15th anniversary edition is available exclusively at Urban Outfitters on 3000 limited units of pink and white swirled vinyl. A collection of neon tracks about music, fashion and more, it's a must for No Doubt fans and Gwen acolytes alike. 2004, Interscope.
The double 12″ includes all the tracks from the original 2004 set, including "Rich Girl" with Eve and the forever perfect "Cool," as well as personal favorites "Crash," "Serious," and future wedding song, "The Real Thing."
This release is limited to 3,000 units so, if this love is truly serious – the kind that gets you seriously out of your mind – put on your finest L.A.M.B. attire and go grab it now. What you waiting for?
Photo credit: UMG / Interscope Records
Disclosure: Products featured on this website use affiliate links, and may earn me a commission for purchases made through the links.
[uncode_index el_id="index-196754″ loop="size:3|order_by:date|post_type:post|categories:2674″ gutter_size="3″ screen_lg="1000″ screen_md="600″ screen_sm="480″ single_overlay_opacity="50″ single_padding="2″]