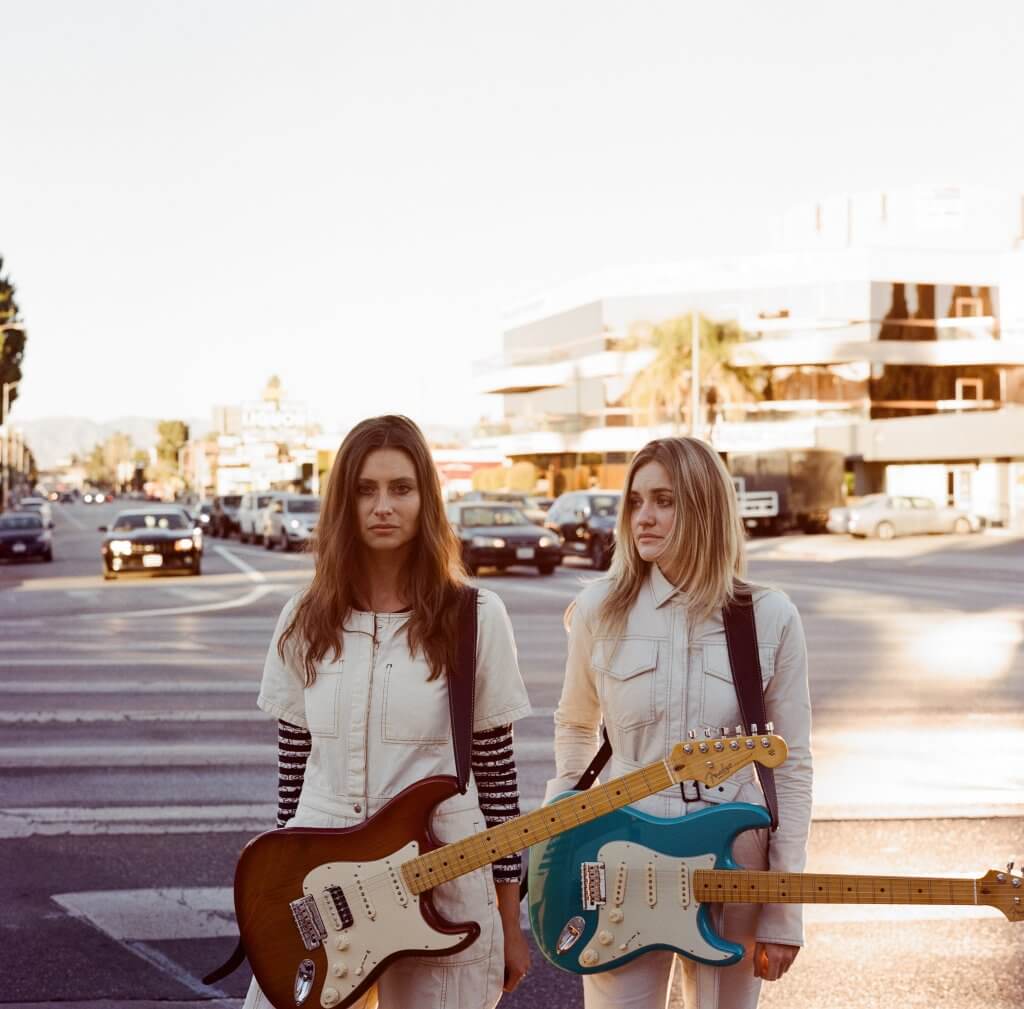 "This truly feels like the album we were born to make."
The odds are relatively slim as it is for an act to get squeezed through the Disney machine, spat back into the world (Into The Rush, if you will) and still be making music over 15 years later.
When it comes to Aly and AJ Michalka, who first met each other at home, did you know? – their best work yet was always just on the horizon.
And while the name Aly & AJ might immediately conjure up memories of a certain Radio Disney-turned-TikTok viral hit first, the girls have put in the work to prove that they can deliver magic in adult form, without major label backing or big name producers.
To be fair, the music never really faltered.
After finding their folkier footing briefly under the name 78violet (as it turns out, if it ain't broke, don't fix it), the girls heavily leaned into '80s-inspired synth-pop towards the latter half of the decade, resulting in the stellar Ten Years and Sanctuary sets, which saw the sisters veering into their own indie-pop lane. And, as of Friday (May 7), they've swerved off the exit ramp entirely for a fully realized getaway.
A Touch of the Beat Gets You Up on Your Feet Gets You Out and Then Into the Sun – yes, the full album title is a Fiona Apple-esque mouthful – is the duo's first proper full-length record since 2007's Insomniatic.
Teaming up once again with Yves Rothman for production and songwriters like Jeremiah Raisen and Jorge Elbrecht (Sky Ferreira), the girls united with a handful of musicians at the legendary Sunset Sound amid the pandemic (while adhering to safety protocols, of course) to craft an ode to the West Coast, and the dreamy Laurel Canyon soundscapes of the '60s and '70s that influenced modern favorites like Lana Del Rey and Kacey Musgraves in sound and style.
"That's the place where artists like Fleetwood Mac and Heart and Prince made some of our favorite records. When you're in that studio there's an energy that comes through in the recording that we wouldn't have had if we'd made it anywhere else," Aly told Vogue.
There is a kind of classic energy that weaves itself through the warm and instantly familiar record, full of soaring vocals and dreamy guitars. But there's also an undeniable awareness of the present, as with the stunning lead single: the rather appropriately titled, vaguely post-apocalyptic "Slow Dancing."
Like much of the album itself, the song offers much-needed romantic respite from a raging pandemic ("I've never had this much time on my hands") and political upheaval ("I've got my reasons to complain / And they're tangled in red, white and blue"), as the duo deliver a gorgeous, gently swaying ode to life's simplest pleasures in the most uncertain of times, rolling up the carpet, turning the stereo on and briefly shutting out the world.
Although largely penned before the pandemic hit, a touch of the beat is a timely invitation to escape, kicking off with the most road trip-ready opener, "Pretty Places," an essential addition to the pensive-drive-with-the-windows-down wanderlust soundtrack.
"I'll go anywhere / Let's go right now / Go anywhere, doesn't matter how far," they plead, restlessly, a mood that especially hits hard in an era of social distancing and stagnancy.
"I really feel like we've kind of created – not only an anthem to the open road, like writing a song like 'Pretty Places,' which is very much like a road trip-inspired song – but a record that feels like West Coast energy and feels like two girls that grew up in California. I think anyone can relate to that kind of music. Doesn't matter where you live…there's just something about this record that captures that essence," AJ told Apple Music.
Over and over again, they grab hold of our hands and run away across calm, gliding guitars and a propulsive pulse driving us to the next stop, including "Paradise," a cinematic, arena-worthy trek to some utopia just off in the far-off distance, to stellar twangy standout "Personal Cathedrals," a let's-ditch-this-party, us-against-the-world anthem that finds us leaving the judgy scenesters behind. ("They treat these lonely dance floors / Like personal cathеdrals / Even diamonds here don't shinе / Spinning us all around, looking us up and down.")
Despite the album's overall summery sound, it's not always love under the California sun: the sparkling "Lost Cause," which contains some of the '80s sheen of their past releases, pulses with a cool dissatisfaction while the duo debates whether it's even worth giving CPR to a flatlining romance. ("Maybe it's just come to an end, don't need to bring it back from the dead.").
"Listen!!!" packs an even more emboldened crunch, described as the experience of being "trapped by a relationship or system…it's a reminder that you might be lost but you always know your way out."
They even get experimental in moments, including "Lucky to Get Him," an ominous warning not to play too much with a boy's heart before it gets snatched up by the next one, which stutters and skitters unexpectedly, and "Stomach," a touch of breakup angst crafted over a two-hour Zoom session. ("I just can't stomach being your ex-wife, all these memories, they don't feel like mine.")
"Symptom of Your Touch," arguably the album's most straightforward pop moment, provides all the over-the-top drama of a perfect pop song with a slight Drive soundtrack flair, and plays like something that could come from the E•MO•TION-al songbook of the endlessly earnest Carly Rae Jepsen. It's also got one of the best lines: "Why am I never capable of doing the right thing just for once?"
Sometimes, they're the ones in need of the helping hand: as the record draws to an end, the duo allow themselves to be perhaps their most vulnerable with a chilly plea as the waves crash down: "Will you catch me?" They've made no secret of their struggles with mental illness over the years, and the song plays like an honest reflection of the thoughts that come when the sun goes down on the record.
Not only is the songcraft thoroughly impressive, with ample hooks – the bridges, especially, are earworms throughout – but so are the liner notes: among the several talented players on the record, Melissa Etheridge provides guitar on "Hold On," while Heart's Nancy Wilson sings and strums along on "Listen!!!"
It's a testament to a belief in Aly & AJ's work – who are operating independently, still – and their talent as musicians. While those who've been along for the ride for years are already aware of their potential, this reintroduction of a record proves just how far they've evolved past their teen-pop roots.
A touch of the beat is undoubtedly a standout that will go the distance this year, especially within a fragmented musical landscape that echoes the world's turbulent return to "normalcy." There's an instant familiarity to the music, which plays like much-needed reassurance.
At its most optimistic, the record offers a determined hope for the future: "Don't Need Nothing," armed with a chorus that became the album's title, plays like an almost holy affirmation.
"A touch of the beat gets you up on your feet, gets you out, and then into the sun," they declare again and again, as a drum pounds the phrase into a mantra. Here comes the sun.