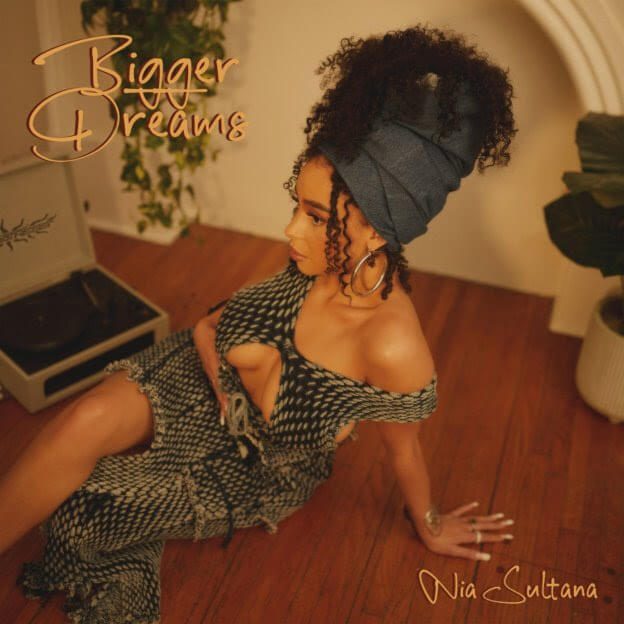 "I was made for so much more…"
When the world is on fire (which it is, down to the first Pride parties of the year), there are few things more comforting than turning down the lights, logging out from doom-scrolling and unwinding with a good, chill R&B record. (Maybe some Silk Sheets action too, if the spirit moves you.)
Perhaps as a direct inverse reaction to the State of the World, it's been a very good year for R&B records. Amber Mark. Ravyn Lenae. And now, Nia Sultana.
The Brooklyn-bred singer-songwriter just arrived on the scene with her debut EP Bigger Dreams on Thursday (June 2), and from the very first few notes of the set's latest single, "Proven" with Rock Ross, the collection offers an inviting escape from the world.
While the lyrics are full of complicated feelings – she's in this for real, while her beau's only putting in effort when there's a perceived suitor stepping up – the track, produced by PK Beatz, O.G. Sauce, Neil Dominique and Rob Holladay, is all sorts of soothing. (Also, those nails in the music video are truly the star of the show.)
"My love's been proven / It's true, that's real / I'm tryna be exclusive, you only do this when you feel like someone's steppin' up / And I start questionin' this situationship and all the time that I've put in," she croons. There's shades of Jhene Aiko, some slinky Janet, a little Cassie a la Rocka Bye Baby, – it's all a vibe that hits just right.
The EP kicks off with the snappy, wonderfully cocky "Entirely," co-produced by Ariana Grande's positions collaborator Nami. Nia cuts straight to the point from the very first line: "If it ain't with me, where you gon' go?"
Bigger Dreams also includes her previously released "In The Morning," an all-too-relatable self-love and/or introvert anthem dedicated to making space to just do her ("I need me time / Still want you around, but need to unwind") and "Ambience," a deceivingly dreamy kiss-off.
The melodies and lightly danceable beat are so sweet, you might not even notice the relentless dragging at first: "New mindset, on the ride back / I had high hopes, but the dick just wasn't hittin like that." Oof.
Title track "Bigger Dreams" similarly finds the rising star feeling frustrated – this time in a right person, wrong time situation – grappling with pursuing her goals rather than getting di(ck)stracted: "Maybe in the future, we could be a thing / When I look into your eyes, I can see things / I just wish that I had met you at a different phase /'Cause I was made for bigger things than love," she laments.
But it's not all mismatched energy on the EP: she gets into an Us Against The World state of mind alongside Che Ecru on "Cristal," a lavish, started-from-the-bottom-now-we're-here celebration of a match made in heaven.
The closer similarly celebrates a perfect pairing, no matter the material circumstances: "No need to go anywhere, room feelin' like a palace / We could kick it in the projects or catch a flight to the island / Long as I'm in your element, I'm closer to me."
Break-ups, bad hook-ups and bonds for life: it's a full spectrum of emotions in just over 20 minutes, lusciously drizzled over synth strings and gently knocking beats.
Bigger Dreams might mean making some personal life sacrifices (for now, anyway), but based on the goods Nia Sultana's delivering on her assured, hypnotic debut, those dreams are about to become a reality.