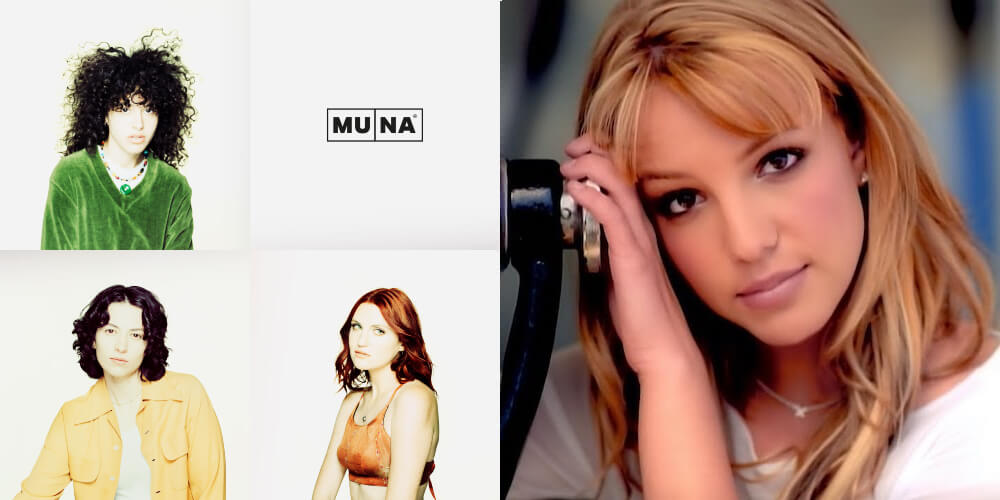 "…Baby, all I need is time."
A good Britney cover is hard to come by.
Perhaps it's the gatekeeping, overly protective stan still deep in my heart (REFERENCE) who won't hear anything except the original version, but Britney covers are usually too tongue-in-cheek, too try-hard, too overly affected (if I hear one more indie singer-songwriter do a slow, brooding cover of "Toxic"…), and/or too inferior to the magic that's sprinkled into the music for me to really get into someone else's take.
MUNA, however, have done something special. (Actually, it made me cry.)
Just in time for Pride Month, the queer emo dance-pop trio – who are on a roll right now with their upcoming self-titled album, including the gorgeous "Home By Now" – did a cover of "Sometimes," Brit's sugary-sweet 1999 "…Baby One More Time" follow-up, for the soundtrack of Joel Kim Booster's Pride & Prejudice-inspired LGBTQ romp, Fire Island. (We love the cast and crew, by the way. Please support the movie and our talented queer creatives making major moves in the industry.)
As far as the debut album goes, "Sometimes" is admittedly one of the cheesier offerings. But don't take my word for it: no one's (playfully) dragged it more than Britney herself. ("I never liked that song, anyway!")
Still, it's an objectively stellar pop classic, with those undeniable Jörgen Elofsson-penned hooks and, as always, those heaven (on Earth)-sent earnest vocals from a then-16-year-old B-Girl about to skyrocket to superstardom.
The production is quintessentially MUNA, wistful and sparkly and somber at same time, making the track their own with a sincere spin that doesn't feel like it's at all mocking the original. (The one glaring issue, of course, is we've somehow lost the song's spectacular bridge…I'll chalk it up to being a casualty of the don't-bore-us, get-to-the-chorus streaming era.)
Everything everywhere is very bad all at once, relentlessly so, but MUNA's nostalgic reimagining of one of Britney's earliest stone-cold classics is truly moving – especially at a time we could all desperately use memories of simpler, sweeter times.