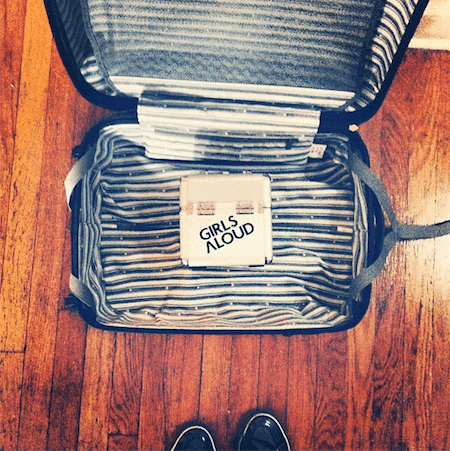 This weekend, I went to London for the first time ever — all in the name of Girls Aloud.
I don't think I've ever 'properly' explained my Aloud fandom, so it makes sense to do so now.
My obsession with the group started around 2005 or so, when I was prowling one of the now defunct Britney forums and came across a thread celebrating the video for "The Show" and touting them as the new Spice Girls. At first, I was unimpressed. No one beats Spice, I thought to myself. But then I kept on watching.
I quickly fell in love with what's become the signature Aloud sound, carefully constructed by their longtime collaborators, Xenomania: The endlessly catchy hooks, mile-a-minute rhythms, the cheeky, nonsensical references to bad behavio(u)r, disco dancing, deadlines, diets and hanging 'round the kitchen in one's underwear.
I lived for their photo shoots, full of stilettos and fierce poses. I devoured the documentaries and behind-the-scenes clips, as well as their individual runs on Popstars: The Rivals. I fell in love with their individual personalities–baby Nicola, boozy Sarah (at the time), 'street' Cheryl (at the time), lovable Kimba and the true diva (forever and always), Queen Nadine. As the music evolved, I only fell harder: Biology"–perhaps their most game-changing, sonically challenging record ever–was the revelation to turn me into a hardcore stan.
Girls Aloud became my unofficial gateway drug to all of Xenomania's productions, and to a greater extent, all the music that I now love: From Kylie and Dannii Minogue to Annie to Rachel Stevens to Alexis Strum (remember her?) and beyond. The group isn't just one of the primary catalysts that forever sparked my love for British pop music, but the major reason for some of my best friendships with my similarly Brit pop-minded friends in America–including several people who journeyed overseas with me.
Basically, if you know what Tangled Up is, you can sit with us.
When Girls Aloud announced their hiatus in 2009 and life got cold (REFERENCE), I took a vow that I would fly across the world just to see them if they ever reunited for another tour in my lifetime. And so, when the Ten Tour was announced late last year, that flight was officially booked.
As I boarded the flight to London on Thursday night, I knew as soon as I stepped onto the plane that my head wouldn't touch a pillow until the next night after the concert. (And sure enough, I was right.) I didn't bother investing in a map, or even, say, figuring out the currency system where I was heading. Why bother? I was too busy listening to "Untouchable" on repeat, preparing to see the Almighty Aloud in the flesh.
I did, roughly, ten billion things in the 48 hours I had to stay in London. (And yes, I realize it was an insanely short trip. I didn't have a choice.) Here's, more or less, what happened.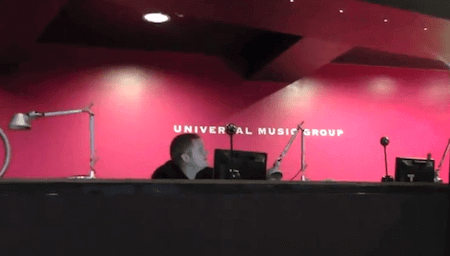 Polydor
After I arrived on Friday (two hours late, plus a dead train), I headed over to Universal London for a guided tour, courtesy of Jules at Polydor–the label behind campaigns for MuuMuse faves like Sky Ferreira, The Saturdays, Lana Del Rey and of course, the Almighty Aloud.
Everyone there was really lovely and very excited about the tour, and there was plenty of pop paraphernalia hanging around the place, including a LMFAO zebra (!) and will.i.am's piano from his video for "This Is Love" with Eva Simons.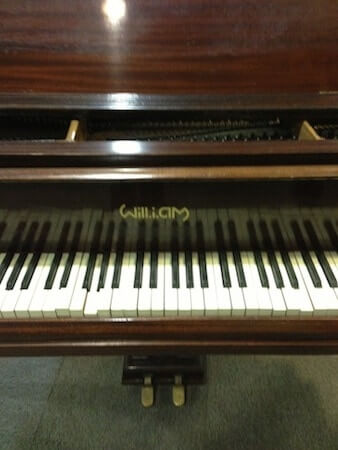 Regrettably, this piano was not automatically tuned to play "Big Fat Bass," so that was a bit of a letdown.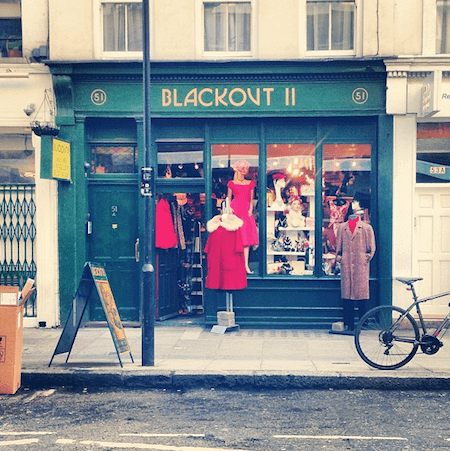 Blackout II
While shopping in Soho, I stumbled across the official headquarters where Godney is not-so-secretly holed up with Darkchild and Hit-Boy, feverishly recording the ever-urban Blackout 2.0. Ole eyes on os.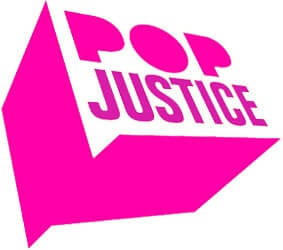 PopJustice
Just before entering the O2, I very briefly met Mr. Peter PopJustice Robinson himself, one of my greatest inspirations for starting MuuMuse. ('Amazing.') Next time I'm there, I hope to meet my long-lost brother, Dmuper.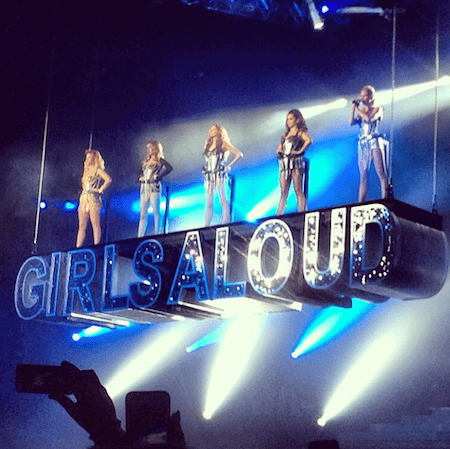 The Ten Tour
It happened. I saw it, and it was incredible.
When we took to the floor at O2, the first thing I immediately noticed was the crowd: No pushing. No shoving. No death threats. Very unusual. So incredibly polite!
Unfortunately, we missed Amelia Lily because the line for will call was so massive, so it was nearly time for the show to begin. And sure enough, within minutes, the wind machines started up, the lights dropped and the video began to flash on the screens: Every music video, every tour, every ferocious moment ticking down to a pulsing until fading to black.
And, after a few shrieks and a lot of smoke machines, there they were: All five, perched atop an almighty Aloud logo (brilliant) with their arms on their hips, singing the one song that started it all: "Sound of the Underground."
SO MAJOR.
The night was, as promised, one giant greatest hits medley, featuring all of the singles you'd expect to hear from the Ten collection – and also "Beautiful Cause You Love Me," which we're not talking about.
There were plenty of amazing moments throughout, including the runway strut just before "The Show," in which the girls showcased their individual personalities and walked it out in their fabulous fashions. (Nadine–showgirl! Cheryl–Victoria's Secret angel! Nicola–fashionable/mildly racially insensitive Native American headdress!)
The highlight of the night happened directly behind me, as the girls crossed (or rather, floated over on their massive Aloud logo) to the middle stage to perform 3 of their greatest songs: "Untouchable" (featuring some gloriously dramatic handography) "On The Metro" and "Call The Shots," which caused the entire audience to loudly chant and sway along in unison as the final chorus repeated for what felt like forever (in a good way.)
To have finally experienced "Untouchable" in person? Indescribable.
"Love Machine" was given the 2013 choreography treatment as seen on the The Graham Norton Show, featuring the same swinging choreography and strutting Z-snaps.
The decision to cover Carly Rae Jepsen's year-old "Call Me Maybe"? A bit troubling, although Nadine's hilariously over-the-top yelping saved the day: "Hay! Ay jus met yew..aynd thus us crayzay!!!" Priceless.
Also, let me just say: The nation's obsession with Cheryl is mildly irritating. I know that she's become a star in her own right in the years since the Aloud first announced their hiatus–but my God. The deafening screams whenever she'd sing or appear on the screen were obnoxiously over the top. This is about all five of the Aloud you flops, not just Cheryl!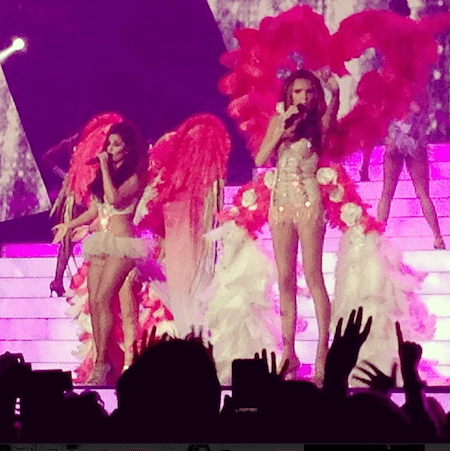 Meanwhile, it was really Nadine who owned the entire stage all night, pin-pointing every possible wind machine and allowing her almighty mane to do its magic as she tore through each song effortlessly. A wink there, a point and pout there–she is the ultimate showgirl, soaking up the applause and giving us more, more, more. (MOAH.)
My only concern–or rather, grip of reality–was the finality of it all: By the end of the night, the girls were signing off in a very obvious 'final hurrah' sort of way: Black-and-white images of their 10 year journey filled the screens as the girls huddled together in their red sequined dresses to sing their cover of "I'll Stand By You."
"It's been an absolutely incredible 10 years," announced Chezza at the end. Sarah was tearing up by that point (video above), to the point where Kimberley grabbed her hand, pulled her to the side and whispered something reassuring in her ear to make her smile. (I'm assuming it was "I know what you're thinking, you've been thinking 'bout my butt.")
Sure, maybe in time we'll see them reunite to record another record, but it did feel like this was their Goodbye Tour. Frowny face.
Meeting (3/5 of) The Aloud
After the show, the girls held a private meet and greet for hardcore fans, friends and family alike, and I happened to be blessed to be one of them. To our great horror and dismay, the green room where it was held was quite literally that–a lovely shade of martian green, meaning every photo came out looking like we were all very queasy. (Thus, the reason behind the dramatic greyscale in my photos.)
Every 20 minutes or so, an Aloud would nonchalantly enter to the room, and various friends and family would come swooping in for a series of laughs and giggles.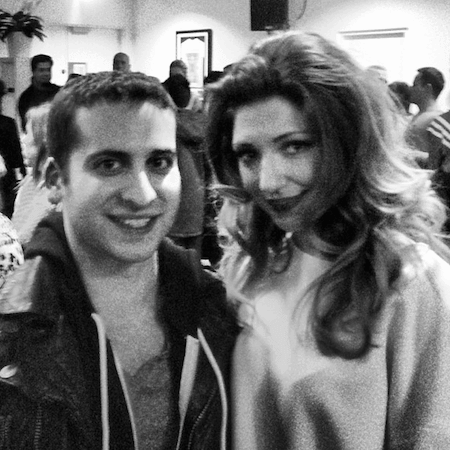 Queen Ginge herself Nicola was very sweet, if not slightly withdrawn (or maybe just DANCING TO THE BEAT OF HER DRUM.) She floated alongside her friends, who flitted all around her like a YO-YO. After we took a photo (in which I look like a terribly insane stan demanding a signed copy of Cinderella's Eyes) she grabbed my arm and said "Thank you" warmly as she walked away. It was indeed my LUCKY DAY.
Sarah was all smiles and laughs, and full of new tattoos all over her back too. During our photo, I imagined we were walking primrose together, wondering when we'd see each other again.
Kimba also came out in between Nicola and Sarah, but in an incredible bout of unintentional shade, we sort of forgot she was even in the room. I'm sad that I missed my chance to congratulate her on Centre Stage, and to tell her how much I liked "Like U Like." Ah, well.
How do you think I felt when Cheryl called my name? Well, I WOULDN'T KNOW.
Cheryl was the only Aloud to not make an appearance that night. Whether it was because she's sick or because her star wattage has elevated her (or at least her ego) to the point where she can't associate with the common people any longer, this Chezza soldier was left without a commander-in-chief.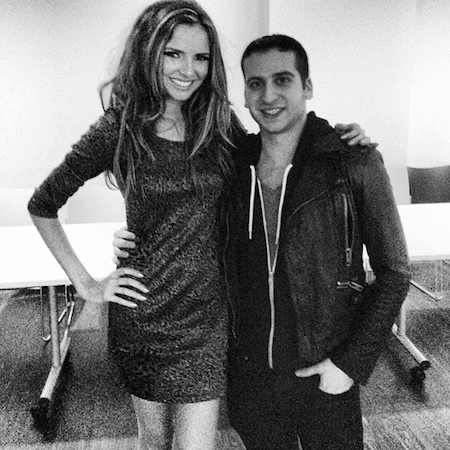 Finally, out came my Queen looking absolutely radiant, throwing a happy wave our way with a big smile.
Two years earlier, I was sitting on a balcony with Nadine in lower Manhattan discussing the possibility of an Aloud reunion one day as she was getting prepared to play a solo set at Splash. Now, here I was, standing backstage at the O2 following one of their sold-out reunion shows. Surreal? Massive understatement.
We chatted it up for a bit about her flaw-free hair flips, and her ability to work every single wind machine across the stage ("Ay wish ay had uh wind muhshayn in may hayr!"), what's up next for her ("Wayr shuttayng the Turr Day-Vay-Day tuhmorrow!"), I also praised her for introducing her shirtless back-up dancers as "for the ladies…and most of the gentlemen here with us tonight." ("Ay hav eyes, ya know!") She is truly an incredible pop star, and an insatiable delight.
All hail Queen Nuhdeen.
And with that (well, after accidentally leaving my bag of tour merchandise at the venue — a bittersweet memory), I successfully saw, met and bowed down in praise to the Almighty Aloud.
On Saturday, after sleeping in 'til quarter past 2 (I was dressed in red, tied up to your bed) after 48 hours straight of consciousness, Nik and I headed down to Soho for some shopping and/or general glamourous living.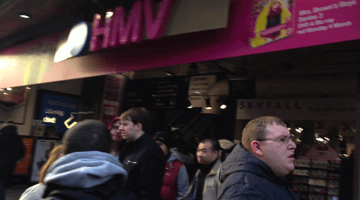 HMV
I did happen to find the due-to-be-closed-any-day-now Holy Mecca itself: HMV.
HMV has been a glimmer of joy way off in the distance across the pond for as long as I can remember. I've ordered from them before, but obviously, physically being there was a religious experience altogether. All of the artists I fawn over on the daily, made available right in front of my very face? Heaven on Earth.
Heaven. http://t.co/5NtVGIzBAU

— Bradley Stern (@MuuMuse) March 2, 2013
Cheryl Cole sitting casually next to Olly Murs. Alexandra Burke sitting next to Kimberley Walsh. Rachel Stevens sitting next to–well, there were no Rachel Stevens records (We asked to be sure, for the record–sold out from high demand, obviously.)
Oh. And while I was there, I also did some #lotuspromo on Legendtina's behalf…
#lotuspromo http://t.co/jyW8GUl1L3

— Bradley Stern (@MuuMuse) March 2, 2013
SAY!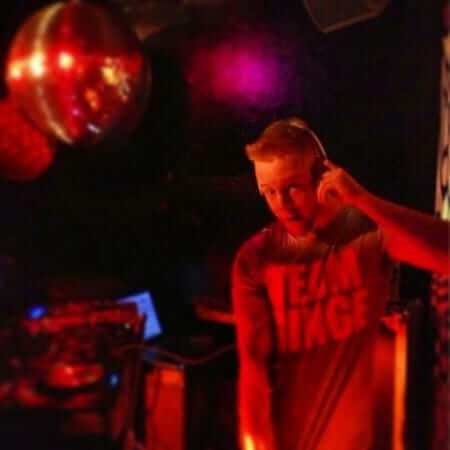 Songs of Praise: Aloud Night
On Saturday, night we went to a pop party called Songs of Praise at London's East Bloc (not to be confused with the hipster dive Eastern Bloc in the Lower East Side), which was being DJed by PopJustice's own Mikey Robinson, who was truly lovely to meet — and looking rill good in his Team Ginge tee.
There were three rooms of dancing happening all at once–the main sweaty one with Top 40 American tunes (NOT WHAT I CAME FOR), the unfortunate one in the back with the dub mixes and oldies (Alcazar!), and the Almighty Aloud Room–the smallest, and also the place to be.
I spent most of the night there, meeting loads of amazing people I've only ever known on Twitter (shout out to Olly, Jessica and the ferociously sexy Queen Grace, who truly ruled the room) and dancing to the sound of every Aloud single, album track, B-side, live rendition and demo in existence. It was utterly surreal–when would I ever dream of dancing to "Something Kinda Ooooh" in a club in America, let alone a full on sing-along to "Watch Me Go"? "On A Round"? Or the French version of "Can't Speak French"? Absolutely insane.
It was entirely up my street, even down to the decorations: Black crosses taped against the walls with photos of each of the individual Aloud members. Those Brits: They've got they're ironic devotion down to a fine art.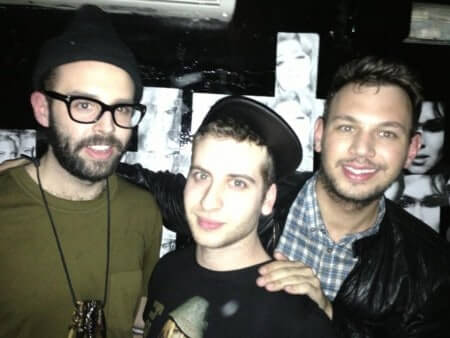 Worshipping at the Altar of Aloud.
And all that, generally, was Swinging London Town.
To have actually flown across the world (okay, just across the pond), met dozens of people you've only ever known from behind a computer screen, seen the Aloud in the flesh (and met 3/5 of them afterward), then danced all night to all of their songs with dozens of fellow fans–it the stuff of dreams that glitter.
Finally, here's a list of important things I learned on my trip to London:
– Dessert is called "pudding" (this should change).
– "Flagging" means "to be tired" (this should be incorporated into American speak).
– Don't tip the taxi drivers more than a pound or two.
– The cards for riding the tube are called Oyster Cards.
– Oyster Cards cannot be redeemed for actual oysters.
– The signs to exit the subway are labelled "the way out," much like suicide.
– When a subway reaches its final stop, the announcer says that the train will now "terminate."
– The subway does not actually self-destruct at that point.
– Station lines are named silly things, like the Jubilee line.
– The Heathrow Express train from Heathrow Airport to London is dependable — except when it short-circuits and breaks down for an hour on the tracks.
– Reception is spotty and your phone will work sometimes, except when you actually need it.
– Everyone drives on the wrong side of the road.
– Everything is expensive.
– Everything is beautiful.
– I will live in London someday.
And a video to boot, as if all that wasn't enough.
I'd like to thank my London bestie Nik for housing me, driving me around endlessly to the tunes of Godney and Legendtina and taking me out to party into the wee hours, as well as my London boyfriend Jules for showing me around Polydor, getting sexier den a motha at G-A-Y and just generally being the sweetest.
And of course, thanks to Nadine, Nicola, Cheryl, Sarah and Kimberley for providing some of my favorite songs in the world, an unforgettable concert, and one of the most surreal and incredible experiences of my life.