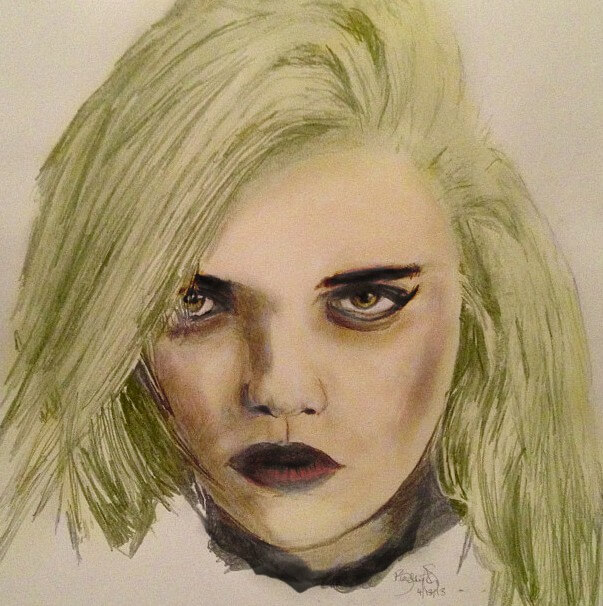 Sky Ferreira's debut record, Night Time, My Time is effectively pop music's own version of Guns N' Roses' Chinese Democracy — an album so delayed, so mired in controversy and setbacks that its mere existence seemed fabled even until the final few minutes before it surfaced on iTunes.
Somehow, the time has come.
The turbulent ride to Sky's debut record is perhaps one of the most frustrating, drawn out tales in recent music memory. The story stretches back well over five years ago, when the songstress was just a precocious teen posting demos of lo-fi tunes on MySpace 1.0 (that, even in their rough form, still sounded better than most of what's being played on radio today). Her brand of riotous bad girl lolita-pop — essentially a one-girl version of The Runaways crossed with Britney Spears — appealed to major labels and major producers like Bloodshy & Avant, the Swedish dream team behind Britney's "Toxic" and Kylie's "Speakerphone." She eventually signed to Parlophone, pushing out criminally underrated singles like "17" and "One" ahead of her debut in January of 2011.
But then, the album stalled. Instead, Sky dropped the As If EP, one of the smartest dance-pop releases of that year. The collection brimmed with bubbly, distinctly Swedish-sounding electronica that'd certainly have Robyn dancing on her own. From "Sex Rules," a Vanity 6-influenced cheeky synth-pop romp, to kiss-off tracks like "99 Tears" and her ode to cyber-shade "Haters Anonymous," Sky's sound felt distinctly next-level.
Somewhere along the way — after endless Soundcloud demos and Twitter rants — Sky announced that she was ditching the dance tunes, opting instead to experiment with raw, gritty rock textures and pounding drums rather than robot noises. "I want to get all of the stupid fun shit out of the way while I'm young and it's appropriate," she once told Blackbook back in 2010. Given that this was the same girl who wrote "17" at age 15, a song about a young girl staying out and partying all night, it seemed Sky was simply over the scene and ready to try something more serious.
And so came Ghost, a second EP that came last year that proved to be the bridge between the As If days and Night Time, My Time. It's a hodgepodge of sound: There's the Shirley Manson-penned "Red Lips" (which was great, but probably too much of a Garbage song), as well as the surprisingly personal, sorrowful guitar-led ballads like "Sad Dream" and "Ghost," which showcased the singer-songwriter side of Sky. And then, there was the Dev Hynes & Ariel Rechtshaid-crafted "Everything Is Embarrassing," last year's critically revered alt-pop anthem — and my own favorite song of 2012.
The EP's only real electronic moment came with "Lost In My Bedroom," which, ironically, was co-penned by the same two people who would go on to craft the entirety of Sky's debut album: Ariel Rechtshaid and Justin Raisen. Then came more pushbacks. More delays. Revisions of the album. New recordings. It became Wild At Heart. Then I'm Not Alright. Then I Will. And now, this.
As a result, Night Time, My Time plays less like a formal introduction and more like an exasperated sigh of relief.
(It also feels like an oddly personal victory. My adoration for Sky Ferreira is the primary reason I would eventually meet one of my future best friends/coworkers/roommates Sam Lansky, who contacted me three years ago to publish an article about meeting Sky on MuuMuse, and his excellent album review over at Idolator perfectly encapsulates our mutual fatigue over Sky's various album setbacks over the years.)
I do get embarrassed, but at least I bring some humanity to pop music. (Billboard)
So, about the Sky album.
"Boys" is one hell of a way to tear open the record: "Boys, they're a dime a dozen," she declares on the song's stinging opening, an allusion to a dance-y demo of the same name. She's since shed the thorns of that cheeky track, having since met a boy IRL (DIIV's Zachary Cole) who proved the others wrong. "I knew it was you all along / You put my faith back in boys," she slowly coos before diving into a wicked percussive punch. As unfriendly and industrial as the track might sound, the underlying sentiment is sweet. "Cross my heart and hope to die, stick a needle in my eye," she deadpans at one point. You see? It's not all serious.
Night Time is largely influenced by sounds that aren't being heard in pop today — there are elements of '70's psychedelic rock and early '90's grunge, as well as as experimental noise and some '80's New Wave. As Vulture described the album's influences: "Music-geek favorites from the seventies. Like, say, the grinding old synth-punk band Suicide. And psychedelic 'Krautrock' bands. And Brian Eno."
"Omanko" sees Sky veering into her weirdest, most obtuse moment on Night Time, incorporating Merzbow-like Japanese Noise textures that drone in the speakers, as Sky mumbles her way though something that sounds like a blurry adventure in downtown Shinjuku. "Reading Japanese comics / And fucking Japanese omanko / The Japanese Jesus." ("Omanko," by the way, is Japanese slang for vagina). "Kristine" is similarly strange and unfriendly, though — clocking in at just under 3 minutes — it feels like more of a spacey interlude.
The album's haunting final moment — the title track — lurches forward at a near stand-still march, as Sky gloomily staggers her way through. "You said I don't care what I'm thinking about, but I'm thinking of you right now," she mumbles on the deeply depressing track that could only ever make sense in headphones after midnight. "Night time is my time," her voice eerily drones in the background as the volume grows increasingly louder and dissonant. "I'm going faster and faster," she moans over and over. "Faster and faster." And then, silence.
Most of the album, however, is less obtuse: "I write pop songs, that's just what I know how to do well, I guess," she told Billboard this year. And it's true: Sky's penchant for pop hooks is alive in well, albeit buried under layers of distorted production. "Heavy Metal Heart" — another album highlight — sounds like a proper pop radio smash tightly bound in razor blades and scrap metal. "I can feel the pulse of heavy metal heart / You make my heavy metal heart beat, beat," Sky swoons above fiery guitar licks and pounding drums.
"24 Hours," however, is the album's true standout "POP" record. Like a sadder, somber take on "Teenage Dream," Sky gets utterly lost in her significant other across a dreamy, New Wave-inspired soundscape — with an expiration date: "I wish these 24 hours would never end / Oh in these 24 hours, wish the clock had no hands!" It's deeply romantic and hugely hook-heavy, even if there's an underlying sadness about the production.
"Love In Stereo," too, is a pop-friendly, repeat-heavy standout laced with '80's synthesizers that plays somewhat like a grown-up nod to her major label debut "One." — and, oddly, an arena-sized version of Cyndi Lauper's "Time After Time." It's also the closest she comes to drifting back into the dance world.
The album's lead single, "You're Not The One," doesn't arrive until halfway into the album — and it remains a highlight. The hook-heavy slice of fuzz rock is a clear standout from the record (and the year, actually), complimented by those yelping hooks, jagged guitars and an effortlessly cool sheen.
There's plenty of seemingly autobiographical anger throughout: "Nobody Asked Me (If I Was Okay)" — about as blunt a title as they come! — sees Sky's frustrations channelled into one major rock anthem: "Shakin' your head while I try to explain, you say you don't want to hear me complain / Just tryna get my point across, you don't seem to care if I'm feeling lost," she bitterly bites before that yelping, fists-aloft chorus: "Nobody asked if I was okay / No, no, no, no, no!" It's a fairly universal theme song for the under-appreciated — whether for a break-up playlist or a conference call with clueless record label execs.
"Ain't Your Right" plays like a cynical break-up-and-make-up anthem: "It ain't your right, but that's okay / I'll let you slide you this one time," she warns above a razor-sharp guitar lick and fiery drums. Her dubiousness is palpable. "You want to sleep it over," she sings, "we'll see about that won't we?" Gulp!
"I Blame Myself," on the other hand, sees Sky stepping back for a moment for something more vulnerable. Drifting along on a delicate '80's synths and a slight shiver of R&B (the only time the record vaguely crosses into the "Everything Is Embarrassing" arena), it's one of the album's most poignant moments: "How could you know what it feels like to be outside yourself? / You think you know me so well," she urgently yelps across the bouncing chorus, effectively lashing out against the world's perception of Sky. But, as you might gather from the title, she takes full ownership: "I want you to realize I blame myself for my reputation."
And then there's "I Will," which pounds along with the fiery, bad girl energy of Sky's earlier demos (a la "Femme Fatale"). "I kiss like I lie, you wait for a sign / It's what you, what you want from me," she tempts, seducing and slicing her prey to pieces all at the same time. "Try and teach me a lesson / I'll keep, I'll keep you guessing."
Well, that's for damn sure.
Night Time is a perfect debut. Why not? What does it lack? Radio hits? Maybe, but that's fine. Artistic ambitiousness is better than pandering to a frothier, friendlier sound simply because she "should."
That's not to say it's an immediately accessible record, because it's not. At all. It's largely moody, snarling and abrasive — not entirely unlike the persona she projects in all of those too-cool-for-school high fashion photographs — and for the unfamiliar listener, there's certainly no welcoming entry point.
But this is an album that plays like an actual album. Apart from that of her sister in dark-pop, Charli XCX's True Romance, there hasn't been nearly as interesting of a listen released this year. It's full of earworm pop melodies, unfamiliar sounds and honest lyricism that reflects Sky's rocky road to her release — scorned by former flames, shady record labels, anonymous Internet haters and everything in between. The music is so defiantly different in a world dominated by EDM and #SomethingMoreUrban beats, there's almost something heroic about releasing a rock-infused pop record in 2013.
In a year when pop music's biggest superstars dared to do nothing very different at all — when big budget records began to feel more like mediocre single collections than cohesive statements and pop stars concentrated more on marketing than making music worth talking about — Night Time, My Time is the defiant middle finger in the air from an underdog that breaks all the rules in all the right ways.





Night Time, My Time was released on October 29. (iTunes)