Blondes have more fun, but Madonna, Queen of Pop™, isn't here to fucking play around.
Or, well. She is, considering she's quite literally playing around in wigs. But I digress.
The "I'm Going Bananas" singer-songwriter-turned-Portuguese soccer mom sent us, the Little Madonnsters, into sheer panic mode just a few days ago (January 18) by casually posting a generously, um, edited #selfie of herself flaunting a drastically different hair style: a cropped black 'do, to be exact. (That's not exact. I don't know proper hair terminology.)
"But what if……………….😍 #photobomb," she captioned the post.
But. What. If?
While the general public bickered over whether it was her real hair in the picture – the lace is visible, and there are several wig heads in the background, so probably not! – M-Dolla decided to double-down on the darkness with a second, longer, wavier look on Monday (January 21).
"Getting Ready For the Super Blood Wolf Moon ! 🌚🐺🖤 #lisbon #music #magic," she wrote. (#Magic – or, hopefully just Magic, appears to be the name of the upcoming album, by the way – she's used it relentlessly for months in her posts.)
She went one step further in her IG Story with a stunning shot overlooking the city at night: "super moon!" she declared.
Of course, this could only mean one of several things: American Life 2: Make America Gay Again is coming. "Rain II: It Gets Wetter" is coming. "Like A Prayer (2019 Version)" is coming. "Frozen." "The Power of Good-Bye." All of these dark-haired things are now coming to mind, and the (impossibly high) bar has officially been set.
Her Madgesty's been teasing that her forthcoming fado-hip-hop-Brazilian-funk masterpiece of a fourteenth studio album is coming soon. The hair is transforming. This is not a coincidence. Would you like to try — err, dye?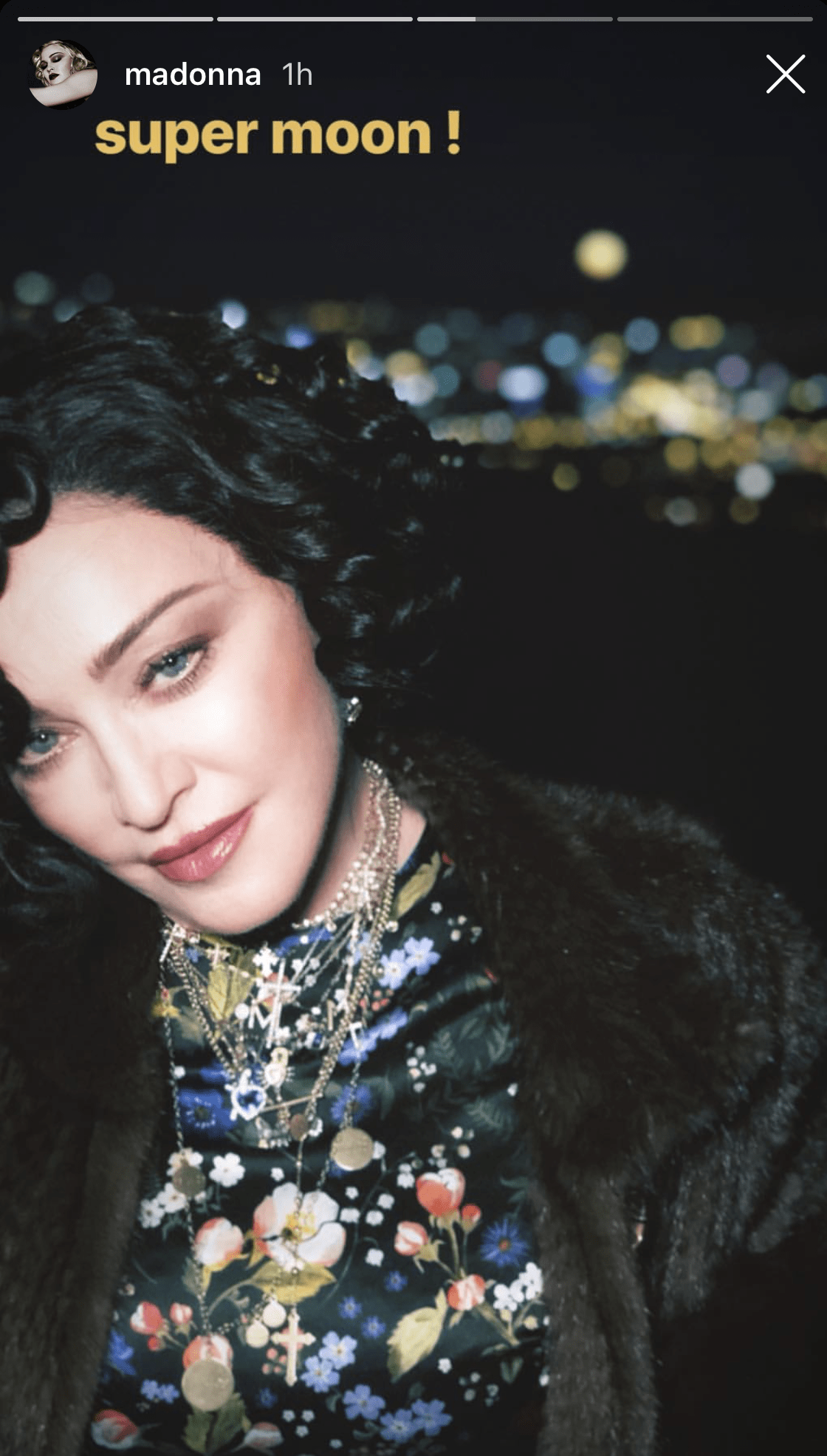 Photo credit: @Madonna