If we took a holiday, took some time to celebrate – just one day out of life, even – it would be so nice. Right?
Well then, let's do it. Yes, I'm dead serious. You still got your passport? Good. I've got a friend of a friend who lives in Portugal we can stay with. Actually, she might be in Brazil at the moment. Or…possibly Colombia. You know what? It doesn't really matter – I'll find out where she's at in the world, and we'll just go.
Her name? Oh. It's, uh…well. She just goes by Madame X.
Who is she? The last I heard, she was working as a cha cha instructor in Medellín, but according to her LinkedIn, she's also an equestrian. And a nun. And a spy. And a prostitute. And a wine expert. And a tiny spoon collector. And a Walmart greeter. And – you know what? Don't worry about it. She's great. Everyone's always talking about how she brings light to dark places. She's a little bit mad – in the literal angry sense and also the loca sense – but in a good way. Just trust me. It'll be an adventure! Ven conmigo, let's take a trip.
You're in? Great. Meet me at the airport by 6. Also, do you have an eyepatch? I'll explain later…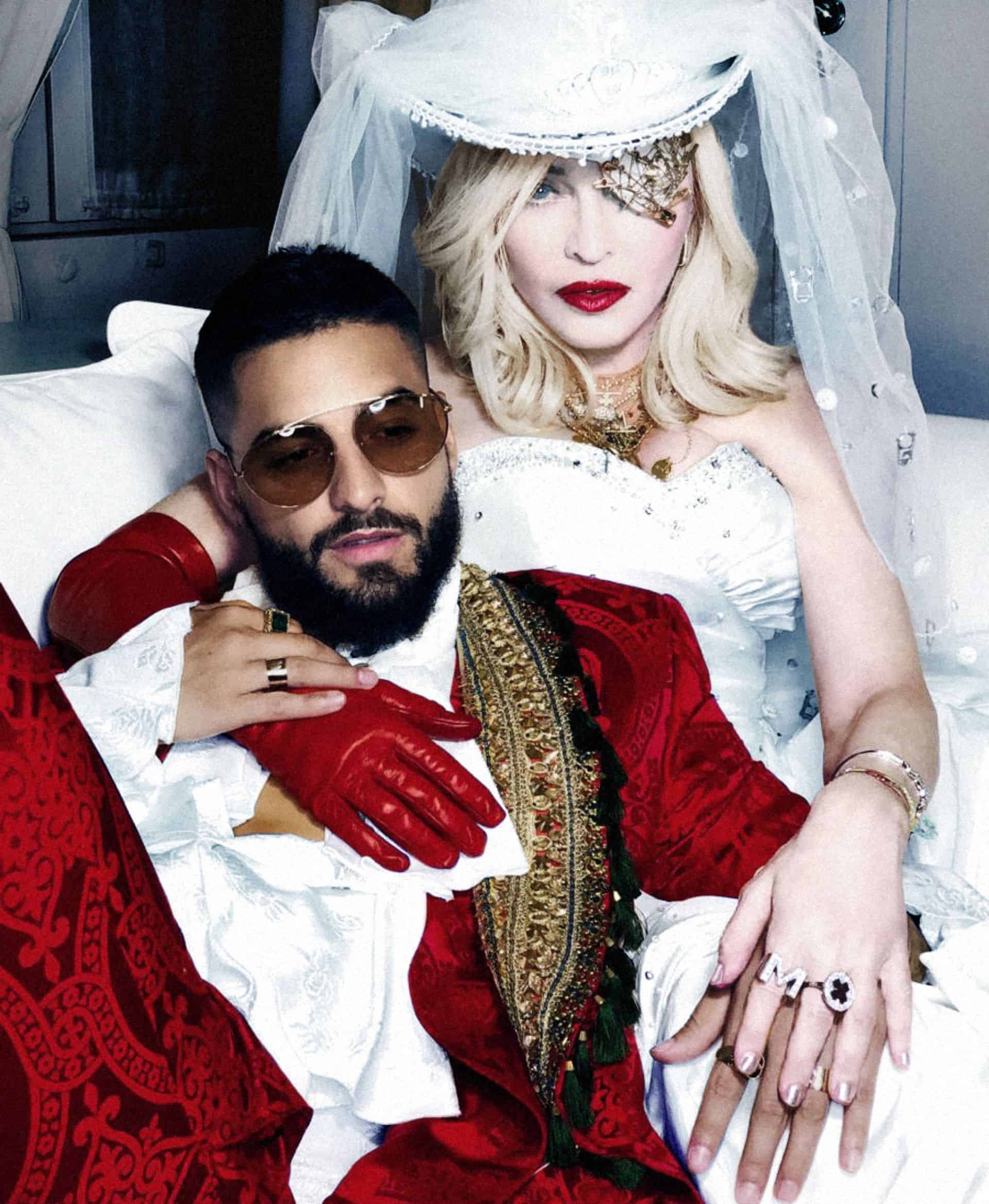 For those of you just tuning in, here's where we last left off: after the release of her 2015 studio album Rebel Heart, a self-referencing modern pop retread of the most enduring themes in her music – perseverance, individuality and self-empowerment, mainly – Madonna moved to Portugal for her son, David, to pursue his passion for soccer.
While living the soccer mom life for the next few years, whether by extreme occident or divine intervention, she found herself inspired by the omnipresent sound of fado, a genre of Portuguese music, permeating throughout the streets, cafes and bars, as well as Cape Verde's morna. The diversity of Lisbon (a "melting pot of cultures," as she put it) also influenced her – enough that she wanted to write a record.
To bring her ideas to life, she reconnected with some familiar faces, including her American Life and Music collaborator Mirwais, as well as Diplo and Mike Dean from the Rebel Heart sessions. She made new friends along the way too, including Colombia's Maluma and Brazil's Anitta. (Yes, I am immensely proud that Madonna collaborated with two international acts I've championed for years. Yes, I take full credit. Yes, I did personally A&R this record.)
But Madonna felt this album required an identity, like Dita to Erotica, and so, she reclaimed a nickname from her past: Madame X, given to her at 19 by legendary dancer Martha Graham while studying in New York City due to her shape-shifting identity.
And so, Madame X became the record's namesake, and also its globe-trotting, injustice-fighting, eyepatch-wearing heroine. (She was injured, for the record. It's not just a bad case of conjunctivitis.)
With that, Madame X one, two, cha-cha-cha-ed her way into our world and onto the music scene, and Madonna returned with the latest addition to her prolific career as the long-reigning Queen of Pop™.
There's a part during Madonna's tours – at least, the ones from the last decade – usually referred to as something like the "gypsy section." It's the moment she and her dancers break away from the spectacle of the main show, gather 'round the band and perform folky renditions of Madonna's myriad hits inspired by different cultures: Gogol Bordello inspired the Sticky & Sweet Tour section, the Northern Basque Country's Kalakan shaped the MDNA Tour section, and Spanish flamenco dominated the Rebel Heart Tour section.
Madame X, essentially, is an album version of that section; a wild, political, romantic ride through world music.
Back in April, Madonna kicked off the campaign with "Medellín" (original review), a cha cha-dancing, toe-licking, bilingual burst of reggaeton-infused pop euphoria, like a cool younger cousin of "La Isla Bonita."
With an offensively sexy Colombian hunk smirking and gyrating by her side ("slow down, papi"), Madonna let loose, liberating herself briefly from her own self-judgement enough to indulge in her fantasy: "I took a trip, it set me free / Forgave myself for being me," she coos – a most telling line.
The two wound up working together twice on Madame X, and once for his own album, 11:11. With Maluma sending flowers to your door, wouldn't you?
"Bitch I'm Loca," their second tag-team, is the album's most playful pop serving. In fact, it's even more fun than "Medellín," as the two trade flirty verses in Spanish and English across buzzy, banging Billboard-produced beats.
"Quiero ser tu perra, también tu bebecita" Madge lusts. (Basically: "I want to be your bitch and your baby.") The outro is the best part, as the two call each other by their pet names, Mr. Safe and Mrs. Crazy.
"Where do you want me to put this?" Maluma adorably inquires in English.
"Um…you can put it inside," Madonna replies, as Maluma erupts into a giggle. Their cougar-papi chemistry is infectious – and he's only too eager to meet her demands. (No doubt, she had many in the studio.)
She keeps the flirtatious energy going on "Faz Gostoso," her duet with the multilingual Brazilian Funk Carioca Queen herself. Together, Anitta and Madonna bounce their bundas along a bilingual cover of Blaya's 2018 Portuguese-language ode to a sexy man of seduction, which was also a No. 1 hit while Madonna was living in Lisbon.
In an album full of heavy themes – gun control, persecution, fighting for freedom – the Madgeluma and Madonitta moments on Madame X are welcome getaways, hammering home a different, yet important sentiment in its own right: women can be sexual at any age. Imagine that.
Her sexual expression isn't necessarily the heart of Madame X like Erotica or Bedtime Stories, though: there's a world out there in desperate need of change, and Madonna's ready for a revolution of love. Are you with her?
Just over a year ago, Madonna teased a new song on the steps of the Met Gala in front of Rihanna, who was dressed as the Pope. As it turns out, that song would become "Dark Ballet" – and it's way, way weirder than she let on that evening.
"People tell me to shut my mouth," Madonna vents on the lurching piano-led number, inspired by her Rebel Heart muse Joan of Arc, who is played by Mykki Blanco in the grim, religious iconography-filled accompanying music video. (She is nothing if not consistent in her love for all things blasphemous.)
The song quickly descends into electronic madness, as Madonna's voice warps into unintelligible levels of vocoder above an arrangement of Tchaikovsky's "Dance of the Reed-Flutes" from The Nutcracker before being spat out for a monologue: "Can't you hear outside of your Supreme hoodie? The wind that's beginning to howl?" (The way she over-enunciates "who-die" alone truly makes the song.) A fire blazes. She blows it out, ASMR style. It's as absurd on paper as it is in headphones. In the best way? Perhaps. If nothing else, it's shocking, at a time when few can still manage to surprise with their music.
"Dark Ballet" is only the beginning of Madonna's quest to shine a light on bleak subject matter: "God Control," the dazzlingly hellish epic that follows, is arguably the true centerpiece of Madame X, and it comes armed with meaning – pun very much intended.
Like Janelle Monae's sunny, post-election depression jam "Screwed," the song is a jaded-yet-joyous response to the State of Things – in this case, gun control.
"I think I understand why people get a gun / I think I understand why we all give up," Madonna murmurs in the song's moody opening, echoing the disillusionment and depression of a nation.
The Tiffin Children's Choir chimes in: "We lost God control," the kids eerily sing over and over. Their participation is no coincidence. Later on, Stoneman Douglas High School shooting survivor Emma Gonzalez's impassioned speech leads into self-empowerment anthem, "I Rise." Madonna knows exactly what she's doing with these choices.
And then, the song then gives way to…disco strings? Yes. Things are about to take a turn.
"This is your wake up call," a voice declares amid gunshots. And suddenly, we're off: the track transforms into bitter bliss on the dance floor, as Madonna goes batty ("People think that I'm insane / The only gun is in my brain!") and whispers the most damning of truths: "Everybody knows they don't have a chance / Get a decent job, have a normal life / When they talk reforms, it makes me laugh."
It's a manic, anti-gun masterpiece, and only grows better with each listen. Sure, there's some hypocrisy afoot: is the gun-slinging "Gang Bang" singer really one to get preachy about the subject now? But then, it's been a few years. Perhaps her attitude's changed given the impending collapse of civilization. Evolve or die, right?
Those clinging to the disco beat of "God Control" in an otherwise unfamiliar soundscape of world music will be relieved to discover another dance floor gem deeper (and deeper) into the album: "I Don't Search I Find," which answers the question: what would happen if Madonna truly did "old Madonna" again?
If "I Don't Search I Find" was revealed to be a polished-up version of a demo from a tape being sold in one of those personal collection auctions, no one would likely bat an eyelash: it is pure, early '90s, Shep Pettibone-style "Vogue"-Erotica-era ecstasy, out of nowhere, in 2019.
"There's no rest for us in this world," she purrs, "Justify My Love" style, above strings and finger snaps. Each recitation of "Finally, enough love" is like a mantra – and it feels like home. It is wildly different than the majority of Madame X, and her fiercest song in over a decade probably; a perplexingly brilliant standout.
Ever the paradoxical pop icon, Madame X goes from a nostalgic dance floor ode to the whimsy of gypsy life to feeling lost – because she…wasn't lost. Still following?
"I guess I'm lost / I had to pay the cost / The thing that hurt me most / Was that I wasn't lost," she sings on "Extreme Occident," a mystical Mirwais ballad that finds the singer wistfully looking back.
"No, I wasn't lost / It was a different feeling / A mix of lucidity and craziness / But I wasn't lost, believe me / I was right, and I've got the right to choose my own life like a full circle," she declares. An "Easy Ride" reference, perhaps? ("I go round and round just like a circle…")
It's one of the most introspective moments on Madame X, as she reflects on her past, and her conquest leading to the present – only to ponder what comes next.
Not everyone is coming to the future, after all: just ask Migos member Quavo. Their reggae-heavy "Future" is essentially a "woke," vocoded-to-oblivion take on Rebel Heart's "Unapologetic Bitch." It makes more sense in context within the album, but remains one of the weaker, lyrically cringe-y offerings.
"Batuka," recorded with Portuguese female orchestra The Batukadeiras, is also not quite a highlight: the protest song finds Madge in warrior mode, leading us into battle while standing up against a certain U.S. sitting president without once saying his name: "Get that old man / Put him in a jail / Where he can't stop us," she chants. The pounding drums and rallying cries provide for an intense listening experience, although it plays more like something she'd do as a call-and-response during a concert rather than an actual song.
Madonna's been hit with "desperate for relevancy" accusations for decades, especially when collaborating and performing with the trendiest of pop stars. That's proven to be embarrassing at times (remember the LMFAO love affair?), and genius at others. (The 2003 MTV VMAs – 'nuff said.)
While the Quavo collaboration feels somewhat stilted, she finds more success with Rae Sremmurd's Swae Lee on the soft midtempo ballad "Crave," released as the follow-up to "Medellín." Sure, the video is a bit nothing – Madonna, please stop tossing pigeons off the roof – but Swae Lee's voice provides a pretty, if haunting accompaniment to Madge's yearning…if you can get past some slight slurring.
The one drawback of Madame X is, unavoidably, the artist's voice itself. The vocal engineering of a bulk of the record makes Madonna's voice sound dull, robotic and thin – and not in a "skinny legend" sort of way. It's not the first time she's purposely manipulated her voice, but back then – on songs like "Impressive Instant," for instance – she still sounded like herself, just being a weirdo in the studio.
Here, she mumbles (the opening of "God Control" sounds like she got caught doing a Sia imitation in the studio that they kept in), slurs (was she wearing the grill while recording "Crave"?) and speak-sings her way through much of the album. It's unfortunate for fans who love her bigger pop hooks, although the state of her voice is a little unclear as it is. The less said about her Eurovision performance the better, but this vocal coach made a point: it sounds like she hasn't been taking good care of her voice.
Madonna is not Celine Dion, nor do we want her to be (she's not me and she never will be), but there's no getting around the fact that her voice just isn't quite at its best on Madame X.
That said, she does do new things with her voice: namely, singing and speaking in both Spanish and Portuguese. Although this white boy isn't the one to give her a pass, there's something to be (positively) said about her singing other languages, introducing fans to artists from other countries and inviting collaborators to sing in their native tongues out of appreciation – an important distinction from appropriation.
Unfortunately, what she's singing in English is the other occasional downfall of Madame X. Although she's proven herself to be profound in the past (Ray of Light in its entirety), she's also been known to engage in some mighty embarrassing penmanship: "I Love New York"? "Hey You," anyone? Unforgivable.
In an effort to be sympathetic, she makes a misstep on the fado-infused, unfortunately-titled "Killers Who Are Partying," name-checking about a dozen minorities in solidarity with their struggle. To Madonna's credit, I don't know if any song will ever recreate the look on my face the first time I heard the opening line: "I will be gay if the gay are burned."
It's really only downhill from there: "I'll be Native Indian, if the Indian has been taken / I'll be a woman, if she's raped, and her heart is breaking." It's all coming from a sincere place and meant to be a gesture of allyship, of course – but, oof. It just doesn't…work.
On the opposite end of the spectrum, "Looking for Mercy" contains some of the most vulnerable lyricism on Madame X: "Teach me to forgive myself, outlive this hell," she prays along a dark pulse. "On the outside, I'm strong / Hold my hand, please sympathize / Hard enough tryna forgive / Hard enough tryna live / Please don't criticize."
It falls in line with her thoughts on social media: even Madonna is not immune to insecurity. If the Rebel Heart herself is crippled by self-doubt sometimes, what hope have we mere mortals? (On a lighter note: imagining that she wrote the chorus while literally looking for her daughter, Mercy, inside one of her sprawling estates makes it even better.)
Madame X is also rich with self-references. And with a catalog like hers, can you really blame Madonna for plagiarizing herself?
"I want to tell you about love…and loneliness," she urges on "Dark Ballet," a reference to "Future Lovers."
"Don't tell me to stop 'cause you said so," she sings on "Future," a nod to "Don't Tell Me."
The Portugal-inspired "Crazy" finds Madonna bending her knees "like a prayer." See what she did there?
"Crazy" is also the sole song on Madame X that tackles a rocky personal relationship, a theme that's all but absent on this more globally-minded project, but has dominated previous records. (MDNA was essentially a Guy Ritchie divorce dance-off.)
"'Cause you're driving me crazy / You must think I'm crazy / Você me põe tão louca / Você pensa que eu sou louca," she croons across a romantic accordion. Despite the subject matter, it's still a swoon-y offering – "cra-a-a-zy" – like Madge delivering a breezy kiss-off over the phone to a former suitor before twirling into another living room session somewhere in Lisbon.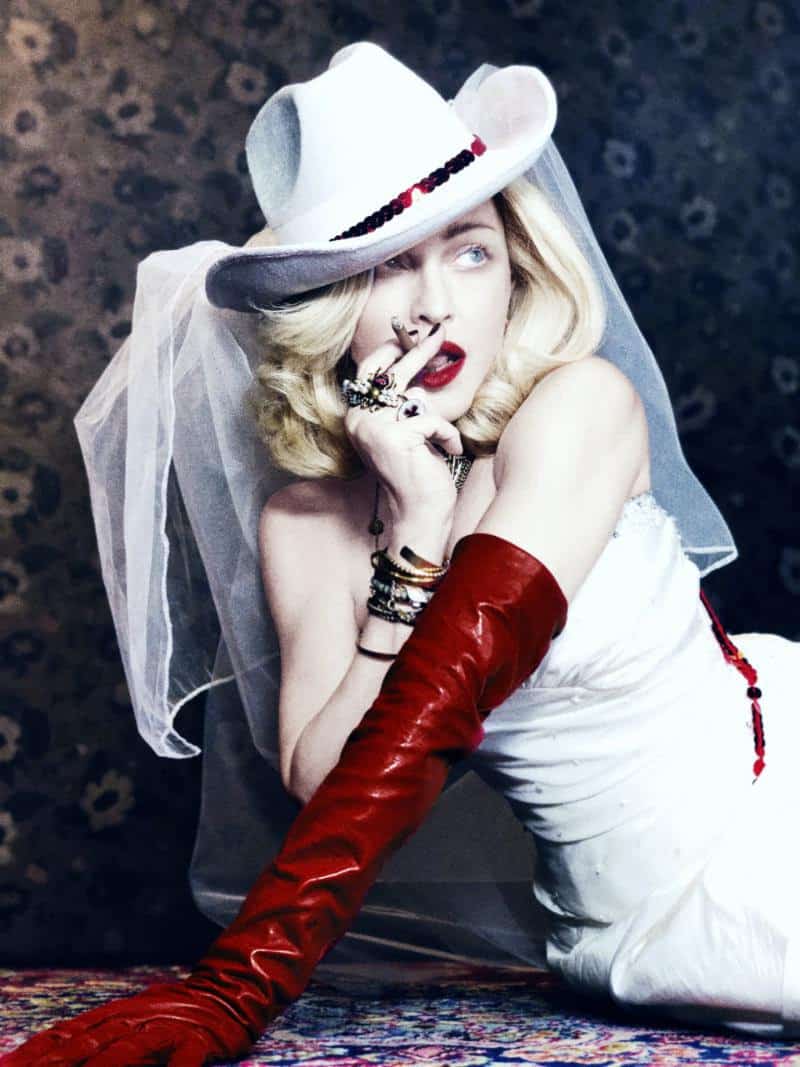 Don't tell Madonna this (or Madame X, for that matter) – and definitely don't mention it if you're profiling her for a cover story in the future – but age is an important part of her story, now more than ever. In a society that worships youth, in which women over 35 are essentially blacklisted by radio (unless you're listening to an adult contemporary station, or have adopted a clever diversion tactic like Sia and her wig), and women over 50 are made to feel invisible, Madonna is here to say, loudly, that she's still here. After all the barriers she's broken over the years, ageism is perhaps the most daunting wall still standing in her way, which she's determined to demolish.
The truth is, there is no roadmap for an artist like Madonna. She's still paving the path in real-time. Most of her contemporaries – Michael, Whitney, Prince, Bowie – are dead. Yes, there are older icons still being iconic – Barbra Streisand, Cher, Dolly Parton among others – but her crusade is a different one.
She is the pop star archetype: the music, the choreography, the tours, the wardrobes, the marketing roll-outs, the music videos, the awards show performances alongside artists a third her age. There is a reason for the reverence after all this time. There is a reason she is still the Queen of Pop.
But even with all of her professional success, and even all of the love in her life (finally enough love…), it must be an increasingly lonely road to walk at times, especially when the world heckles her for being too old. And if it's not that, it's that she's too irrelevant, too desperate, too sexual, just too much – her detractors will only keep at it until she cha-cha-chas into the great beyond. And then, those same people will write their breathlessly reverential tributes. "It makes me laugh."
Is a musically diverse, politically conscious global-futurist record not the best we could hope for from Madonna in 2019? What else should she be doing? (To the hater who just yelled "retire, bitch!" in the back – I heard that, asshole.)
Really though, why call for someone to bow out of the game who's still so hungry? "Ravenous," she clarified in one interview.
Is she meant to do more of the same? Reunite with Stuart Price and whip up a Confessions Part II? (Gays: "Yes!") Should she conform to today's streaming standards? Hit up some teenage bedroom producer to pop out a few 2-minute GarageBand bouncy "bops" for New Music Friday digestion? Actually, don't give her ideas.
But no, this is Madonna Louise Veronica Ciccone we're talking about: she's not one for an easy ride. And neither is Madame X. And now that we're fully acquainted, what about Madame X, the album?
Madame X is Madonna's weirdest album, for sure. It's at least her most artistically daring effort since Ray of Light, and her first real start-to-finish statement since 2005's disco epic, Confessions on a Dance Floor. It's also more ambitious in scope than both 2012's MDNA, a bout of EDM-laced stress relief after her divorce and her directorial debut, and 2015's Rebel Heart, a varied collection of modern pop that felt closer to a career retrospective.
All that is not to say it's her most enjoyable listen – 2008's Hard Candy, her hip-pop opus that is now aging like wine, is miles (away) more fun to listen to than an album with heavy-handed cuts like "Killers Who Are Partying" and "Batuka." But Madame X isn't meant to be that kind of a record. Madonna isn't as concerned about saving pop with bops as she is about saving the world these days.
At a time when "settling down" could be a very attractive option to someone who's enjoyed such an illustrious career, Madonna's (blonde) ambition only seems to be reinvigorated as an artist, 14 albums and 37 years after the release of her debut single. She's still the same girl who said she wanted to rule the world. She came, she saw, she conquered…but she's far from done.
"They say be all I can be / And all I want is peace, peace, peace, peace, peace, peace / See the world, haven't seen it all / All I wanna see is, see is, see is, see is, see is dreams," she coos while boarding her rocket ship to the sky on the ethereal "Come Alive." (Madame X is an astronaut too, I think.)
Madame X is also only Madonna's latest identity. She's the Queen of Reinvention for a reason: she's shape-shifted throughout her whole career as a recording artist – and years before then, too.
But at least one thing's stayed the same, regardless of what she's wearing, the language she's speaking, where she finds herself, or who she's claims to be on any given day: it's that seemingly endless hunger for life, knowledge and experience – to dream and do and see more (with her good eye, anyway) – that makes her Madonna.
Madame X was released on June 14.
This album is featured on the MuuTunes Spotify playlist. Subscribe!
You can also subscribe to MuuTunes on Apple Music.
Photo credit: Interscope Records