Miley Cyrus is, in my humble and oft-dragged opinion, the closest to being "the Madonna" of the '00s Disney Girls.
That's not to start an exhausting Stan War in the comments section, or take away from her own unique brand of artistry. It's just that Miley shares some of the same characteristics as the Queen of Pop: she's an in-your-face, provocative, political and, occasionally, problematic entertainer. She's also well-intentioned, even when it occasionally misfires, and determined to lead the crusade for equal rights. (Because, at the end of the day, she just wants to have a Party in the USA…and beyond, presumably.)
While Madame C is already on a roll, achieving her goals and generally dominating the summer (at least, among many Twitter Gays) with her bewigged Black Mirror alter-ego Ashley O, she's got some stuff of her own out, in the form of She Is Coming – including her latest single, "Mother's Daughter," which is like a feisty, fuck-filled continuation of Can't Be Tamed's empowerment anthem, "Liberty Walk."
To bring the don't-fuck-with-me messaging of the song to life for the accompanying visual, which premiered on Tuesday (July 2), Miley enlisted a few public figures – over a dozen of them, in fact, ranging from entertainers to activists to athletes to, of course, the very namesake of the song itself: Mama Tish Cyrus. (Side note: Tish looks incredibly fierce in this video, dripping in a rich Chanel ensemble. As she should.)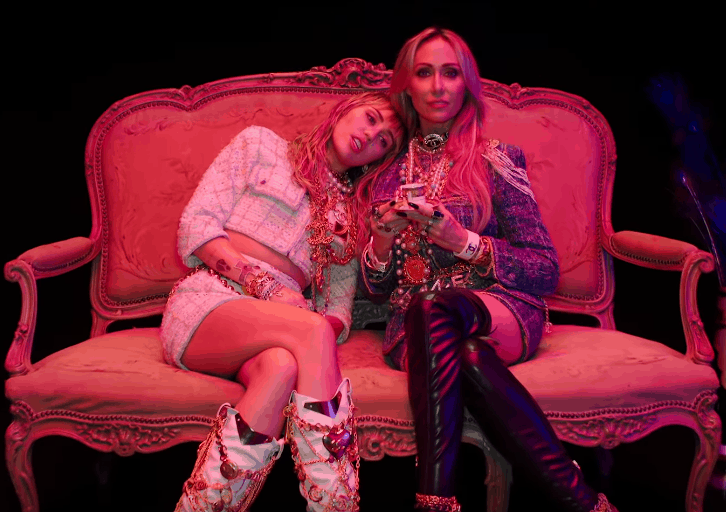 Zipped up in an "Oops!…I Did It Again"-meets-Jennifer's Body red latex outfit, Miley powerfully poses and struts her stuff in front of a simple pink backdrop amid feather-ruffling symbolism (nipples! C-section incisions!), politically charged slogans ("Every woman is a riot") and friends both new – like trans disabled model Aaron Philip and skateboarder Lacey Baker and model Vendela – and old (Amazon Ashley's been by Miley's side since the Bangerz days).
And, bringing it back around to Madge, she supplies shades of "Human Nature"; a similar middle finger to society.
The diverse cast represents a progressive future, sending a powerful, pro-feminist message about women's freedom to make decisions about their own bodies, including their own gender expression and sexual identity.
In these harrowing, is-The Handmaid's Tale-even-fiction times, when human rights are continuously challenged under the current administration, it's not a surprise that Miley's decided to use her pop star platform to speak out in defense of herself – and so many different types of women, too.
Her mother taught her well.
This song is featured on the MuuTunes Spotify playlist. Subscribe!
You can also subscribe to MuuTunes on Apple Music.