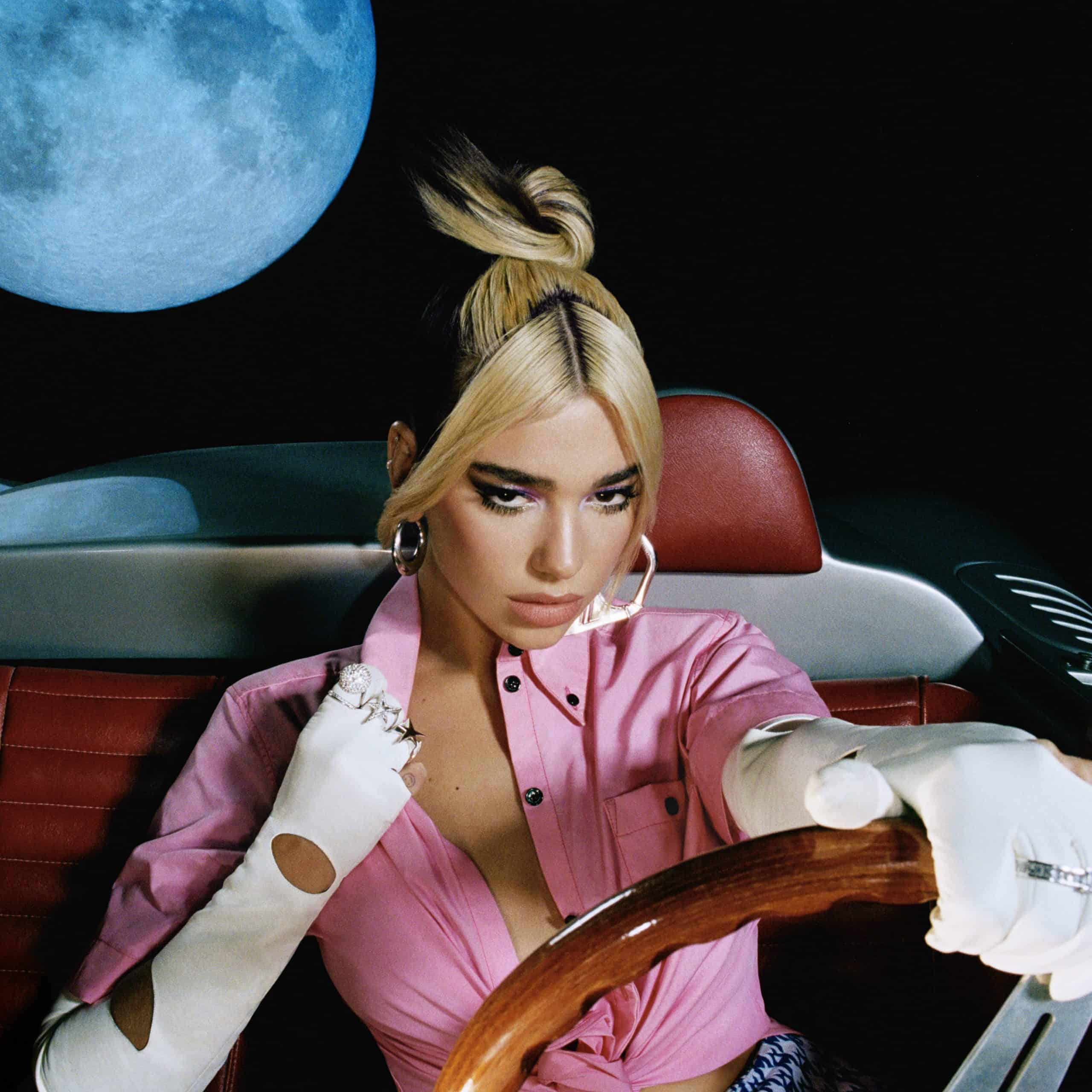 "You wanna turn it up loud, Future Nostalgia is the name…"
The world looks drastically different than how it did just over four months ago when Dua Lipa dropped "Don't Start Now," the lead track off of her sophomore studio album.
It would have been impossible to predict then, while the 24-year-old singer was bouncing in between international awards show performances and near-weekly trips to gay bars in New York City, twirling around with friends and gleefully tipping dollars to drag queens, that we'd all be where we are now: stuck at home amid a pandemic, in isolation, alternating between waves of anxiety, existential dread, boredom and loneliness for an as-of-yet undetermined amount of time. (She had an all-too-prophetic point: "don't show up, don't come out" – if only we'd heeded those wise words sooner.)
While analysts might argue that releasing an album mid-apocalypse could be a grave financial decision (early figures already show that while TV and movie streams are up, music streaming and digital sales are down), she's done it anyway with Future Nostalgia, released one week early on Friday (March 27).
There were reasons to pull the trigger, of course: for one, the album leaked just shy of two weeks ahead of schedule. (Rude.) And for another, as she explained through tears on an Instagram Live stream, Dua hoped to supply some much-needed joy in these bleak times to make us smile, and to make us dance.
"I hope I make you proud," she sniffled.
Just before things took a turn, Dua was thriving.
From the day her fiercely empowering, Ian Kirkpatrick-produced disco-tinged kiss-off premiered at the beginning of November, every step along the way of Future Nostalgia campaign has ticked the boxes of a big, exciting Main Pop Girl event record – an all but unthinkable feat in 2020.
A smash from the (don't) start, "Don't Start Now" came to life days later at the 2019 MTV EMAs, as Dua stood on stage in a black cut-out leotard, hair slicked down, in front of a wall of yellow-clad dancers.
Having been mocked and meme-d ruthlessly by Stan Twitter in years past for her dance moves, Dua had every right to shy away from attempting choreography ever again. After all, she'd never even positioned herself as some masterful dancer in the first place. That rich, deep, distinctly Dua voice was always the main selling point, ever since "Be the One" first landed in 2015.
But she pushed through the Twitter trolls and doubled down on the pop star front, opting to go for it anyway – and the vast improvement was evident from that thrilling live debut onward.
As is usually the case with a hit in waiting, the general public slowly but surely came around: by March, "Don't Start Now" climbed its way up to No. 2 on the Billboard Hot 100, her biggest hit in America to date. After a long period of downtempo domination at radio, it seemed as though the U.S. was ready to dance again, and Dua was helping to usher in that movement.
"Physical" came afterward, a truly phenomenal ("Don't you agree?") record tense with a sinister energy, '80s-style synth stabs and a riotous, chant-along chorus, all with a knowing lyrical nod to Olivia Newton-John.
The accompanying color-coated, gravity-defying music video was already a visual treat, but in true Future Nostalgia fashion, she one-upped herself again weeks later. As the memes came rolling in, syncing the song to workout scenes from movies and shows like American Horror Story: 1984, Dua dropped a sexy, silly VHS-style "Physical" workout video, which smartly doubled as an advertisement for her merchandise.
In every step along the way to the record's release – from the imagery, to the visuals, to the marketing to, most importantly, the music – Dua didn't miss.
Future Nostalgia, which she teased early on as "a dancercise class," is not literally Confessions on a Dua Floor as first assumed – but that's not far off of a description, either.
There are some similar musical elements, mixing the nostalgia of classic '70s disco strings and '80s synth-pop with future-forward production. And, thrillingly, there's also Stuart Price himself, the co-architect of Madonna's 2005 opus, as well as Kylie's mighty Aphrodite in 2010. His involvement on "Cool," "Levitating," "Love Again" and "Hallucinate" isn't just further evidence of his knack for songcraft, but a glowing co-sign of the singer herself from a truly revered name in pop world.
Speaking of "Cool," the whole record's a veritable Who's Who of cool, including the Queen of the Clouds herself, Tove Lo, who co-penned that bouncy '80s jam, which slickly glides along Phil Collins' "In the Air Tonight"-esque drum fills and a Tegan & Sara circa Heartthrob flair.
"Got me losing all my cool, 'cause I'm burning up on you," Dua coo(l)s.
The co-writers and producers on Future Nostalgia are largely all modern pop heavyweights with reputations that precede themselves: Jeff Bhasker, Julia Michaels, Justin Tranter, Sarah Hudson, Ali Tamposi and Jason Evigan, just to name a few. It's a full house – but not overstuffed, resulting a big, glossy, rich-sounding record.
"You want a timeless song, I wanna change the game / Like modern architecture, John Lautner coming your way," she declares in the funky first few seconds of the album's intro and namesake, laying out the mission statement from the jump while referring to herself as a "female alpha" – plus an insane architectural reference to boot.
There's an undeniable self-confidence that threads its way through Future Nostalgia, building on the energy of debut hits like "New Rules" and "IDGAF," from the title track through to closer "Boys Will Be Boys," which provides some rather unexpectedly savage social commentary, proving that the record isn't solely about escaping our planetary woes.
"[It's] this kind of like false sense of confidence that sometimes I feel like I portray in my music, which is almost like a manifestation of how I want people to see it, or what I want people to feel when they hear a lyric," she's previously said.
But the confidence comes from doing the work: Future Nostalgia plays like a love letter to the greats before her that have instilled that attitude.
"We're all on the shoulders of massive musical giants who've been here before. All these strong, empowering women that have given me the opportunity to dream, and make me feel like I can be this strong person, and I can be outspoken, and be exactly who I want to be," she explained.
Aside from the aforementioned Madonna and Kylie, there are certainly many more musical influences abound, from Debbie Harry to Moloko (and, subsequently, Roisin Murphy) to No Doubt (and, subsequently, Gwen Stefani) to Sophie Ellis-Bextor.
At times, she channels the rowdy, early '00s British pop energy of Girls Aloud and Rachel Stevens. At others, she's thoroughly on-trend, as with the flirty "Pretty Please," a delightfully glitchy oddity which could have surely appeared on Selena Gomez's Rare, or possibly even Britney's post-Glory effort.
"Levitating," co-written with frequent collaborator Stephen Kozmeniuk (Koz), brings Daft Punk circa-Random Access Memories to mind, as Dua shimmies amid the stars in her spaceship…with some robot friends along for the ride, evidently.
"My love is like a rocket, watch it blast off / I'm feeling so electric, dance my ass off / And even if I wanted to, I can't stop / Yeah, yeah, yeah, yeah, yeah!" she cries out across a sick bass strut, robo-voices and disco strings in one big, intergalactic party.
"Hallucinate," surely an unsubtle poppers-on-the-dance-floor euphoria anthem for the gays ("I'll breathe you in until I hallucinate"), is the closest to all-out Confessions Dua gets on the record, and perhaps a hint of Kylie's Light Years and Kelis' electronic masterpiece, Flesh Tone. It's a pulsating ri-uh-i-uh-ide: the track feels spiritually connected to the propulsive pull of trance-pop Madge.
At times, Dua directly nods to the past with samples, including the INXS-sampling "Break My Heart." The video for the era's third official single, directed by frequent collaborator Henry Scholfield ("New Rules, "IDGAF") is a wonderfully psychedelic, reality-bending romp with trippy transitions aplenty, as Dua socially distances, dissociates and delivers shades of everything from Britney's "Toxic" to a final, Emma "Baby Spice" Bunton-esque bubblegum burst – the essence of pop perfection, really.
She samples again on the brilliant "Love Again," which borrows from 1997's "Your Woman" by White Town – and, goddamn, if it isn't a perfect fit.
"Never have I ever met somebody like you / Used to be afraid of love and what it might do / But goddamn, you got me in love again," she swoons before taking a leap of faith onto the dance floor, buoyed by warm strings and slick guitar riffs in one of the album's standout moments.
Future Nostalgia is bookended by its most eyebrow-raising lyrical contributions. Towards the end, Dua gets feisty – on a distinctly British kind of way. On "Good in Bed," she reconciles a relationship that only works well between the sheets, conjuring the sing-songiness of Lily Allen and late Queen Amy Winehouse's brand of snarling soul.
"We don't know how to talk…but damn, we know how to fuck," she concludes. Dua, the language!
"Boys Will Be Boys," meanwhile, summons the Lily Allen-slash-Marina energy even moreso, as Dua tackles double standards and toxic masculinity across misleadingly chipper strings, leading to a kind of rallying cry.
"It's second nature to walk home before the sun goes down / And put your keys between your knuckles when there's boys around / Isn't it funny how we laugh it off to hide our fear when there's nothing funny here?" she proclaims.
Musically, it's the most incongruous part of Future Nostalgia. But for an album from a self-described "female alpha," it's in perfect harmony with the overwhelmingly empowered record, capping off the experience with a little food for thought beyond solely floor-filling pop euphoria.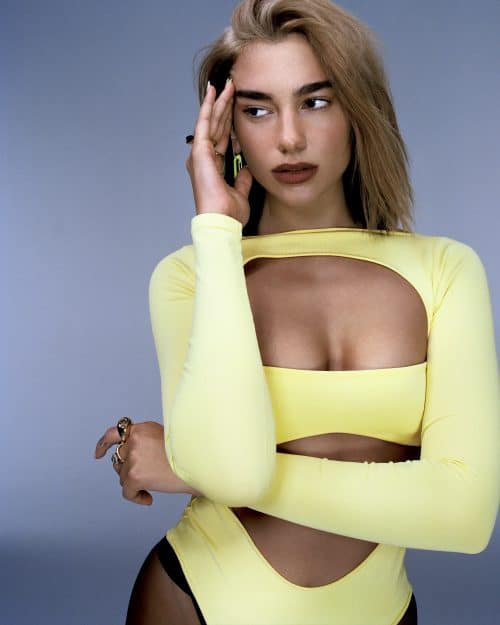 Future Nostalgia is an album that, impressively, delivers on its own promise. Following in the footsteps of icons before her, Dua's become the newest musical generation's leading torch-bearer of the dance-pop tradition.
That's not to start making over-the-top declarations to incite outrage from fanbases of long-established legends – she's only two albums deep, obviously – but it's fair to say she's executed one of the most start-to-finish solid pop eras in some time, resulting in what very well feels like the latest pop classic from an artist who has great promise to go the distance.
Of course, there are far more pressing issues in the world than a pop star and her near-flawless run being abruptly cut off by horrendous circumstances, but we can still acknowledge that it does suck for Dua. It's not fair that Future Nostalgia will be forever remembered as The Quarantine Album, but that's exactly what it is.
"I should've stayed at home, 'cause I was doing better alone," she laments on her latest single. It's perfect for the present moment – without even trying.
As a result, the album's title has gained new, if ironic meaning. While "nostalgia" is too warm and fuzzy of a term to describe a period of chaos and quarantine, it's undeniable that this record will forever be associated with a very specific moment in time for all of us. And, hopefully, as one that got us through it – alone, but together.
Because in the end, even as the world as we once knew it abruptly went left, Dua still did everything right.





This album is featured on the MuuTunes Spotify playlist. Subscribe!
You can also subscribe to MuuTunes on Apple Music.