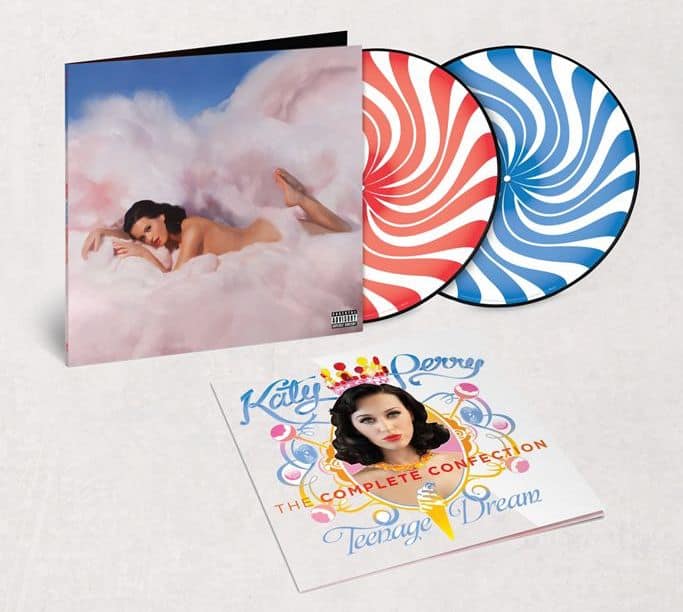 Before Smile, before Witness, before Prism, there was a California gurl named Katy Perry with a simple dream – a Teenage Dream, if you will.
If you can believe it, it's been nearly a full decade since the release of the artist formerly known as Kathryn Hudson's sophomore LP and actual cultural reset Teenage Dream, which dropped on August 24, 2010. (I can still smell the cotton candy-scented CD.)
Appropriately, the multi-Platinum era that spawned 6 No. 1 hits on the Billboard 100 is being honored with a tasty reissue in double vinyl form, via Urban Outfitters.
Indulge in every delicious minute of Katy Perry's Teenage Dream: The Complete Confection, available exclusively at Urban Outfitters to celebrate the tenth anniversary with a limited 5000-unit run of peppermint swirl picture disc vinyl. Gatefold with the iconic Teenage Dream album artwork on the outside and a deluxe tracklist featuring guest appearances from Kanye West, Snoop Dogg, Missy Elliot and more. 2012, Capitol.
The double 12″ set includes all of the songs from Teenage Dream: The Complete Confection, the 2012 reissue of Teenage Dream featuring "Part of Me," "Wide Awake" and "Dressin' Up," as well as the Kanye West mix of "E.T." and Tommie Sunshine's Megasix Smash-Up. And then, there's all the hits – from "California Gurls" to "Firework" to "Last Friday Night (T.G.I.F.)" to "Teenage Dream" to rock-out-with-your-cock-out anthem "Peacock" to my personal favorite Angsty Perry anthem, "Circle the Drain."
The peppermint swirl (yum!) picture disc set is limited to a 5000 unit run – so grab it now before she decides to run away and never look back.
Photo credit: Capitol Records
Disclosure: Products featured on this website use affiliate links, and may earn me a commission for purchases made through the links.