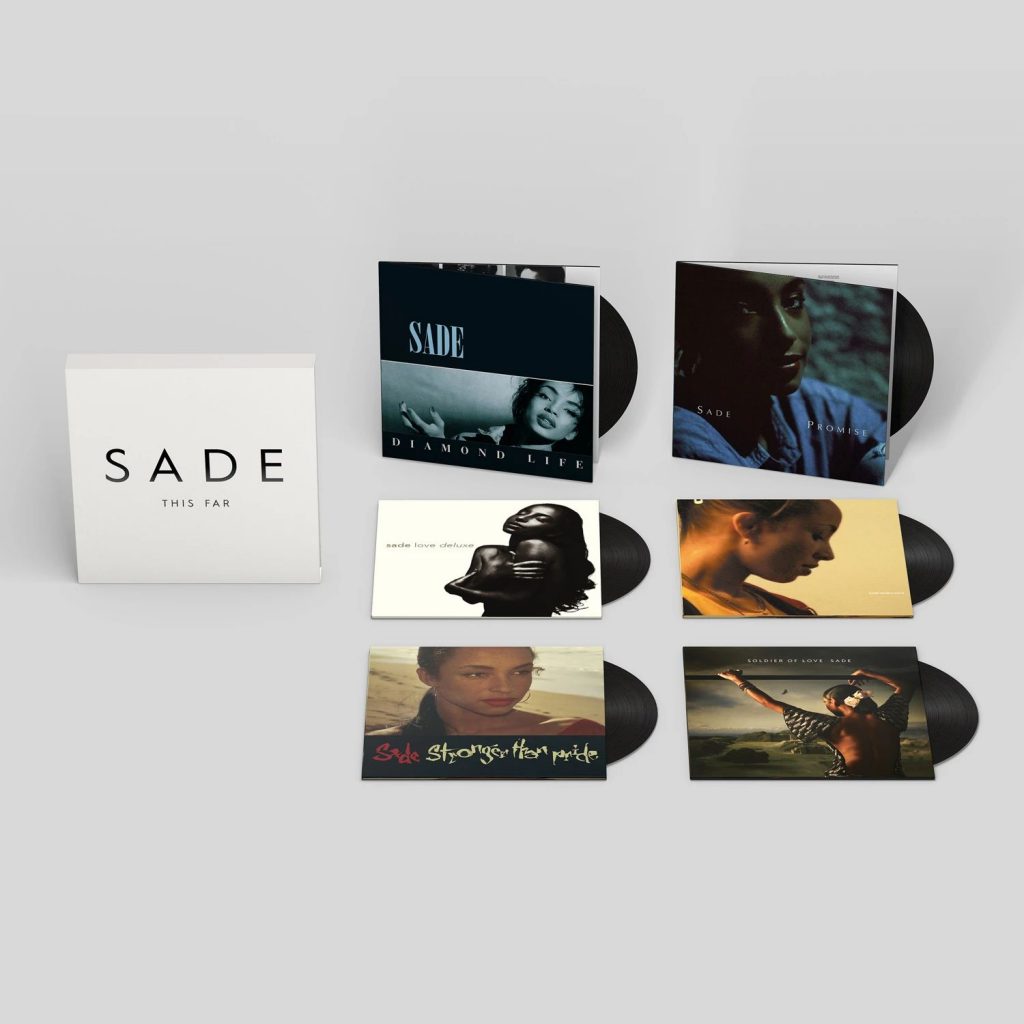 This is no ordinary love, and no ordinary box set.
Sade are the best example of quality over quantity: the English group – fronted and named after the genuinely iconic Sade Adu – might not come 'round often, but when they do, their output is nothing short of legendary.
On Wednesday (September 2), the highly elusive troupe made an incredibly exciting announcement: they've remastered all of their records, and they're re-releasing them all in the form of a box set this October, called This Far.
The set features all of Sade's studio albums to date – 1984's Diamond Life, 1985's Promise, 1988's Stronger Than Pride, 1992's Love Deluxe, 2000's Lovers Rock and 2010's Soldier of Love – one pure 180-gram black vinyl, inside of a white case-bound box.
The band members – Sade, sax/guitar player Stuart Matthewman, keyboardist Andrew Hale and bass player Paul Spencer Denman, along with longtime co-producer Mike Pela and Abbey Road Studios mastering engineer Miles Showell, revisited the audio and "worked from high resolution digital transfers of the stereo master mixes, from the original analogue studio tapes, remastered at half-speed at Abbey Road Studios."
There are more nerdy audio details as well, to ensure only the purest aural ecstasy: "The elaborate, half-speed mastering process has produced exceptionally clean and detailed audio whilst remaining faithful to the band's intended sound. No additional digital limiting was used in the mastering process, so the six albums benefit from the advantage of extra clarity and pure fidelity, preserving the dynamic range of the original mixes for the very first time."
The visual experience will be rich, too: "The six album sleeves have been meticulously reproduced in exact detail with authentic paper and printing methods, perfectly replicated for the first time since their original release."
This is truly a vinyl nerd's dream – especially those just as truly, madly, deeply in love with Sade as myself, the King of Sorrow. 2020 just got a little smoother. Let's hope all the group discussions about their past work inspired a conversation or two about the future – a new record would be a dream. But in the meantime, let's simply enjoy the present news, and cherish the day.
Check out the full track listing on the next page…
This Far is available now to pre-order at Amazon, or their official web store.
Photo credit: Sony Music
Disclosure: Products featured on this website use affiliate links, and may earn me a commission for purchases made through the links.