A wise woman once declared: "Mama, I'm in love with a criminal."
Taemin's here to say: "girl, same."
Now I'm not one to Stan Men too often, but the 27-year-old Shinee boy band member-turned-solo star is a consistent exception to the rule – especially once he made us "Move."
When Taemin's not too busy dominating the world as part of K-pop super-group SuperM, the multi-talented South Korean superstar is focused on cranking out his own globally-expanding solo career.
Earlier in the summer, Taemin announced a third Korean studio album called Never Gonna Dance Again, which would be split into parts. And after dropping a promotional single ("2 Kids"), the pop heavyweight returned on Monday (September 7) with his pulsating and sinister "Criminal," as well as Act 1 of the LP.
And yes, he's done it again.
The synth-pop throbber is an ode to a particularly bad romance, capturing Taemin's spooky-yet-sexy, soft-yet-powerful presence. It's also well suited for the fast-approaching ghostly season, providing just the right kind of ominous, '80s slasher-adjacent vibes for Halloween, while still supplying enough of a beat to dance with the demons – and bringing The Weeknd's own haunted vibes to mind. It's an instant hit.
"So elegant, a criminal who hurts me / It's okay, you soothe me just to torture me again / I'm on a leash called you / It's painful, as much as I can't breathe but also magnificent," he lovingly aches in full masochist mode, finding plenty of pleasure in his own pain.
The track was co-penned by an array of songwriters, including Lauren Aquilina and Chloe Latimer, who both contributed to the new Louise record, lyricist Danke, Megatone (Girls' Generation, Red Velvet), Score and singer-songwriter Shae Jacobs, who co-wrote on BTS' "Mic Drop."
"Criminal" comes with a fittingly battered-and-bruised accompanying music video, which finds our handsome hero getting his Kill Bill / Madame X eye patch fantasy on and being put through the ringer as a bad boy jonesing for some terrifying thrills.
"You lure me in and shake me / Behind your childlike, innocent face / A frightening side of you, gives me goosebumps."
For someone whose album is called Never Gonna Dance Again, he's not very good at sticking to his word, because this man is absolutely turning out the choreography at every turn of the stylish clip – not that anyone's complaining, of course: from handcuffed gyrations in Hell to busting a move in a computer room, there is nowhere Taemin won't trip the light fantastic for another taste of tortured love.
And in the end, it all comes down to this moment…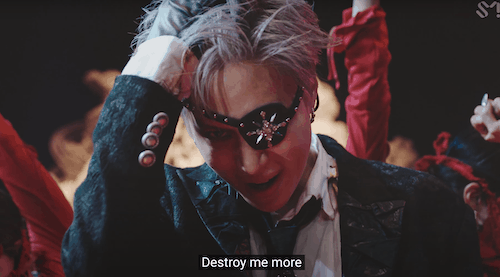 "Destroy me more." You really don't need to ask me twice, Taemin. All hail our submissive King.
This song is featured on the MuuTunes Spotify playlist.

You can also subscribe to MuuTunes on Apple Music.