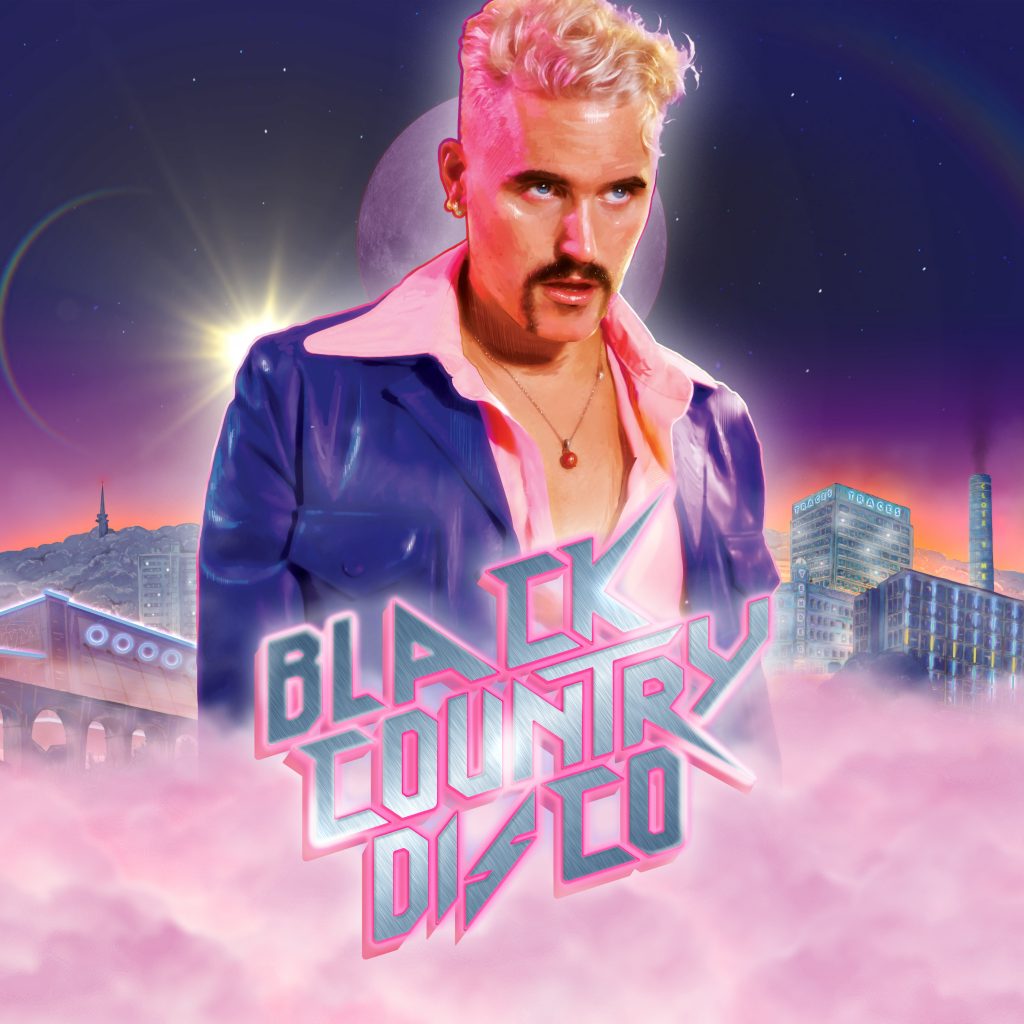 Tom Aspaul, Judy Garland and generations of queers know: there's no place like home.
You know and love the British singer-songwriter already for his work for a bunch of favorites over the years: Kylie Minogue ("Feels So Good"), AlunaGeorge ("Mediator"), Little Boots ("Working Girl") and Louise ("Villain") to name a few.
He's also supplied certifiable solo bangers and collaborations along the way, like "Better By Your Side" with Aeble and "Do It Well" with XYconstant.
Tom also just gets pop in the nerdy sense, which means he knows his way around a mean hook, and can also speak in full essays about the the brilliance of a big pop persona. Just ask him about Geri Halliwell. Or Victoria Beckham, for that matter: "Are you out of your mind if you let your head go?" he sings on "W.M." References on references.
On Monday (September 14), Tom dropped his 10-track debut, a concept record called Black Country Disco, co-crafted with producer Gil Lewis. (The Black Country is an area of the West Midlands in England including Wolverhampton, where he's from, for the fellow Americans unaware.)
Inspired by the end of a longterm relationship, as well as a growing disillusionment with the music industry and a move out of London back home to the West Midlands after a decade, the tight, autobiographical set takes listeners through all of the emotions of a years-long split, and all of the jealousy and self-doubt and turmoil that comes with the territory. ("I look to the stars, better than looking through your phone," he croons on "Carnelian.")
The songs explore all sorts of textures of disco through the years – Giorgio Moroder vibes, Italo-disco, '80s synths – all complimented by his reliably catchy, sweetly-sung melodies.
As the record goes on – split evenly in half between Sides A & B to represent life before and after his West Midlands move – the heartbreak gives way to hope, eventually leading to a sexy and empowering sense of rediscovery in its final celebratory moments, making for a total tears-to-triumph affair.
The record includes several previously released singles, including the funky and insecure "Close 2 Me," bouncy autumn goodbye "Tender" ("I don't think that I can start again, you know it's gonna be a cold September"), the lingering cologne-inspired, dance-away-the-ghost-of-him "Traces" and homeland ode "W.M.", a hilarious yet loving, "California Gurls"-like take on the experience of the West Midlands. ("Through the smog, through the traffic / It ain't no beauty, geographic").
Most recently, Tom dropped "01912," an instant standout, and a delightfully horny hookup anthem that bounces along a nostalgic rush of disco energy, hinging on a line inspired by The VVitch: "Would you like to live deliciously?"
Black Country Disco is meant to be enjoyed as a start-to-finish 30-minute experience on vinyl (and is available in disco blue pressing), inspired by acts like Jessie Ware (who gave us her own brilliant disco moment this year in What's Your Pleasure?), La Roux and Daft Punk. And, true to pop nerd form, the sequencing is inspired by Madonna's seminal Confessions on a Dance Floor.
Even the album's artwork, a cinematic take on the Black Country skyline, is incredibly thoughtful in execution, hand-painted by three local artists inspired by the legendary Drew Struzan, who created movie posters for classics like Blade Runner, Back to the Future and Star Wars through the years.
"Black Country Disco represents such an intense period of change for me. It would be an understatement to say it's been 'tough' but now I'm so relieved to be releasing it – it really feels like the beginning of something. I'm proud of where I'm from, yet the idea of moving back here after so long in London (which feels like the centre of the world sometimes), was incredibly daunting," he says of the record.
"This record helped me appreciate and learn to love the Midlands all over again. It's not just about me breaking up with my boyfriend, sure, that's what inspired me to write at the start, but once I got going, that became a footnote and the most important thing about BCD was coming through the other side a new person with renewed focus. It's been so cathartic! I'm really looking forward to the short film later in September, it's a love letter to the West Midlands, I hope we've shown it in a completely new light! I'm also desperate to see and hold the vinyl in my hands for the first time!"
Beyond being a sturdy set of catchy, cohesive songs, which it is, and a sweet tribute to his homeland, which it is, Black Country Disco is also a display of unabashed queer excellence, told from a perspective that feels entirely relatable: the enduring impact of pop queens in myriad musical and lyrical references, the memories of not-so-distant days of going out and dancing all night, imposter syndrome and outsider feelings abound, and the messy fumbling through fast and furious flings and lingering emotions in gay world.
And at a time when more than a few people might suddenly find themselves displaced and/or also living back at home due to world events, Black Country Disco couldn't be better timed for providing an optimistic, kind-hearted soundtrack to reappraising one's own current circumstances.
"I feel like I'm 18, and I'm smiling once again," Tom celebrates on the joyous title track as the record draws to a close.
Take me home, there's no place I'd rather be now.
This album is featured on the MuuTunes Spotify playlist.

You can also subscribe to MuuTunes on Apple Music.
Photo credit: Kasia Clarke