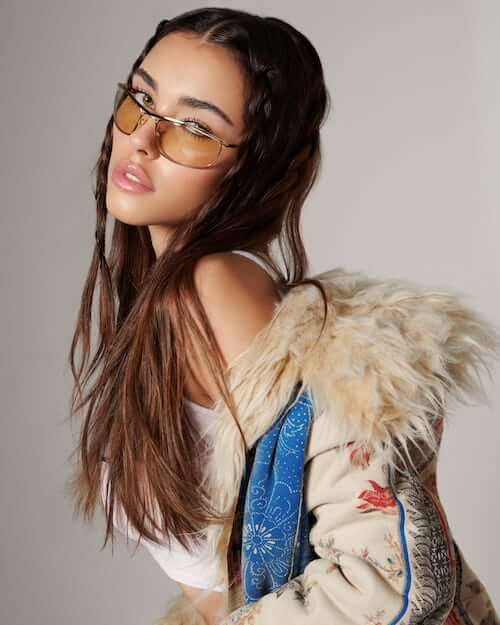 Rise up, Beercans: our time is now.
Madison Beer is back at it again – in IRL form, as opposed to kicking ass as Evelynn, a member of League of Legends virtual super-group K/DA – and she's sick of the bullshit, quite frankly. Err, I mean BOYSHIT.
The 21-year-old "Selfish" rising star just dropped her new track on Friday (December 11) while simultaneously being named as Vevo's new LIFT artist, an artist development program for fresh talent that counts Billie Eilish, Halsey and SZA among its alumni.
And, to no one's surprise based on that title alone, it's all about the inevitable disappointment that comes with interacting with a m*n.
"I don't speak boyshit / You're always coming back but your love's poison / So I think that I would rather just avoid it," she declares on the Pete Nappi and Big Taste (Leroy Clampitt)-produced track, which bops along an ominous pulse. From As She Pleases to "Hurts Like Hell" onward, the young singer's found her footing as a brooding and sinister kind of dark-pop girlie. It really works for her.
"This is giving me early 2000s pop music vibes the energy is so retro I can picture Pussycat Dolls doing this song! It's catchy af!" one young YouTuber commenter noted, immediately aging me by 40 years in the process. But you know what? I can sort of hear that from "Supervillain" Scherzy, too.
"'BOYSHIT' is a back-to-my-roots moment on the album; I really wanted to channel the same kind of confidence I carried myself with on songs like 'Home With You' and 'Dead.' The word 'boyshit' is obviously a play on words and a bit tongue in cheek…We had a lot of fun in the studio with this one and didn't take ourselves too seriously. The line, 'I don't speak boyshit' really just means I don't have time for petty arguments and childishness, I don't have time for BS. If you're not going to change, I'm moving on," she explained of the song's premise.
As part of her VEVO Lift announcement, she debuted a live performance of the song, and she's kind of giving me Megan Fox as brooding pop star here – and maybe a bunny rabbit, also. She loves her some bounceography in those thigh high platform boots, clearly.
"Boyshit" is part of Madison's upcoming debut record Life Support, due out on February 26.
"Writing songs is like therapy for me. That's why this album is called Life Support. It helped me get rid of the darkness and see the light. My inspirations sonically are really diverse. I guess I'm not an easy artist to pigeonhole, and a lot of these songs are like nothing I've ever attempted before. All of me is laid bare on this album; it's been a really fulfilling experience to create something that feels so true to myself. I'm grateful to my fans who have stuck by me since the beginning. Life Support has been a long time coming, and I'm just so excited for them to see what I've been working on," she says of the album.
While she's still a Bubbling Under artisté, and despite being the subject of major TikTok teasing and meme-ing (and ample comparisons to certain pop star contemporaries), she's still killing it between the K/DA stuff, a Top 10 UK hit last year with the very good "All Day and Night" with Martin Solveig and Jax Jones, her recent success with "Selfish," and now all of this. Oh, and she's a Morphe babe too.
I'm into what Madison's serving! Keep on plowing right through the boyshit, Ms. Beer.
This song is featured on the MuuTunes Spotify playlist. Subscribe!
You can also subscribe to MuuTunes on Apple Music.
Photo credit: Epic Records