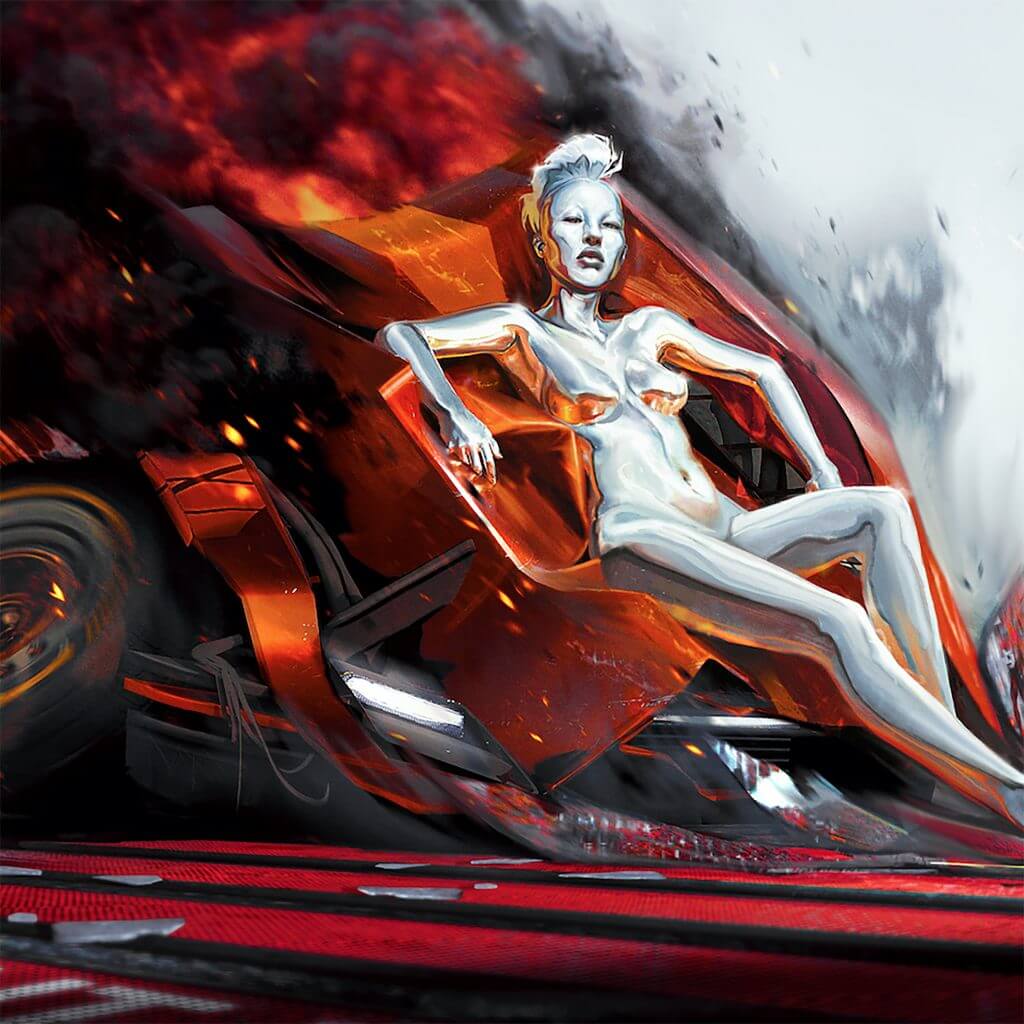 Mommy Grimes is certainly staying busy after welcoming baby X Æ A-Xii to the world, and keeping us all fed while doing so.
She tucked us all into bed back in October with her AI Lullaby, an ambient project with Endel aimed at improving sleep and wellness through lush soundscapes and AI technology.
And now, she's helping to wake us up by providing a soundtrack for some serious cardio.
Some context, for the non-gaymers out there: the highly anticipated video game Cyberpunk 2077 is finally out this weekend, and Grimes happens to voice a character in the game named Lizzy Wizzy.
However, she didn't just provide her voice for the video game, but rather an entire companion mix: the succinctly titled This story is dedicated to all those cyberpunks who fight against injustice and corruption every day of their lives! (DJ Mix), which just dropped Friday (December 11).
Via Apple Music: "Eight years in the making, Cyberpunk 2077 has been one of 2020's most anticipated games. But its arrival isn't just a cause for celebration for gamers. Grimes, long a fan of the sci-fi strain known as cyberpunk, voices the character Lizzy Wizzy. And to mark the occasion, she assembled a companion mix (whose title references Snatcher, another cyberpunk video game) in her signature off-the-wall style, mashing together electro, hip-hop, punk, indie pop, techno, and lots more. If you've ever wondered what a Kendrick Lamar verse sounds like on top of the Ramones' 'Blitzkrieg Bop', here's where those two worlds collide."
The result is a fast and furious, futuristic, wildly eclectic and undeniably sick collection of many of our favorite Main Pop Girls – Ariana Grande, Rihanna, Tove Lo and t.A.T.u. (!), among others, including little bits and pieces of nods to our legends (watch out for the Britney "Toxic" strings at one point) – pounding beats, holy voices, classical music, an occasional appearance or two from some m*n, and Grimes' own voice floating in and out offering different selections from her catalog, from "Kill V. Maim" to "We Appreciate Power" to "Violence."
It's such a cool set. Unfortunately, it's only on Apple Music at the moment due to sample clearance. But if you've got access, I highly suggest putting it on blast and breaking a sweat at home.
"The cyborg popstar I play in CYBERPUNK2077 just released an album! —-Link in bio (Music by Grimes and friends) / ————-For now only on Apple Music cuz they generously cleared the samples 4 me 🧚🏻‍♀️🧨🦛," she announced on her Instagram.
Cyberpunk 2077 is out now. Miss Anthropocene is out now on vinyl.
You can subscribe to MuuTunes on Apple Music.