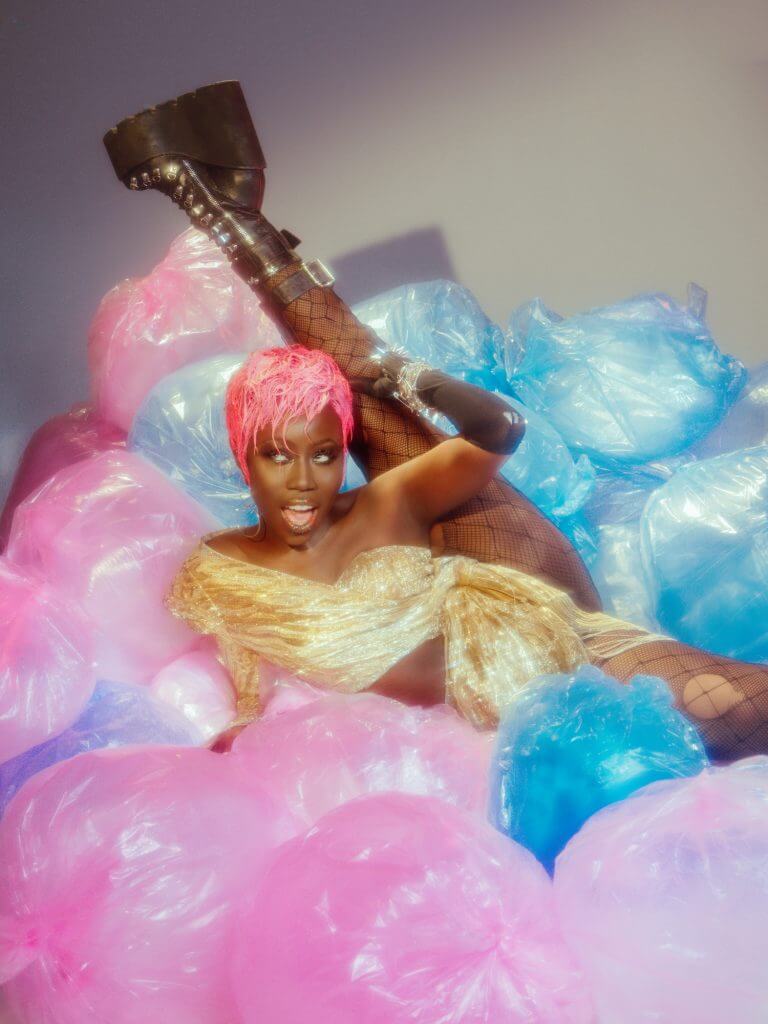 It's about time for the general public to invest in Bree Runway.
Perhaps you've already heard of the genre-hopping 28-year-old Hackney-bred singer-songwriter-rapper after seeing her name appear on the highly coveted BBC Sound of… longlist for 2021. Or maybe you know her from her remix of Rina Sawayama's "XS" last year.
And then there's her already extensive output thus far, from tracks like "Big Racks" with Brooke Candy to "Apeshit" to the exceptional "Damn Daniel" with Yung Baby Tate to "Gucci" with Maliibu Miitch, plus the Kylie, Madonna and Britney-referencing "Little Nokia." Clearly from all those name drops alone, she is very much Our Kind of People.
That brings us to her most recent offering: 2000AND4EVA, her wonderfully eclectic and genuinely thrilling debut major label mixtape, which arrived back in November. (The real world's been a little, um…distracting the past few months to say the absolute least, so you're forgiven if the hot new music releases somehow didn't immediately show up on your radar.)
If all the critical praise and lists and general fanfare wasn't enough of an indication of her One To Watch™-ness, there's the collection's lead single: "ATM," which features none other than Missy Elliott, a partnership that evolved from a Twitter shout-out to a full-on collaboration. A Missy verse with no album out. How's that for a co-sign?
Co-crafted with LIOHN, Klahr and Fat Max Gsus, "ATM" has all the makings of a smash: an endlessly addictive hook, a deliciously cocky flow ("Said he wanna take me real higher, but I know he really only want my vagina"), and dance break-ready beats that should likely appeal to the TRL nostalgia crowd. And, of course, a little Missy goes a long way, as the industry vet delivers her best silly British accent and signature brand of hype.
On Monday (January 11), Bree dropped the Swarovski diamond-drenched music video for "ATM," which is a sort of Burlesque-meets-"Lady Marmalade" joyride of long nails, shimmying choreography and ATM-headed men, who mainly serve to sit there and cough up cash for Bree and company. (Truly, the only way to include a m*n in a music video.) Missy also appears virtually, much like her "Levitating" cameo for Dua Lipa, proving that she's one of quarantine's most reliable phone-a-legend. That final shot, though? That Grace Jones mouth stretch! This is a creative force to be reckoned with – during a pandemic, no less.
Although Bree's gotten a substantial amount of tastemaker praise and social media love over the years, she's yet to substantially dent the charts or make major mainstream moves – up until now, anyway. Her time to shine is overdue. And with any luck (and now a superstar endorsement), "ATM" ought to break the bank very, very soon.
This song is featured on the MuuTunes Spotify playlist. Subscribe!
You can also subscribe to MuuTunes on Apple Music.
Photo credit: Lucero Glow / Charlotte Rutherford