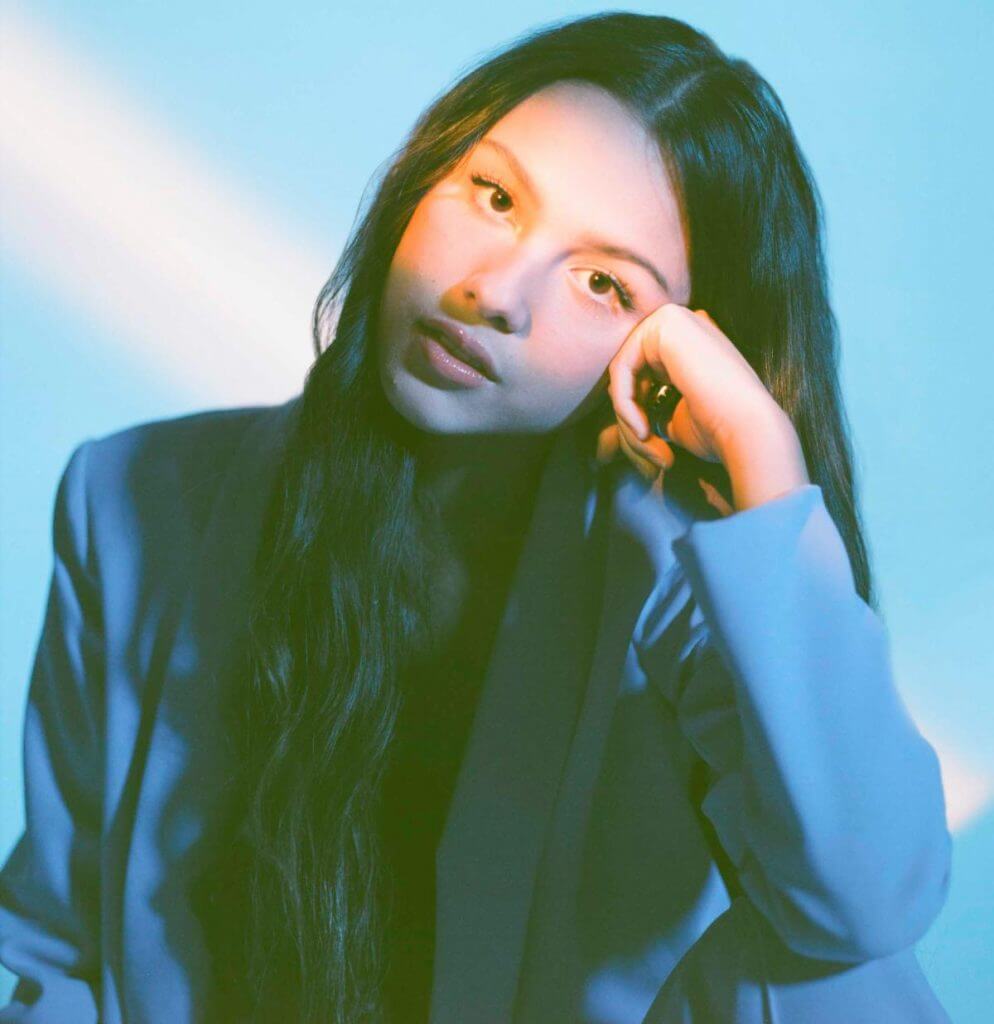 "I got my driver's license last week, just like we always talked about…"
Meet Olivia Rodrigo: she's currently got the No. 1 song on Spotify's Global Top 50 and iTunes, and Taylor Swift is proudly shouting her out on social media.
Wait, what? Who? Is this what it feels like to age out of pop culture? Maybe, yes! But it's fine, because it's time to get all caught up to speed…no license required. (Eh heh, sorry.)
The 17-year-old rising star – who was born in California, and is partly of Filipino descent – is one of the newer Disney teen queens on the scene, starring as Nina Salazar-Roberts in Disney+'s High School Musical: The Musical: The Series. (This becomes important in just a moment.)
She's also a singer-songwriter, and contributed several songs to the series soundtrack, including some tracks that even briefly charted: "All I Want," which you almost absolutely know if you used TikTok in recent months, and "Just For a Moment," a duet with co-star Joshua Bassett. (This becomes important in just a moment also.)
Fast forward to January 8, 2021: "drivers license" is Olivia's debut single.
She first teased the track back in July on her Instagram before heading into the studio with producer and co-writer Dan Nigro (a frequent Sky Ferreira collaborator, from "Lost in My Bedroom" to "You're Not the One") to polish off the production, and eventually inked a label deal with Geffen Records.
"And I know we weren't perfect, but I've never felt this way for no one…"
From the moment the young singer hops into her car for a slow, sad solo ride around the neighborhood, "drivers license" is instantly intriguing.
As she vulnerably starts across a soft piano melody, the production cleverly expands outward from the car's beep. The underlying beat gradually quickens from soft hand claps to a solid pulse, as she yelps out all the relatable emotion of a teenage love's demise in the front seat, coming to the same sobering conclusion over and over again: "You said forever, now I drive alone past your street."
It's drawn some lyrical comparisons to Taylor Swift, and even stronger comparisons to Lorde's "Green Light," which feels more spiritually and sonically accurate, especially as she hits that "red lights, stop signs"-filled bridge. It also packs one hell of a powerful punch for a debut – especially from one still associated with the Disney brand.
"When I came up with 'drivers license,' I was going through a heartbreak that was so confusing to me, so multifaceted. Putting all those feelings into a song made everything seem so much simpler and clearer—and at the end of the day, I think that's really the whole purpose of songwriting. There's nothing like sitting at the piano in my bedroom and writing a really sad song. It's truly my favorite thing in the world," she says of the song.
But of course, all the online buzz couldn't just be about the music: the song comes packaged with a whole array of fan conspiracy theories – mainly, that the song is about her co-star, Joshua Bassett. (Gasp.)
The story (and subsequent fan theorizing, thanks E!) goes that Olivia and Joshua dated while filming High School Musical before calling it quits sometime last year. Joshua then moved on with none other than "Thumbs" Disney pop princess herself, Sabrina Carpenter (!), and the revised lyrics are apparently an indirect reference to her: "And you're probably with that blonde girl, who always made me doubt / She's so much older than me." (Sabrina is both blonde, and older, than Olivia – the original line was "that brunette.") Joshua also released some songs of his own last year – possibly about Olivia – which is why fans are also clinging to the line: "Guess you didn't mean what you wrote in that song about me."
But wait, there's more! He's also got a song coming out of his own this month called "Lie Lie Lie," and he's in – wait for it – a car with a girl. Some fans are also going in deep with screenshot comparisons of the music videos and teasers, as fans do. And Sabrina Carpenter's ex posted it on social media, too! Oh, the tangled webs we weave.
And don't worry, the TikTok sleuths are already on it to illustrate the whole tale…
With well over 18 million streams in just a few days, Olivia's off to one hell of a start. "Drivers License" is topping charts globally, and even getting Miss Swift's attention: "I say that's my baby and I'm really proud," she praised Olivia on social media.
She's now set to release her debut EP later this year, penned during quarantine, which promises to be a "piano-driven, alt-pop collection of songs [that] introduces Olivia's unforgettably honest narrative voice, revealing her supreme talent for capturing complex emotions in immediately powerful music. Olivia has created a beautifully crafted and daringly original debut, channeling both truth and vulnerability in her insightful songwriting and magnetic vocals—and ultimately cementing her status as one of the most promising young artists to emerge in recent years." Okay, big promises!
Whether the love triangle (?) is even real, part of a vast PR stunt from the suits at Disney+ or somewhere in between, it's absolutely working to further fuel the already great track's momentum. And there you have it: the origin story of what is surely the year's first big pop hit.
This song is featured on the MuuTunes Spotify playlist. Subscribe!
You can also subscribe to MuuTunes on Apple Music.
Photo credit: Erica Hernandez