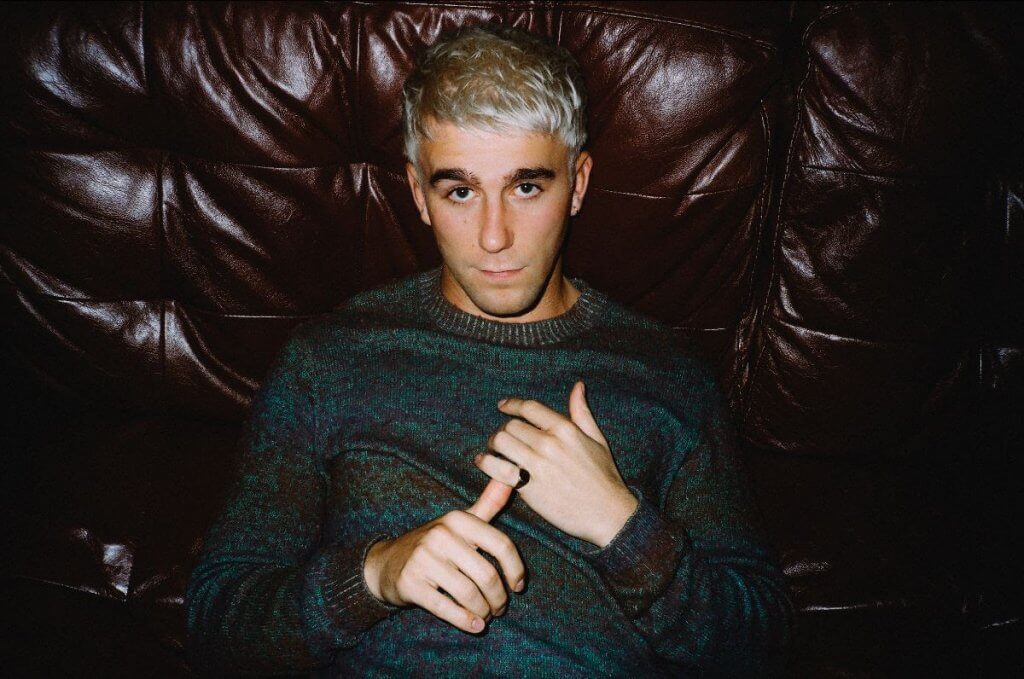 "There was harmony in the music, there was harmony in the behavior of the people, and we had a good time…"
You might not have known it, but SG Lewis is partially responsible for getting us through the pandemic.
The 26-year-old London singer-songwriter-producer's had his hand in some of the biggest, brightest productions of the past year, including Dua Lipa's Future Nostalgia banger "Hallucinate" and Victoria Monet and Khalid's "Experience," as well as supplying solid offering after offering from his debut album times, at long last released in full on Friday (February 19).
After inking a record deal in PMR Records in 2014 – home of Disclosure and Jessie Ware, fittingly – SG Lewis has carefully curated an impressive collection of EPs, features and remixes with acts like Clairo and AlunaGeorge and Raye in years since, leading up to a debut determined to provide the joy needed to stay optimistic one year deep into the pandemic, at a time when most of us are hitting a wall.
The names featured on SG's debut alone should instill a confidence in the uninitiated, including Canada's acclaimed Rhye, The Neptunes' Chad Hugo, the Queen of Swedish Pop™ Robyn and Chic co-founding legend Nile Rodgers.
"times is an ode to the present moment. 2020 has shown us that the experiences we took for granted in the past are never promised tomorrow, and that the opportunity to dance together may not always be there again. After reading about 70's New York and the birth of Disco, I became infatuated with the euphoria and escapism that the music from that period created, and the safe spaces the clubs at the time provided for people to express themselves. I aimed to create a world musically that captured those same feelings, and to imagine the music that would be playing in those rooms if they were to exist today," SG explained of the inspiration behind his record. (Some Drag Race contestants should be as eager to learn about disco. I digress!)
Keeping with the current trend of disco-inspired delights from the likes of Kylie Minogue, Dua and Jessie, the no-skips 10-track offering delivers wholeheartedly on the proposed mission statement: times is a start-to-finish serving of familiar feelings, euphoric pulsations and wishful thinking for a less socially distanced future.
From the get-go with the one-two punch of the summery, rooftop soiree-ready "Time" with Rhye and string-y disco flirtation "Feed the Fire" with
Lucky Daye
(written in the same day as Dua's "Hallucinate"!),
times
hits the mark with a gently encouraging and optimistic spirit, not entirely unlike the good feelings conjured by labelmates Disclosure with their own debut
Settle
in 2013.
There's no better way to describe the album's brightest spots than "evocative," including the dopamine-drenched, Julian Bunetta co-penned "Chemicals" and "One More" with the iconic Nile Rodgers, which perfectly captures the hurried and hopeful rush of meeting someone on the crowded dance floor.
"I know you can't stay here forever / I know you've got friends in the bathroom stall / Been wanna do this since I met you / Can we just stay here for one more song?"
"Impact" with Robyn and Channel Tres, a late entry contender for last year's Song of the Summer, is the album's horniest and hardest moment, embodying the now-taboo sweaty sensation of bodies-on-bodies in the middle of a smoky, too-small space in the midnight hour.
"When we're out the other side, baby / We're going to let it fly, and that's enough for now," Robyn declares on "Impact" as the song begins its final descent.
Even the few breather moments are smart and considered, including "The Hustle"-recalling "Back to Earth" and "Rosner's Interlude."
"I wanted this to serve as a shift, but I also wanted to use an interview I did with Alex Rosner [the legendary sound engineer who pioneered sound systems in disco clubs in '70s New York], whose voice I also sample at the start of 'Time.' He's lived this amazing life: He's a Holocaust survivor, he designed the first DJ mixer, and then he did the sound system in a lot of the first disco clubs," SG said.
Of course, no truly great dance record would be complete without a bout of heartbreak on the dance floor – and luckily, there's a song that is quite literally named "Heartbreak on the Dancefloor," carried by the reliable vocals of constant collaborator and co-penner, Frances. The '80s-tinged bout of alone-in-the-corner melancholy supplies what one could hope for from the title, reminiscent of some the genre's modern masters, like Carly Rae Jepsen and MUNA.
As the album draws to a close, the pulsating, Kaskade-esque, nearly 7-minute "All We Have" with Australia's sibling duo Lastlings drives the record home with a trance-y mantra that resonates: "All we have is now." It's a hypnotizing message, and hits infinitely harder than if the album arrived any earlier than March of 2020.
"'Time' opened the record with this sentiment of 'don't waste this time,' and this track sort of ring-fenced the same feeling. It felt like a really good place in the record to reiterate that statement and intention. It's a reminder to myself," SG explained.
The all-too-appropriately titled "Fall" brings down the BPM significantly as the lights slowly come up, capturing the comedown – as well as our generational romantic plight.
"Lyrically, it's about how, on a romantic level in our current age, we're conditioned to always think that something better is coming round the corner. This song is recognizing that maybe that thing isn't coming, that the best thing we might have is something we already have, or have already had, and just to value the relationships in your life. Because there's no point in wasting your life hoping and wishing for better," he said.
One thing seems certain, regardless of when we'll be able to celebrate in-person together again: SG Lewis is about to become (even more) massive, thanks to this loving, studied homage to an era of musical escapism, which has never been more needed than now.
times is an encouraging dance floor debut, providing plenty of disco-inspired hope for future celebrations in a less locked-down world, while also supplying a crucial reminder that the here-and-now is truly all we have. Don't waste this time, indeed.