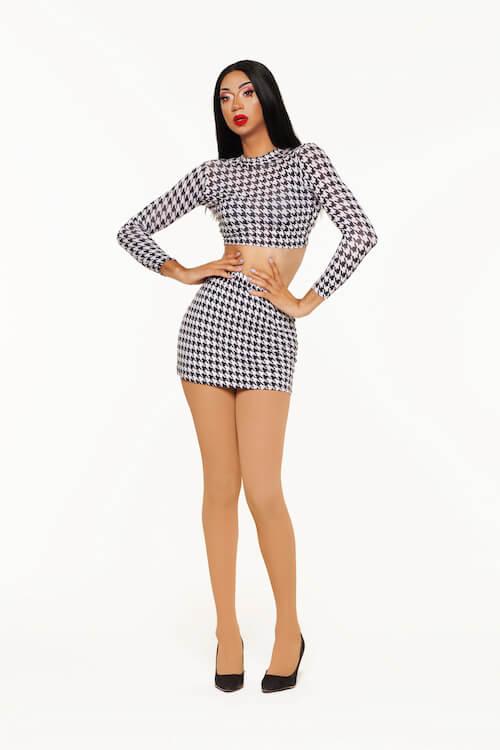 She is Tia Kofi, and she's a lovely Brown caffeinated beverage. Drink it up!
While her sisters might have (rudely) dubbed her "Baroness Basic" on her critically hailed second season of RuPaul's Drag Race UK, the 30-year-old Essex-born drag superstar took the competition by storm with her quick quips, Alan Turing-inspired code couture, regional soft serve delights (the world is ending by the way…the world is ending!), and self-sewn handiwork that thunderously screams "adequate."
Armed with wit, a no-cinch-needed ass and a winning personality (even if she didn't, well, win), Tia still garnered plenty of love as a fan favorite throughout the season – and she's about to win over even more with the launch of her music career.
The Tia Kofi Experience formally kicks off on Friday (February 19) with "Outside In," a dark, thumping defiant burst of you-don't-know-me dance floor energy crafted by pop talents Little Boots, Tom Aspaul and Gil Lewis.
True to the underlying theme of the tune, the song may come as something of a surprise, twirling right past her own usual self-effacing humor and beyond drag race "slay yes mama" tropes to deliver a sincere bout of club-ready confidence.
I caught up briefly with the soon-to-be next reigning pop diva about her highly beloved season, pushing past people's perceptions, and her ambitious dreams for Billie Piper.
First and foremost: UK, hun?
I'm feeling very very camp.
You've described your self-made creations on the main stage as serving "adequate." What would you say "Outside In" is serving?
"Outside In" is serving an absolute bop, created by some of the most incredibly talented writers and producers. Dark disco? Yes! Absolute banger? Yes! Still playing on repeat? Absolutely!
You're hilarious on Drag Race, but "Outside In" is very much a fierce, self-assured dance floor banger. Was it intentional to not go for a lyrically comical debut?
Thank you! Remember dance floors? People are nuanced. I think this track shows a different side to me that you may not have seen on the show. I cannot wait for us to be able to get out and about again, hear this and get dancing!
You've been dubbed Baroness Basic and called "regional" by Ru, yet you've won over plenty of fans with your personality, which is far from basic. Do you feel like this song is a response to those critiques?
The song is about not looking at just the surface and to think about what's underneath. Veronica Green said it best when she said "look a little deeper." At the moment, the world is chaotic and people are struggling, so when people say "they're fine," there might be more going on inside. That's what the song says.
From the outside in, what does the public not see or appreciate when it comes to Tia Kofi?
The response has been amazing, and I feel like people warmed up and really understood a lot of what I'm about. I like to put a lot of joy out into the world, but that doesn't mean that I don't have a hard time. In the pressure cooker of the werkroom, being told by your peers and competitors that you're basic or should have gone home is so unbelievably tough and did get to me…but that doesn't stop me from working hard and trying to keep a positive outlook.
Tom Aspaul, Gil Lewis and Little Boots are pop perfection. How did that all come about?
We were connected by popular PR maven and music guru Simon Jones, and it is an absolute dream come true. The sheer talent of these individuals is iconic and the fact they believe in me is incredible! I've actually been performing Little Boots songs as part of my set for years, so this is a really magical moment!
Had you always wanted to do music, or did Drag Race light that spark for you?
I've always wanted to make great pop music. It's been an absolute dream of mine. My drag started as part of a drag group called The Vixens, who were often called the London scene's answer to Little Mix. I've previously written songs for Sum Ting Wong and Vinegar Strokes, so it's wonderful to be able to have the opportunity now for myself. Drag Race provides you with the platform to live your dreams.
Your Alan Turing runway is one that will not soon leave my mind. Are there any fellow RuGirls. pop stars or queer icons that inspired your musical journey?
Inspiration comes from all over the place. In terms of RuGirls, I love the way Adore Delano approaches her music. Very eclectic styles but always with her unique viewpoint. I'm a huge fan of pop in all its forms. Dare I mention, that I'm a huge Eurovision geek and get so much joy from having the opportunity to listen to music from across Europe and elsewhere.
Do you have any specific goals or dreams in mind when it comes to your music career?
I'm focusing on working on a first EP and then who knows. I might even be working with other queens on some things, so watch this space!
The year is 2022. You're touring, and we're magically not dealing with a pandemic. Who would you love to hit the road with?
Can we resurrect the music career of Billie Piper? What an icon! I'd love to work with Little Boots and Tom Aspaul more because they're an absolute dream team. I'm also available to be the new forth member of Little Mix whenever they need me.
Your season of Drag Race UK is being hailed by some fans as one of the best of any seasons. What's working so well this time around, do you think?
It's come at a time when it is most needed. We're still in the midst of a global panettone (delicious) so we need the uplifting stories, the joy and the glamour of Drag Race. It's perfect to keep spirits up and to keep everyone laughing! And we've got two seasons on at the same time. Bliss!
One question remains: tea, or coffee?
Tia Kofi is unable to comment on this at this time.
"Outside In" is out now.
Watch an Excluusive preview of the upcoming music video…
This song is featured on the MuuTunes Spotify playlist. Subscribe!
You can also subscribe to MuuTunes on Apple Music.