"Strange fear I ain't felt for years…"
The Sugababes – Version 1.0, briefly known as Mutya Keisha Siobhan, or MKS, or the Origibabes – are making a grand return. Sort of.
Following a one-off comeback with DJ Spoony in the form of "Flowers" in 2019, and years of stop-start announcements (and trademark legal battles, and an album's worth of leaks) ever since their brilliant "Flatline" in 2013, the trio revealed this month that their debut studio album, One Touch, is being re-released in October. Remixed, remastered…and very much still iconic, indeed.
The record, which was originally released in November of 2000, spawned the group's ingeniously understated, ahead-of-its-time debut single "Overload," their first Top 10 hit, as well as "New Year," "Run for Cover" and "Soul Sound," among other gems.
Released when the girls were no older than 16 and produced largely by Cameron McVey (father of Mabel, hello!), the critically acclaimed album set the bar for the girl group, which would go on to notch over a dozen Top 10 hits, despite enduring several member and sonic switch-ups. At a point, they were declared the most successful female act of the 21st century.
Now that the (original) 'Babes are back, and the vaccines are rolling out steadily, there's no better time for the postponed celebration of the group's origin to begin.
"What I love is that One Touch is getting the justice it deserves because even though I love our other albums, I always thought it was a shame it didn't get the push it truly deserved," Keisha told NME.
It also came almost at the same time as Little Mix's empowering speech after winning Best British Group at the 2021 BRITs – a first for an all-female group, in which they shouted out the 'Babes among other legendary acts, including the Spice Girls, Girls Aloud and All Saints.
The massive tracklist of the One Touch (20 Year Anniversary Edition) is admittedly impressive, and proves that this is much more than just a vinyl reissue: there are demos, original mixes, new remixes by MNEK (whose fresh, pulsating take on "Run for Cover" is already available to listen to now – highly recommend), Dev Hynes (AKA Blood Orange) and Metronomy, as well as alternative and acoustic versions.
For diehard Sugacubes, it's a full panic.
Hindsight is also everything, and the girls have been speaking out in recent interviews and documentaries about their experience with fame and the music industry, including Keisha's reflection on the bullying accusations over the years, and Siobhan opening up about mental health struggles.
And before you ask, yes: new Sugababes music is coming. No, not immediately.
"COVID threw a spanner in the works. We were recording before the series of lockdowns in the past year, but we've got so much material that we need to work through. We probably need to do a little more recording. As soon as we can get back together in the studio, we're going to work on something fresh. But there's a lot of material that I feel we should collate together because it's some of our best work ever and it would be a shame for it not to be released properly," Siobhan said in that same interview.
"We recorded something quite interesting before lockdown that, for me, I haven't felt that excited about a song since 'Flatline,'" Keisha intriguingly added – which is quite high praise.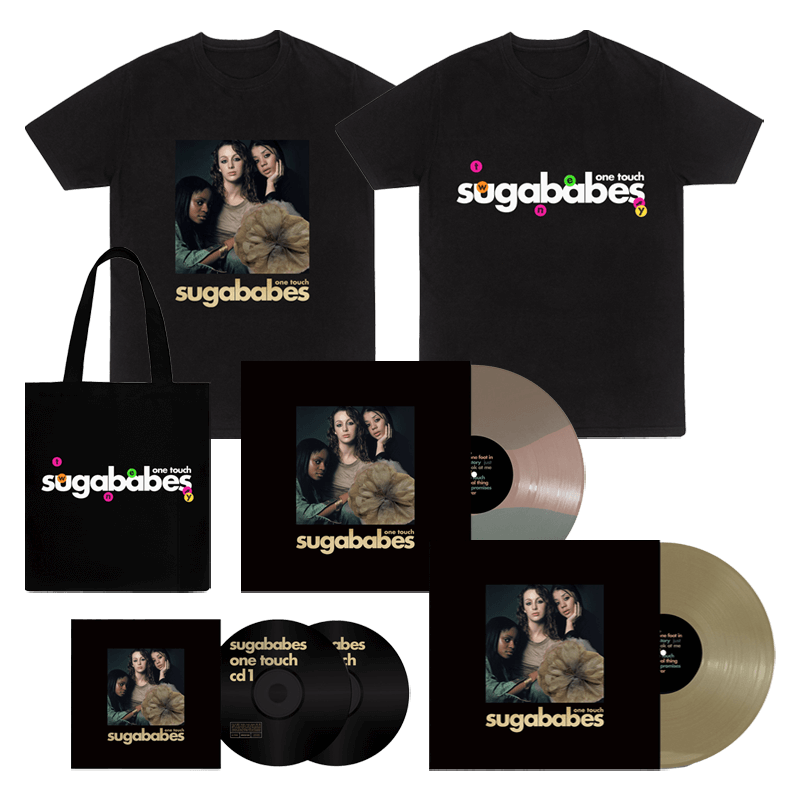 There are about 45 different bundle configurations available for pre-order now, but the big one is the Ultimate Bundle, which includes the remastered 2-CD album, a gold vinyl, a limited edition deluxe vinyl, an album tee, a logo tee, a tote bag and a signed and numbered "Overload" CD single. Honestly? Major.
Sure, there have only been about two (official) new music releases in the past decade from the Sugas. But time and distance makes the heart grow fonder, and the music (soul) sound so much sweeter.
Welcome back, 'Babes.