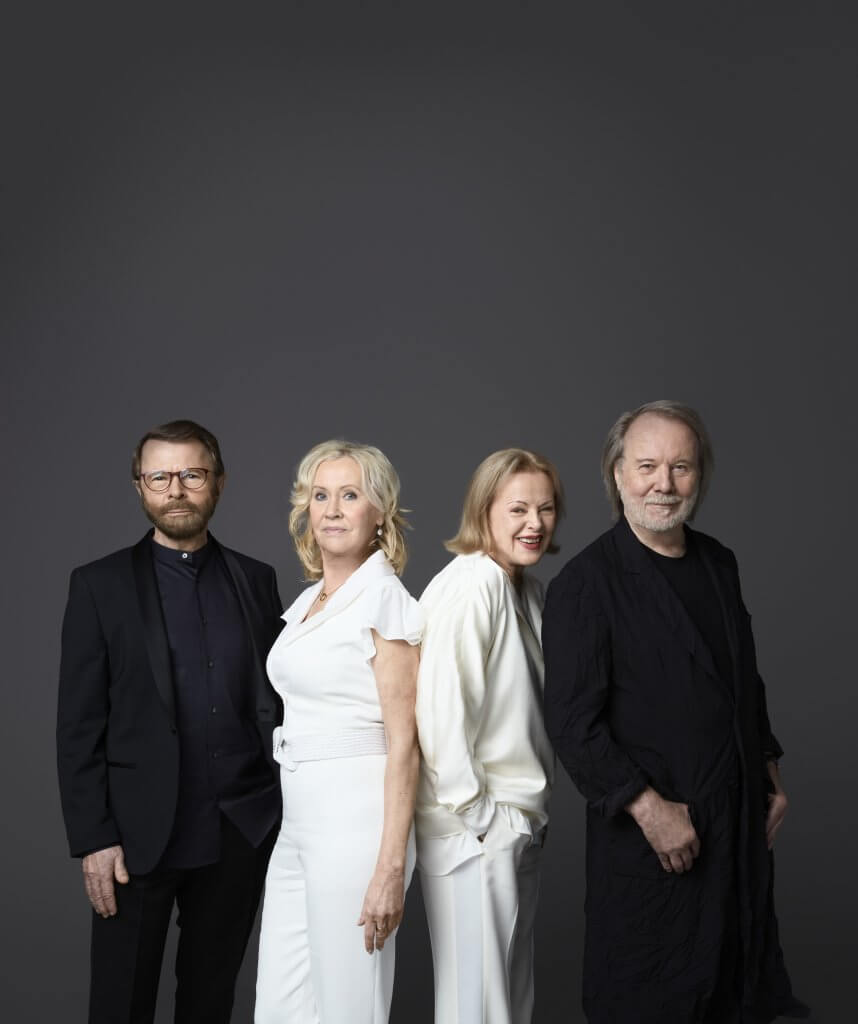 "We have a story, and it survived."
The idea of the return of ABBA is too legendary for words.
Literally: it feels silly to do a proper written review of a comeback by one of the most important and influential pop bands of all time. The group behind "Dancing Queen," and "Waterloo," and "Gimme! Gimme! Gimme! (A Man After Midnight)," and "Lay All Your Love on Me," and "The Winner Takes It All," and "Mamma Mia," and…well, you get it.
What a gift to have Voyage, out Friday (November 5), in our digital and physical hands.
The demand is still there, obviously: the band broke Universal's record for the fastest pre-order of all time in the United Kingdom, with over 80,000 copies in just three days.
More impressive, still, is that the collection of 10 songs, crafted by the legendary Benny Andersson and Björn Ulvaeus and vocally brought to life by the iconic Agnetha Fältskog and Anni-Frid Lyngstad, could have largely been plucked from the lesser-known depths of their storied discography, remaining largely free of modern genre influences and production tricks and trends.
As always, the album's programming and mixing was largely helmed by Benny, who hosted the four members over the past four years at his studio Riksmixningsverket in Stockholm. (In truth, the music likely would have come sooner, but there were production delays in the ABBA Vovage process, plus a pandemic.)
"It's been a while since we made music together," ABBA said, in the understatement of the century. (For a sense of how long it's been, their last album was among one of the first albums ever to be pressed as a CD.)
"Almost 40 years, actually. We took a break in the spring of 1982 and now we've decided it's time to end it. They say it's foolhardy to wait more than 40 years between albums, so we've recorded a follow-up to The Visitors."
There's a lived-to-tell quality to much of the music on Voyage, which is appropriate coming from true industry veterans, including the sweeping and cinematic lead single released back in September, "I Still Have Faith in You," which perfectly summarizes the story of their return in just a few, succinct lines: "We do have it in us / New spirit has arrived / The joy and the sorrow / We have a story, and it survived."
Some of the tracks play like age-old folk songs passed down, telling wistful tales of the passage of time, and people coming and going in our lives, like the still-hopeful, Ireland fair-inspired "When You Danced with Me." And, true to their country of origin, there's an undeniable Scandinavian melancholy that flows throughout much of the record.
"You're just here for the music, that's all, or could it be / You miss the good old times when you danced with me?"
There are tracks for traditions still to come too, including the delicate and twinkling "Little Things," the album's peak in sentimentality, Björn told Apple Music "could be played for Christmases to come, and that would be great, because we want to own Christmas and New Year's Eve, like with [1980's] 'Happy New Year'."
It's not all so gentle: "Don't Shut Me Down," the fired up, a vaguely disco-tinged standout, feels as sturdy of an ABBA single as many of their past hits.
Written from the perspective of a heartbroken protagonist showing up at the door of a former flame to try and win their love back, it doubles as a triumphant rallying cry for the comeback: "I'm not the one you knew / I'm now and then combined / And I'm asking you to have an open mind / I'm not the same this time around / I'm fired up, don't shut me down!"
Similarly, the feisty and spirited "No Doubt About It" finds the group grappling with a temper that just can't be tamed: "I made a mess this time, and thеre's no doubt about it / Hands down, the fault is mine, and I'm prеpared to shout it," they merrily rage until the eventual calm comes again.
"This isn't where it ends!," they insist in the song's final moments, a most fitting declaration.
Of course, Voyage would have never happened without ABBA Voyage, a groundbreaking virtual concert complete with a 10-piece live band, being staged in a custom ABBA Arena in London starting in May of next year.
"To tell the truth, the main inspiration to record again comes from our involvement in creating the strangest and most spectacular concert you could ever dream of. We're going to be able to sit back in an audience and watch our digital selves perform our songs on a stage in a custom-built arena in London next spring. Weird and wonderful!" they said in a statement.
Delightfully for the diehards, the record weaves in hints of melodies past – and at least one track that's decades in the making: "Just A Notion" was originally recorded in 1978 for Voulez-Vous, and was featured as part of the "ABBA Undeleted" medley on the Thank You for the Music box set in 1994. Like uncovering a forgotten pile of vintage Polaroids in the attic, it's a nostalgic thrill to hear the start of a decades-old idea carried out, dusted off and put on display at last.
The rollicking track frolics across happy piano keys, as the group swoons: "It is our destiny, there's nothing we can do / And tonight is very special, it's a night for me and you." It's a Frankenstein-ed production, built out of the original vocals cut in the '70s, but backed by new instrumentation, which doubles as a representation in song form of what to expect from their upcoming ABBAtar show.
The album is occasionally current in unexpected ways: "It's quite absurd, this summer morning / To think we could be trapped inside a world where all is changing / Too fast for bumblebees to adapt," they lament on the twinkling "Bumblebee," using an innocent observation from the window as a subtle, melancholy nod to climate change.
Their knack for conjuring vivid scenes through storytelling is as sharp as ever, as with "I Can Be That Woman" and "Keep an Eye on Dan," a personal favorite.
"There's a lot of stuff going into ['I Can Be That Woman'], but it's basically about someone who has come down from an addiction and finally come down into real life and is sorry about all the wasted years. But there's hope at the end of the tunnel: I can be that woman now. Only we know what is fact and what is fiction about our life experiences together. It's a kind of freedom that you get. With 70, you get that freedom," Björn explains of the song, inspired by who he declares to be the "Queen of Country," Tammy Wynette.
The dark and dramatic "Keep an Eye on Dan," meanwhile, pulses with a certain tension, capturing a couple mid-divorce, with a child stuck in the middle (Dan!), certainly something the two former couples could relate to in varying degrees of intensity. "I know that this shouldn't be a traumatic event but it is, and I feel so bad." It's one of the most unique tracks on the album, from both a musical and lyrical perspective, proving that ABBA can still ways to bring something new along their Voyage.
All good things do come to an end eventually, and the album's gorgeous comedown, "Ode to Freedom," takes us gently outward deeper into space on their next journey. It also leaves the record unresolved, supplying food for thought rather than a formal sign-off, which feels appropriate for ABBA.
"I would like to think that freedom is more than just a word / In grand and lofty language, odes to freedom often go unheard," they sing, nearly hymn-like, as the strings take flight.
"This is not my ode to freedom; it's about how if I ever wrote one, it would be simple. I don't know what it would be about, but I wish someone would write one," Björn explains of the track. (Hey, there's always time…)
The legacy of ABBA aside, there's something very special about seeing the news of this album so loudly celebrated on a global level, having come from 70-something-year-olds making pop music. In a youth-obsessed world, where we regularly revere the opinions and images of baby-faced teens in pop culture, and where radio programmers largely retire acts (especially women!) by their mid thirties from the airwaves entirely, it is a truly rare thing for a veteran act like ABBA to capture the public's attention to this degree once again.
They're our pop elders, and their perspective on life comes from their actual lived experiences, making much of the material feel more poignant than ever before. "A while ago, I heard the sound of children's laughter / Now it's quiet, so I guess they left the park…"
Perhaps what's most impressive about ABBA's return is that it isn't just some sentimental victory lap, nor a "thanks for the memories and goodbye" gesture, like a greatest hits collection with a new song or two – which would have certainly sufficed as enough of a panic in its own right.
Voyage is uncharted territory. A new adventure awaits. Nearly 50 years beyond their debut, here stands ABBA, still exploring new ideas, still faithful in their mission, still heading towards the great unknown.
How fortunate we all are to get to come along for the ride.