"Won't you give me everything? Love me like a summer fling…"
You know and love the 26-year-old half-Scottish, half-Swedish singer-songwriter best for hits over the past decade like "Stay Out," "The Best You Had" and "Somebody Special," as well as penning tunes for favorites like Jessie Ware and Olivia Holt, plus last year's fantastic "Miss You 2" with Gabrielle Aplin and "Somebody" with Sigala and "Cry Dancing" with NOTD, among many others.
And if you don't know of her already, now you do…and you're better off for it.
As of Friday (July 9), Nina's returned with a brand new tune called "Summer Fling" – it's just a fling baby, fling baby…am I right, Alouders? – right in time for the sweltering season. If you're in the Northern Hemisphere, that is. I do not mean to be Southern Hemisphere-phobic. Q2!
The repeat-ready track, written and produced entirely by Nina amid the pandemic, dreamily drifts atop a sea of nostalgic '80s synths and lyrically provides all the fleeting season's signature vibes: crashing waves, hot sand, cool breezes and salty air.
"Cross your fingers, tell me it's forever / Could we make it into September? / Leave me on the porch, take back your sweater / I'll be so cold when it hits December," she croons just before the Autumn Goodbye hits.
"'Summer Fling' is inspired by wanting to escape. I always caught myself dreaming of going back to Sweden to spend the summer there, so it's a fantasy of that world. Where there's no stress," she says of the song's inspiration.
To feel the full fantasy of her summer getaway, Nina teamed with director Wolf James for the accompanying music video. And while the colorful, slightly surreal, flower-filled visuals and sweeping landscape shots are lovely, it's really all about the striking shots of Nina on the aerial hoop. (Did you know? She was a gymnast.) The talent…it overflows.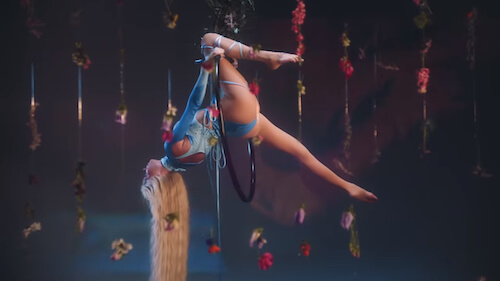 "Summer Fling" is the first offering from the follow-up to 2019's The Sun Will Come Up, The Seasons Will Change. And based on what she's supplying already, it seems Nina's about to give us everything, indeed – and possibly her best set yet.