"Can I have one night, one night, one night where it's just me alone?"
Griff's still got the good stuff – arguably more than ever.
The 20-year-old Chinese-Jamaican UK singer-songwriter's been on my radar (on my ray-duh) for a minute now – at least over a year now – and she's been steadily gaining tons more fans and streams with each passing release, including this year's "Black Hole" and her fantastic One Foot in Front of the Other EP, released back in June.
Of course, don't just take my word for it: she was named on the prestigious "BBC Sound of…" list for 2021, and also won the Rising Star Award at this year's BRIT Awards. Plus, Taylor Swift is a "huge fan." Very major.
As of this week, she's back with yet another winning track: "One Night," an anthem dedicated to the midnight hour when the mind starts to wander and the Bad Thoughts settle in, co-penned and produced by Peter Rycroft, otherwise known as Lostboy. (But let it be known: she's fully capable of solely self-producing, and has done so numerous times.)
The song was inspired by her "love of Whitney Houston and The Weeknd" (taste!), and it is about "feeling like you're always carrying this darkness or burden."
"I think in the daytime we can feel distracted because we're around people and we're busy, but that moment between going to bed and falling asleep, there's just enough silence for those burdens to get louder. Essentially this song is trying to understand why I can't shake it, and the chorus comes to this breaking point of desperately wanting at least 'One Night' alone," she went on to explain.
Like the rest of Griff's output, the instant earworm leaps from hook to hook across the echoing, '80s-inspired synths and kicky beat (pointing to Abel and Whitney as inspiration for this song feels accurate), providing the kind of earnest vocal delivery perfect for pop radio, and the type of lyricism that proves she's got a real knack for tapping into complex emotions and spilling them out into song.
The talented storyteller opted to bring her description of the tune to life in the form of an accompanying music video, released on Wednesday (September 1).
After heading out onto the street – all pop stars do well with a good walk 'round a busy street, just ask Kylie Minogue to come into her world – it becomes clear pretty quickly that Griff's shadow isn't content with, well, being in her shadow.
And so begins a showdown against herself, a la Britney's Dream Within a Dream Tour rendition of "Lonely," as Griff attempts to shake that pesky hanger-on and have a moment to herself again.
Truly, I had no idea that Griff was even the kind of girl to give us some choreography. What a pleasant surprise! The full package.
Also, life imitates art(hur):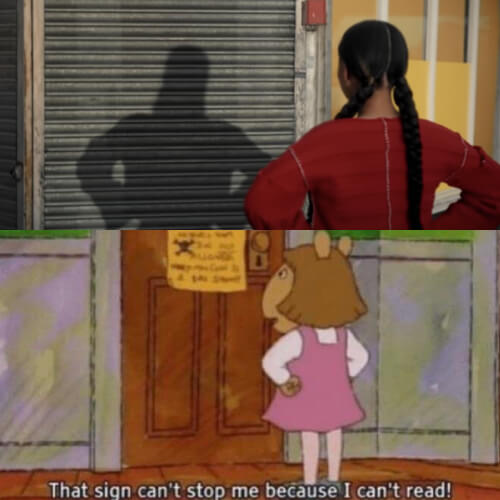 She's got the voice, the moves, the melodies, the hair – it's really only a matter of time before she goes from One to Watch™ to the newest Main Pop Girl™ on the scene.
Enjoy the (rapidly diminishing) obscurity while it lasts, Griff.