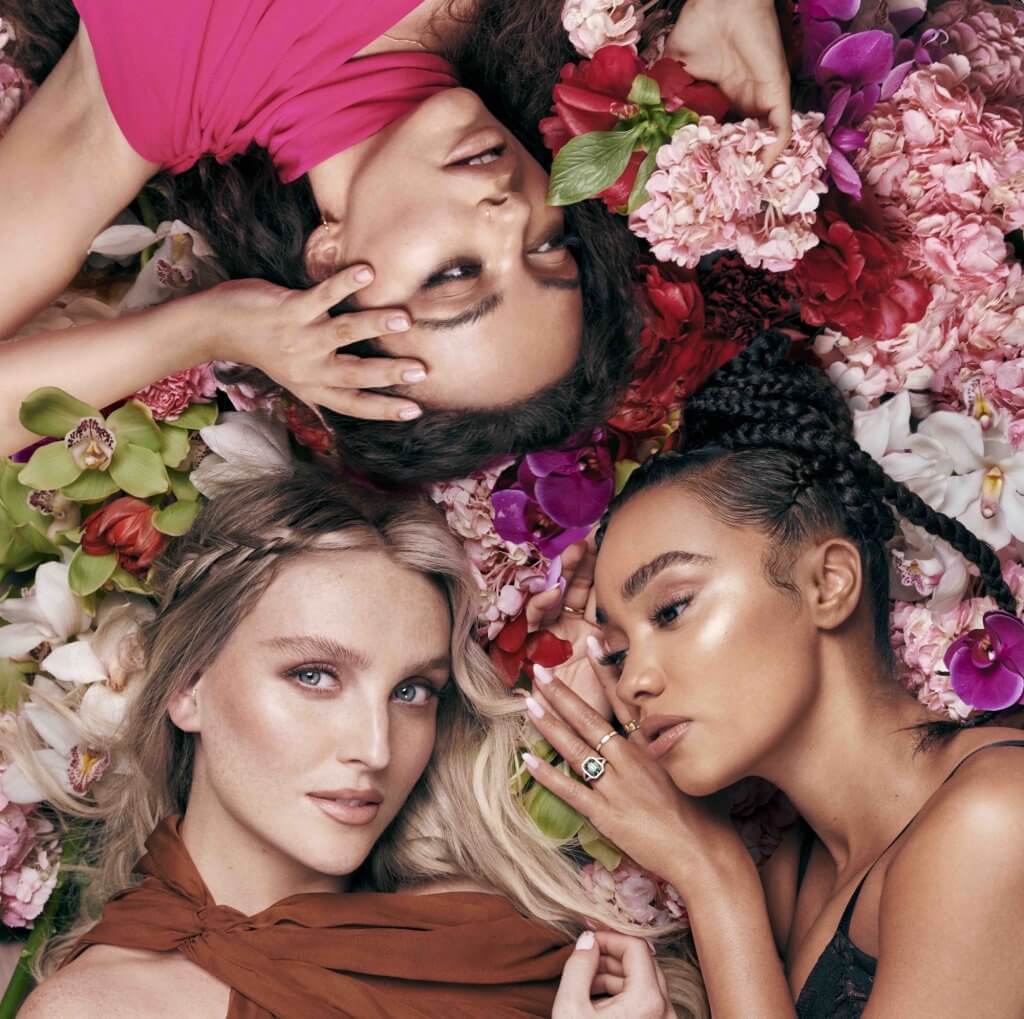 (To be declared in a booming, God-like voice, a la the 2017 BRITs performance opening.)
Girl groups don't often get a chance to celebrate a career that's gone ten years deep. In fact, it's hard enough to get past two or three albums max before "creative differences" arise, egos and tensions flare, and solo ambitions derail the whole project.
And sure, they've not gone without their own personal and professional drama over the years. They're also now down a member who's making some, um, choices on her own.
But Perrie Edwards, Jade Thirlwall and Leigh-Anne Pinnock have still managed to overcome the increasingly unlikely odds to deliver Between Us, out Friday (November 12), a phenomenal celebration of a decade of the hits and beyond. And, to quote another greatest hits from a certain Legend, it just keeps getting better.
While the stacked set is enough of a feat in its own right for the trio, it's not just a victory lap before calling it quits. Far from it, in fact.
Instead, this feels like the stuff of a newly reinvigorated group, armed with Big (Little) Mix Energy, and the earned confidence of an established act that's seen and done quite a lot together – and that's with two out of three of them pregnant throughout nearly the entire process of putting the package together.
Between Us is Bangers Only™ from one of the best-selling girl groups of all time, traversing across hit after hit since 2012's post-X Factor UK debut "Wings" to "Move" to "Touch" to "Salute" to "Black Magic" to "Shout Out to My Ex," all the way up to their most recent smashes, including "Sweet Melody" and "Heartbreak Anthem."
Listening through the entirety of the record is a most fulfilling exercise in happy memory recall. "Oh yeah, that one! And that one! And that one too!" They've had the bops from the very beginning, quite frankly.
However, the new songs are just as impressive as the consistency of their singles run.
While there is one requisite sentimental moment – "Between Us," an ode to their history and connection (which has always felt more genuine than the majority of groups, if we're honest) that cleverly name-drops some of the hits included in this package – the new songs are largely about looking forward and keeping it moving.
The girls of Little Mix are truly grown women now, and they're simply not having what no longer serves them. The fresh tracks are all massively catchy, self-preserving, boundary-setting anthems, cutting off flops left and right.
Ex-lovers? Ex-bandmates? Decide amongst yourselves.
"No" is a total pop monster, produced alongside Kamille, Tre Jean-Marie and MNEK – the Bernie Taupin to their Elton John – that feels like a slight nod to millennium-era Max Martin for 2021. The ladies all reign supreme in the accompanying video, in Housewives mode, remote-controlling their robot men (men, boo!), who still can't get it right, even in nuts-and-bolts form.
"Love (Sweet Love)," meanwhile, taps into the En Vogue massive vocals and harmonies that made the group great from the very beginning, as they deservedly celebrate themselves, while "Trash," originally cut by Mabel, supplies the player-rejecting energy one might expect from a group that grew up on the likes of Destiny's Child and TLC.
Perhaps the feistiest in the bunch of new bops is the instantly addictive "Cut You Off," crafted with one of the hottest producers of the moment Lostboy, which Jade described as "kind of a therapy songwriting session."
"Everyone's got a limit, really saw my life with you in it / 'Til you walked right out," Leigh-Anne declares off the top of the track, providing massive melody after melody, complete with blade noises for the full slicing-off effect.
There's a certain energy to "Cut You Off" – and basically all of the new tracks, for that matter – that seems very…pointed right now. Even the track listing feels a little…interesting, kicking off with "Shout Out to My Ex" and ending with "Wasabi" which, in its final few seconds, finds a former member wildly yelping about going solo. Really makes you think!
Beyond a bit of amusing shade here and there (intentional or otherwise), the best part about Between Us is that, while it could easily serve as the cherry on top of an incredible run for one of the best girl groups of the modern era, the newest bits scattered throughout play like a troupe that's only just begun.