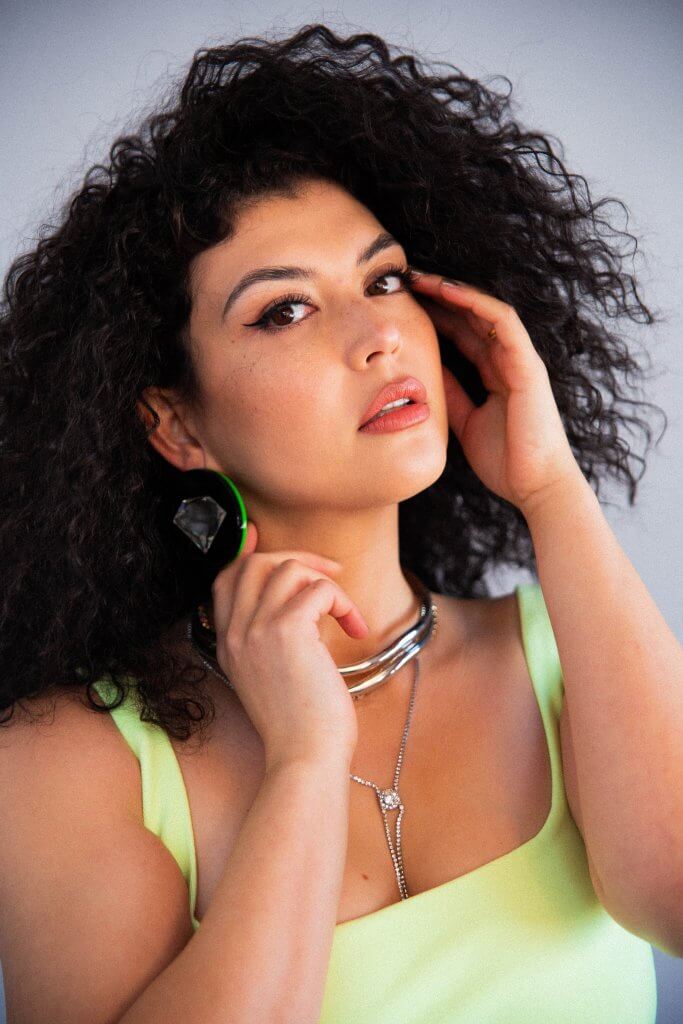 Karen Harding knows a thing or two about keeping it moving.
The UK singer-songwriter's supplied her emotive vocals on dozens of club cuts over the past near decade, ever since surging into the Top 10 of the UK Singles Chart with her MNEK-produced debut "Say Something" in 2014. She's gone on to collaborate with dozens of dance floor acts like Giorgio Moroder, Le Youth, Felix Cartal, Galantis and Röyksopp (and yes, even Claire Richards of STEPS!) ever since, leading all the way up through to her latest stunner "Other Side of Love," released earlier this month.
Along the way, she's also had her fair share of hurdles and outright rejections – including a stalled stint on X Factor, self-doubt and creative differences with record labels – but she's stayed the course, and it's all led her exactly where she needed to be all along.
Ahead of her forthcoming debut album, I had a chat with the singer about her journey in the music industry, finding success in house music, and arriving on the other side of love. (And maybe doing a rock album on the side, too…)
I want to go all the way back. When did you start singing?
I started singing, like really far back, when I got my first ever karaoke machine. It was a cassette one, so I had like four tracks. They were Celine Dion's "My Heart Will Go On," [George Michael's] "Careless Whisper," and two other rubbish songs that I never sang. It was constantly like that when I was, like, seven. I did loads of parties with my mom. She's Filipino, so she encouraged me to do a lot of Filipino parties, and things like that. That helped my confidence. I did a lot of competitions and basically tried everything to get successful in singing. I remember just thinking – I was maybe like 16, 17 – "how am I gonna do this? How do you get recognized as a vocalist?" I didn't think I was a songwriter at this point in my life. i was just kind of putting covers up. I was playing in local bands. I was doing acoustic sets around locally where I'm from, which is in the northeast of England. There's not really much up there. It's quite quiet in the scene. And then MNEK messaged me, who I did "Say Something" with. He's an incredible talent. It was just on Facebook. He wasn't feeling very well. And he messaged me, just saying 'I really love your voice.' I think it was like a Mariah Carey "Fantasy" cover, or something like that. I put on YouTube and he was like, 'yeah, I'd really love to work with you. I saved up a bit of money, got the train to London. We worked together and we wrote two songs then, and then I went back down like a year later and we did "Say Something." I was trying to do absolutely everything I could to just find success in music. Don't get me wrong: I was able to make a living from it when I was like 20 or something. It was amazing. I had such an amazing time, but there was something more that I felt was calling for me. I didn't go to uni. I pulled out. I said to my mom "look, I don't wanna just wait a little bit." These Filipino women, the education is very important: "Karen, you must do education. She was not pushy on that, but a bit like that. But I'm glad I didn't, because within that year I got recognition.
There was an X Factor moment, right? How was your experience within the machine that is X Factor?
I did it. Wow, how old was I when I did that? Maybe like 18. I did two years in a row, actually. I was like 18, 19. My manager, who I have now, kind of put me forward for it. I was kind of excited. I kind of like a little bit of competition. Who doesn't? And I thought I would really enjoy it, but in fact it was very mentally tough. I didn't get very far the first year at all. Second year…I don't know if they do it in America, where they have the six-seat challenge, where they do six seats, then you have to kind of sing for your life and someone can take your seat.
Oh, God.
Yeah. It's it was pretty intense. I got the first seat, and then there were like 17 girls after me. The last girl got my seat right at the end, and I was incredibly upset, of course. I don't know who wouldn't be. It's tough. I was sat on stage for three hours and people started screaming, 'Number one, get rid of number one!' And that was me. It was all really intense. I'm sure it was great for TV. I don't even think I'll watch it. My way in dealing with things like that – because it's happened a few times, it's really painful to deal with the rejection – is I just switch everything off. I remember I just left, got the train home and turned my phone off. Didn't speak to anyone for maybe one or two days, just totally reset myself, then just forgot about it. I just have to think, right, it's done now. There's nothing you can change. You just gotta move on. That's something I've always dealt with: hard rejection. In this industry, it's so important to be able to deal with it. With X Factor, that just happened to be a stepping stone along the way that I went through. It's funny because the second time I did it, I had "Say Something" on my computer. I had the song ready to go, but I didn't have any record label or anything like that planned. It was kind of funny that the next year they called my manager and they said "Would Karen be up for going on The X Factor again? My manager was like, "no, because she signed a record deal." [Laughs] I was just a bit like, you know what? I can do it without you. You don't need that show necessarily to make it as a career.
Oh, absolutely. And I feel like we've felt that shift over the years. It's different from the days that Leona Lewis won. Now, it's almost like they need contestants with an established background already to help them. Or it's more about the judges than it is about the contestants. So speaking of being signed, what has been your experience with labels?
So I signed with Capitol Records with "Say Something." That was my first ever record deal. I was absolutely buzzing. They had Sam Smith, 5 Seconds of Summer, like…incredible artists. And I had that imposter syndrome. "Do I even deserve to be here?" sort of thing. Yet everyone was so excited about the record. So much support and so much momentum. It all went really well until we couldn't find the next single after that. I was in the studio pretty much Monday to Friday, like six times a week, at least. I was so tired, and then also doing promos and also doing photo shoots – absolutely everything under the sun while trying to get the next single. I think at that time of my life, I felt too much pressure and put too much pressure on myself. I learned that this is the thing you have to go through to realize that I was just putting too much pressure on myself and now I realize that. You've gotta have a break, take a couple of days off. There's nothing wrong with that. It's super important. Then we kind of parted ways. We weren't agreeing on the next single. Happens a lot. You've gotta learn to pick your battles. And I picked that battle, and I said, "I'm not putting that song out," because I didn't like it. It didn't feel like it represented me as a person. From that moment on, I went independent for a couple of years. Loads of people didn't wanna work with us anymore because I wasn't assigned to a major record label. It felt quite tough. It was a strange time I didn't feel the inspiration because I was like, "I don't have this big machine of a record label behind this." Then I signed to Ultra Records in December 2019, and I've been released music with them ever since. It's been going quite well. I just wanna release more stuff that is definitely more me than I ever have before. And I feel like I'm definitely doing that.
I feel like you've really found your groove. Your name pops up quite a bit on features on with different producers and DJs. Over that time period, do you have any particular standouts or favorites that you're particularly proud of?
A highlight for me is definitely "Stay" with Le Youth. I actually booked a trip to Sweden to work with some writers that I worked with before. I paid out of my own pocket. I was like, you know what? I need to change the scenery. I just need to write something, because I'm stuck here. We wrote that about feeling lost in music – as if I was like, I don't know if I can do this anymore. It's such hard work, and it's so consuming. It's kind of like the music's chat with me, saying, you know that I will stay. I'm bound to stay here, because there's nowhere else where I feel I can be. It always has spoken to me because it means a lot to me, especially in that moment when I just felt like "What am I supposed to do?" I'm glad that we got it out, and that it resonates with people as well.
You also have different placements as a singer-songwriter, including one more unexpected one: Claire Richards from STEPS. How did that come about?
I wrote that with the Cutfather team, who've done an incredible amount of songs for The Pussycat Dolls, Jamelia…
Kylie's "Get Outta My Way."
Yeah! And then like, and then Chelcee Grimes who's worked with Kylie, all these incredible people. We were in the studio for maybe a week or something, brought out a lot of tunes, and "Shame on You" was one of them. I absolutely loved it, but I was with Capitol at the time and never quite got there with it. They gave it to Claire to listen to, and she loved it. I'm so happy because she used a lot of the ad libs that I had. It was a real compliment to me, because obviously STEPS… yeah. You don't have to say anything more about STEPS, but I loved their music. And I also loved Claire, because she was the singer. It was incredible to have her do it. I was actually going to see Celine Dion live in Hyde Park, and Claire was supporting her. I totally forgot that I'd written the song on her album, and I was just waiting with my friend. We'd just gotten a little spot on the grass. And then all of a sudden, "Shame on You" came on, and I remember I jumped – everyone's sitting down. I jumped up, like "This is my song!" Everyone's just like, who is this girl? Tell her to calm down. But I was so hype seeing the song you've written. It doesn't happen to me that much. Obviously I sing a lot of the stuff I write. So seeing the song I've written performed by another artist, on such an incredible stage as well, was truly honoring. It just made us think, do you know what? This is actually fun to be heard on the songwriter side of it. That really made me feel so grateful for what I'm able to do.
It's so cool to see you on that album. Another one that you popped up on very recently was Röyksopp's "Unity." How did that come together? To be in their general aura…talk about Legends Only: Robyn, Lykke Li, Karin [Dreijer] from The Knife.
So cool. I mean, it was actually during lockdown. They reached out to my management team, and asked if I would be happy to vocal this song on the album. I'd heard of them before, of course. I was actually madly in love with their tune "What Else Is There?" I also loved the Trentemøller remix as well. So when they asked, I was like, okay, cool. The song was super, super, super rough. We jumped on a Zoom call, 'cause I was like, "guys, I think the song has potential, but I feel like it needs to go a different level." And they were like, "Don't worry Karen, we got this." Obviously I trusted them because they're incredible. They were just so nice, and so grateful as well that we could do this together. They wanted a '90s kind of classic rave vocal on there., hence why they reached out to me. It was just such an honor. I recorded the vocals at home, sent them over and then they got them sounding so good. There's a slight effect so it sounds slightly higher, but I love it. It's funny: that song's just grown and grown on me, and now I just can't get enough of it. I would love to perform with them live. That would be an incredible thing to do. Their show is also really inspiring. It was just inspiring to work with them. Then I saw the lineup of who was on the albums, and I was like, oh my gosh…I'm literally alongside incredible artists. So I was just truly honored.
Yeah. Alison Goldfrapp. Legends. We're manifesting that. They're gonna come by, and you'll do some stage shows with them. They're so goofy in a very charming way. I interviewed them.
Oh, right. So you can kind of get what I'm saying. They're just really chill, but nice at the same time. Really nice.
Very much so. And now we have most recent offering, "Other Side of Love," which I absolutely adored from the first listen. This one really struck a chord with me. I actually went home and I was in the car with my mother, and I had her listen to it, and I was like, I just really love this song. And she was so into it. Her feedback was so funny. She said, "I think she should sing rock."
Like, rock?! [Laughs]
Rock music. She just thought there was a style to your voice that would suit belting a rock song. I said I'll let her know.
That's funny. I used to sing like a lot of classic rock songs when I was younger. One of my favorites was "Alone" by Heart. All that kind of stuff. I used to go really hard, so maybe that's where she can hear an inspiration in my voice.
The song is so wonderful. Can you talk about the making of that song and why you chose that as a single?
So that song's probably about six years old. It's been on my computer. I wrote over a Chris Lorenzo track actually, which was super rough. It was originally called "Diamond in the Rough." It had no meaning at all. Just a random lyric came in my head. He texted us back, like, "Karen, can you just change the lyric? Because I'm not really feeling it." And I was like, you know what? I totally agree. So I got my friend Belle Humble to come around and rewrote the lyric. We actually talked a lot about stuff. I'm quite a private person. I don't talk about my personal life that much with people. I'm just that way. So when we were talking, she had just got into a relationship, and was just about to have a baby with this guy, and she hadn't been with him that long. She was really worried about family life, relationships, commitment and everything. I've been with my partner – now my husband, then my boyfriend – for probably like nine years or something. So I was just talking through all that stuff and said, it's really hard sometimes. And if you can't work through that and you think you just wanna give up, then it's probably not worth it. But if you can totally just see it working, even through the hardest times, then you just gotta keep going with it. So we came up with the concept of "Other Side of Love," and being able to get through the really tough times. Because everybody has them, and there are so many challenging moments in relationships, when you think about giving up. The first couple of lines are actually about how I got together with my husband, so it's a really personal song to me. I love performing it and singing it because I mean every word of it. I think a lot of people, including you, can hear in the way that I sing it maybe, that I really care about the song. I'm trying to be as clear as I can.
It definitely comes through in the song.
That's great.
I'm wondering, is there more exploring of personal themes on this album?
There's definitely a few more exploring the personal. I didn't even realize I was doing it. When we were getting the songs together for it, I realized that I've wrote something very personal = not necessarily all the songs, but a little bit here and there. There's definitely more personal elements to it than people would've ever heard before.
What else can you tell us about the album, sound-wise or vibe-wise?
It's kind of funny. I haven't really thought about that. I didn't think about a concept. I didn't think about anything like that. I literally just went through all the songs over the last couple of years and just picked my favorite ones – the ones that have just been sat, not doing anything, but I've always loved them. I've listened to them on a weekly basis, at least. It was kind of like, do you know what? If these are my favorites, this is what I wanna share with everybody. This is what I wanna share with my fans. It came together like that ,and the songs are actually starting to sound really good now as well. We're finishing everything off. It's still a work in progress. I think there's still a little bit further to go with it, but the track listing is pretty much almost there.
Very exciting. "Other Side of Love" came out around the same time as this whole cultural conversation, because of Drake and Beyonce, around house music now. It's kind of the perfect time because you sing many house tracks, along with garage and drum and bass. You've touched a lot of different dance genres. Can you talk a little bit about your relationship to house music?
It's funny. I didn't intentionally go into house music. It was just like – like your mom said – I was kind of messing around with rock songs, doing all this kind of stuff and figuring it out. Where should I be? That was really hard. You have to kind of pick a lane, and "Say Something" just happened to be an electronic dance track that was also heavily influenced, as you can clearly tell, by R&B and garage and stuff. That's kind of how I managed to slide my way into the house scene. And then everyone was like, oh, who's this then? But in terms of how I like it, I mean, I've loved it forever. I listened to a lot of compilations when I was younger. My older brother used to get them from HMV or wherever and used to blast them out in the car. So we would be listening to a lot of hard dance, like trance, 130, 140 BPM. Then I'd be listening to Madison Avenue, Craig David, a lot of that UK sort of sound, alongside Mariah Carey and everyone like that. So it was kind of a mismatch. The more I've gotten into house, the more I love it. I find stuff that I just think is incredible. I'm a big fan of Honey Dijon, Disclosure, there's just so many…but that's a different side to house. Then there's straight-up, like Louie Vega, MK, Paul Woolford, you know, they're maybe more mainstream, but then I also really love things like Chris Lake, Green Velvet, the much harder techno kind of thing as well. I love how there's house music for each day of the week, and it doesn't always have to be the same kind of genre. That's what I love about it.
For the album, this happens a lot with singer-songwriters. Are you hanging tight to songs that have been either offered or considered for other artists, but you said, no, this has to be for me?
I've done that before, and then I've been open to collaborate. It just depends if it's the right person who's gonna collaborate with us. There's a song that I did quite recently that I feel like I must be on because I just love it so much. I'm just waiting for the right person to collaborate on it with, so yeah. I would hold it if it really, really meant something special, but I'm also happy for collaborations. It doesn't necessarily have to be a Karen Harding record if somebody else felt is connected to it as I was.
Do you have any collaborations that you either still wish to do, or maybe two ships passing in the night didn't work out? Anything like that?
There's lots of the passing in the night kind of thing, where I don't quite get there. My dream always has been to work with Disclosure and Calvin Harris, because I genuinely think we would get something amazing. There are songs that I have that I think they would love. I'd also love to do a track with Kelli-Leigh, Becky Hill…I've been talking to Kelli-Leigh a lot. We're good friends. We chat about it a lot. We send each other other songs. That's really nice. She's also an incredible vocalist. I'm just in complete awe of her vocals. There's nothing but respect to other female vocalists as well. I'm always happy to jump on one of the song with them as well.
I was wondering if there's a community among dance vocalists.
Yeah. 100%. I had like an hour long conversation with Alex Mills yesterday to talk about music. I'm really good friends with Anabel Englund, Camden Cox…to be honest, there is a scene. We're all just super supportive of each other. Because there's space for everybody. None of us are ever competing against each other. We all sound completely different. We all write totally different songs. We've had success together before in the past, I'm sure we'll do something else together again soon.
That's actually very reassuring to hear. Do you have any professional goals – a challenge, or a marker for the year, or the future?
There's just so many things. What I really want is to have the album out, to basically say "this is me, and this is what I'm doing. This is what I love." I'm super happy with how things are going at the minute, and I'm super happy with life as well. And I'm super grateful. I just can't wait to put my music out. I also can't wait to gig the album, maybe a headline show. That would be something that is dream-worthy, whether 10 people turn up or a thousand, it doesn't matter. And I guess to work with more collaborators as well, people who I've always wanted to work with, like Martin Solveig or Jax Jones. We've almost been there with a lot of them, but it's never quite been the right song.
I have one more question: what is your definition of success currently, and has your definition of success changed since your debut?
When I was younger, I used to say the definition of my success is happiness. Just being happy in what I do. I still think that's a definition of success because there's times when you're not happy, and you've got to make the decision to change up your life and it's hard, but it's worth it every time. Now, to be honest, I don't think I'm too far away from that. It's just being happy in whatever you're doing – and also believing in it. That's when I'm not happy, is when I don't believe in the songs that are coming out, or I don't believe what I'm writing is good enough or whatever. Without that self-belief, I think success will lag behind, and you need it to be right up there at the front. So yeah, to be happy in what you create and what you do. Whether it's for 10 people listening, a hundred people, a thousand. People are like "my numbers aren't that good, blah blah blah." I don't even look at the numbers….yeah, okay. That's a lie. I look at the numbers a little bit, but I'm not on there aggressively looking at stats and everything, because it's so damaging. If I look at it too hard, then you compare too much. Find a place where you don't compare yourself to anyone, and you're happy in what you do, and you believe in it. And I think that, to me, is a level of success that a lot of people could be happy with.
That's beautiful. Thank you so much for joining me today. Karen, this was lovely. It was so nice to speak with you.
I really appreciate the write up as well, and the blog, really love that. Very, very nice words. So thank you.
Oh, well, thank you, but thank you for the music. It's been really great. I mean. You have to make a rock album for my mother, but otherwise…
I'll do it on the side. [Laughs]
You can also listen along to this interview on the latest episode of Legends Only.