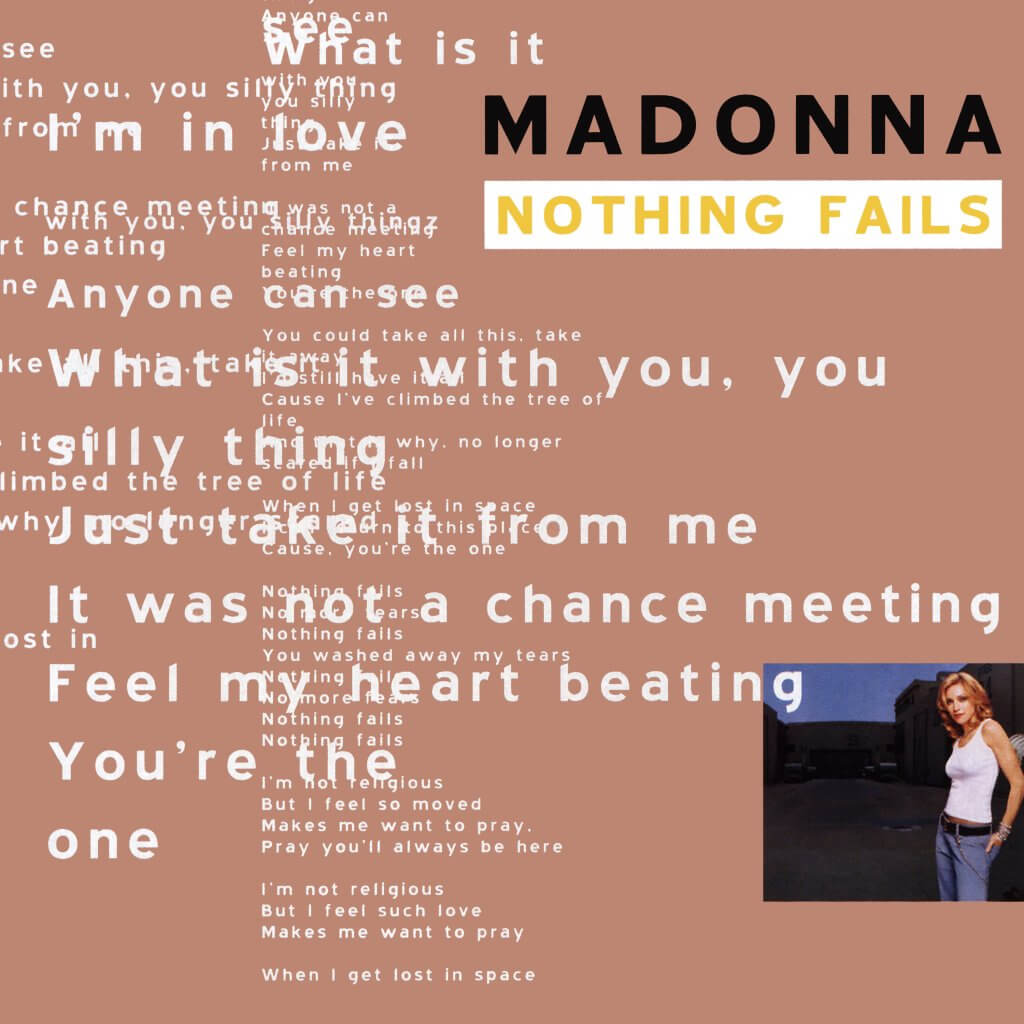 "Nothing fails, no more tears…"
Another week, another reissue from Madonna's extensive catalog.
As the Queen of Pop™ treks across Europe on the first dates of her stunning greatest hits tour, the Celebration Tour (tickets and tour dates here), her team is staying committed to causing a commotion on streaming with the ongoing digitalization of her singles and albums.
This time around, we're traveling in the arms of unconsciousness back to the year 2003, and diving deep into the innards of an unjustly maligned record, called American Life.
The era was largely defined by controversy and backlash surrounding its political, polarizing title track and accompanying music video and imagery, as she provoked questions about war and expressed disillusionment with the American dream in a tense, post-9/11 world.
As a result, the record's third single, "Nothing Fails," regrettably got (relatively) lost in the shuffle. (Although it notched some Top 10 placements around the world, and went on to be a No. 1 dance floor hit stateside, the song didn't even scratch the Billboard Hot 100.)
In many ways, "Nothing Fails" feels like the spiritual successor to "Like a Prayer." The song is similar in its themes of feeling anchored and overwhelmed by a powerful connection, using religious imagery to convey that ecstasy. And of course, it's got that gorgeous gospel swell of voices, provided by the London Community Gospel Choir, much like the 1989 classic.
Madonna truly hit her enlightened stride with Ray of Light a few years prior, but the worldly insights provided in song only kept coming with Music onward. "Nothing Fails" is no exception, supplying Kabbalah-infused wisdoms about life and love.
She even directly references the Tree of Life in the lyrics at one point – a Kabbalist concept connecting the physical and spiritual realm, which form a diagram that she now has a tattoo of, and has been most recently incorporated into the "Die Another Day" section on the Celebration Tour.
"You could take all this, take it away / I'd still have it all / 'Cause I've climbed the tree of life / And that is why, no longer scared if I fall."
Over twenty years deep into a continuously record-breaking career, at the age of 45 at the time, it makes sense that Madonna felt a sense of accomplishment in life by that point. (And yet, as we know, she'd only just begun.) But as Ray of Light taught us a few years before, her priorities had shifted in life. "This" could all go away, because she had found fulfillment at home. ("I traded fame for love / Without a second thought…")
That meaningful lyric in "Nothing Fails" was also something different before Madonna changed it: "You could take all this, take it away / And I'd still have it all / Because I've got my standing stone, I'm not alone / No longer scared if I fall."
The original song was begun by the brilliant Guy Sigsworth, otherwise known as one-half of Frou Frou, and was penned as an ode to his wife, according to Madonna: Like an Icon.
"I never write love songs, but I was moved to write one for her. I've never had a problematic relationship with her, there's not been a lot of drama. But I wanted to write something naive and honest," he's quoted as saying in the biography.
He then had the singer Jem work with him on the song, called "Silly Thing."
"I wrote this song (originally called 'Silly Thing') to a backing track given to me by Guy Sigsworth, he had already written the first verse…it was after midnight, I was on the floor with my Sony Walkman headphones in and feeling a little Cinderella-esk. I channeled the rest of the song. My favorite lyrics were 'I'm not religious, but I feel so moved, makes me wanna pray, pray you'll always be here.' Which I wrote thinking about my ex-boyfriend of many years. I used to joke with him, Madonna's singing about you! Of course everyone thought it was about Guy Richie. We recorded the demo the next day, it was summer 2001. Little did I know by 2003 it would be adapted, recorded and released by Madonna before I even had a record deal," Jem later said on Facebook.
Guy eventually leaked the original version of "Nothing Fails" on Soundcloud in 2012.
"This is the work-in-progress demo of a song I originally wrote with Jem, and which later became 'Nothing Fails', co-written and recorded by Madonna. It's over ten years old, it's just a demo etc etc etc." he wrote at the time. The charming demo sounds more organic and Sigsworth-ian than Madonna's guitar-led, glitchy electronica-filled final version, produced by Mirwais – and if you're a fan of his work with Imogen Heap and Björk, you'll definitely pick up on some of his flourishes.
"Nothing Fails" manages to be both intensely intimate ("it was not a chance meeting, feel my heart beating, you're the one") and absolutely massive by the song's sweeping choral finale all at once.
In true Madge fashion, it's spiritual, not religious. (Quite literally: "I'm not religious, but it makes me wanna pray.") In fact, at the time the song was being released, she was loudly declaring to cheers and jeers that "love has nothing to do with religion."
There's a lot of love embedded in the DNA of this song in general: it's about Guy Sigsworth's wife, Jem's ex-boyfriend, and, well, presumably Guy Ritchie, too.
But for me, it's always felt greater than being about any one person. It's almost a surrendering to the universe, or a solemn promise to oneself that everything's going to be okay in the end. There's something so centering about the song ("When I get lost in space / I can return to this place…") – not to mention that Madonna sounds beautiful and reassuring throughout (she's mothering!), recalling her other worldly, masterful "Nothing" work, "Nothing Really Matters."
"Nothing fails, no more fears / Nothing fails, you washed away my tears," she sings over and over again. There's no better description for how it sounds than, well, like a prayer.
The remixes include offerings from Jason Nevins, Peter Rauhofer, DJ Jackie Christie and Tracy Young, as well as a handful of mixes from Rauhofer, Mount Sims and Above & Beyond of another American Life standout, "Nobody Knows Me."
"Nothing Fails (The Remixes)" is out now.
Check out the MuuTunes Spotify playlist. You can also subscribe on Apple Music.
Photo credit: Kevin Mazur/WireImage for Live Nation