The three men of Madonna's second imperial phase. Price, Mirwais and Orbit in Paris. pic.twitter.com/NTxDpsk1Ap

— Inside The Groove (@insidethegroove) November 13, 2023
It sounds like the start of a bad bar joke that Madonna herself would live to tell during the Tears of a Clown run down under, but it's real: the most impactful producers of the past 25 years of Her Madgesty's reign as the Queen of Pop™ all came together under one roof for a celebration…the Celebration Tour, that is.
William Orbit, Mirwais, Stuart Price and Martin Solveig all attended the Monday night (November 13) tour stop at Paris Accor Arena in France, and were photographed hanging out and/or taking selfies through the show.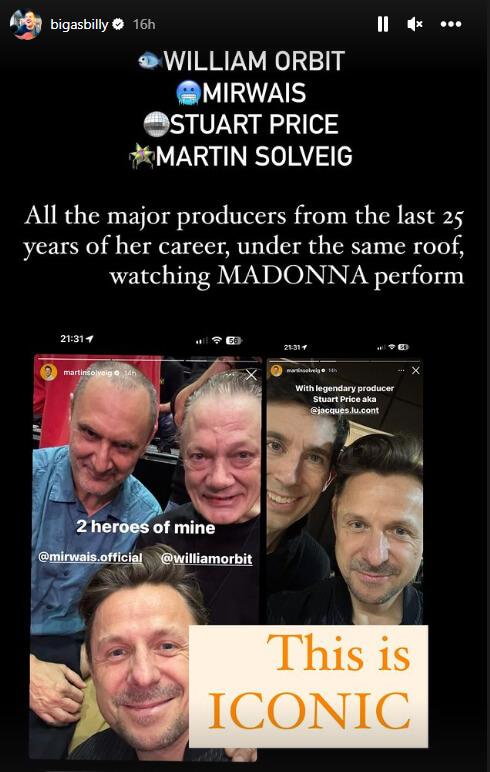 That's right: the co-architects of everything through 1998's Ray of Light to 2000's Music, 2003's American Life and 2005's Confessions on a Dance Floor, 2012's MDNA and 2019's Madame X.
One could only imagine what the talented troupe of musicians had to discuss together as a group – and all the shit they were likely talking about her hydrangea-free recording studio demands, and/or the albums they didn't work on. (Sorry, Hard Candy and Rebel Heart!)
In all seriousness, what a show of support and solidarity from some of the most major collaborators of her career. (It hits extra hard knowing how dire the situation was just mere months ago. Don't ever tell her to stop.)
William Orbit also wrote an incredibly heartwarming message afterwards on Instagram: "How was it? It is hard not to be breathless, feeling the way I do. The best gig I ever was ever at. Multiple reasons. But zero hyperbole on my part," he said.
"As in: is easy to celebrate such nonpareil after an astounding gig, but on reflection, yes, it was. Was going to write her a note about it, but seems am now 17 pages into an extended treatise. She went and did it. That thing we knew all along would happen. But right where we weren't expecting. True genius. Bowled over all over again, and so much more. And what a mum!"
Now, here's hoping they all went and grabbed some crepes at a cafe together, and began working on her next career-defining reinvention, post-Celebration Tour. Hey, a boy can dream.
Click here for Celebration Tour tickets and tour date info.
Buy Madonna's Finally Enough Love on vinyl.
Photo credit: Kevin Mazur/WireImage for Live Nation
This site contains product affiliate links. I may receive a commission if you make a purchase after clicking on one of these links.