I know I've been relying heavily on the whole "musical delight" aspect of my blog, but I'd like to take an opportunity to muse about a book I received about a week ago by my mother (Thanks Mom!) from her friend (Thank Mom's friend!).
The book is called I Am Not Myself These Days, a memoir by Josh Kilmer-Purcell. The book gives readers a glimpse of the authors life while living in New York, working at an ad agency by day, and as a moderately popular drag queen named Aquadisiac at night (known for wearing two fish bowls as breasts with live goldfish inside). The story tracks Josh's many–adventures, shall we say?–as Aqua, as well as his ongoing relationship with his boyfriend, Jack, a male escort. Somehow, it works in the oddest of ways (for a time, at least). The juxtaposition of the couple's drag queen and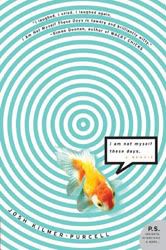 hooker friends coming together for dinner during the holiday season inside of their swanky penthouse apartment on the Upper East Side is ridiculous enough to keep anyone's attention. Hilarity and debauchery ensue at a dizzying pace, forcing me to read almost the entire book in one sitting. From the first page, the book is relentlessly captivating .
The book is written in the same vein as Running With Scissors, but with a much more deadpan, mocking attitude. It's smart, unintentionally sweet (at times in the most perverted of ways), and seemingly desperate all at the same time. A great read. Just don't lend it to Grandma when you're done (unless she's into the whole bondage and cocaine scene.) Not a book for the close minded or weak of heart.