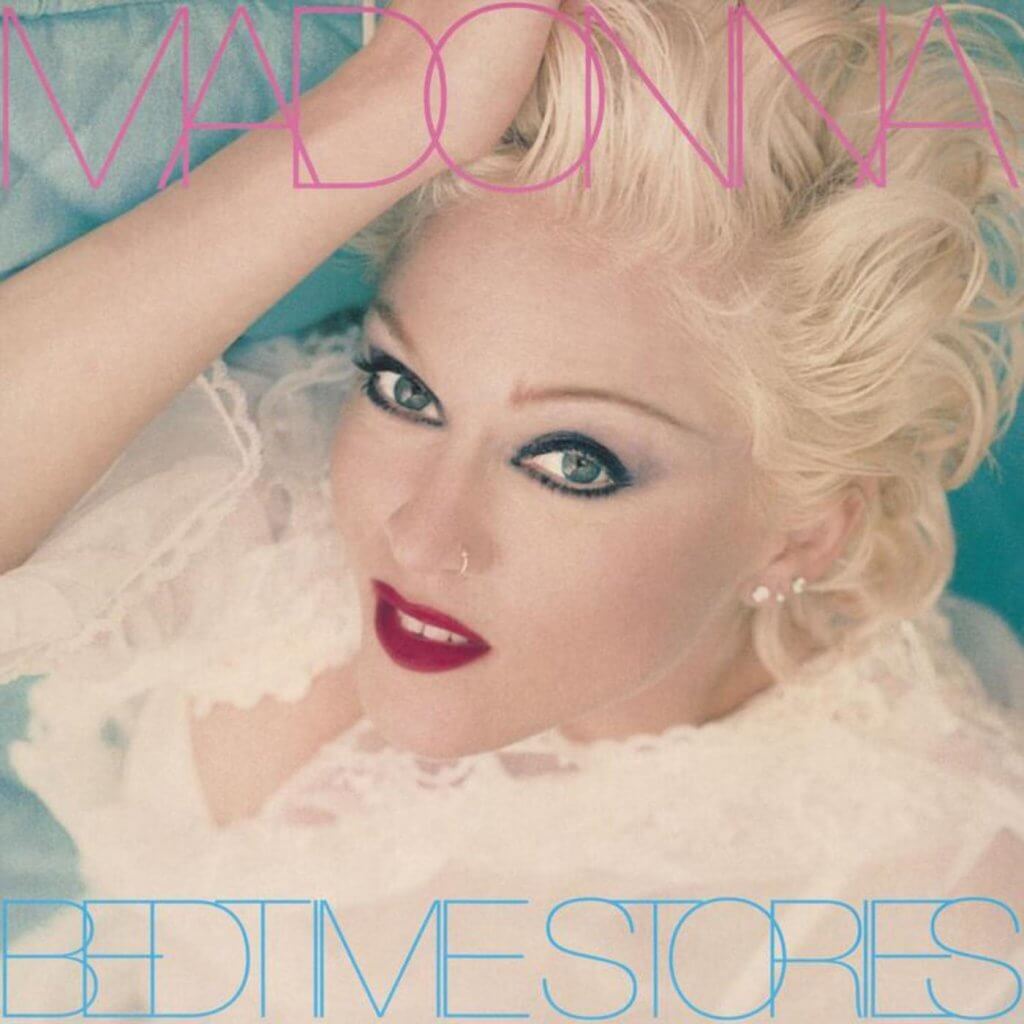 "I know what it's like to be incredibly famous. I know what it's like to be on top, and there are great things about it and there are horrible things about it and I know that I can never be in that place and at that time again in my life – my fame will take a different shape, a different form, and it will be what it will be. All I hope is that I will be happy in my personal life with my friends, my family and the person I'm in love with. That's the most important thing. If people are buying my records that's good, but if they're not it's not the end of the world." – Madonna, The Face, 1994
As Mary von Aue pointed out in her own exploration of the album during its 20th anniversary two years ago, Bedtime Stories likely isn't the first album that comes to mind when Madonna's name arises in conversation. (And if her name doesn't arise, you need new friends.)
A jukebox of generation-defining classics queues up instead: "Vogue." "Lucky Star." "Like A Virgin." "Music." "Like A Prayer." "Ray of Light." "Hung Up." "Open Your Heart." "Holiday." "Express Yourself." But "Secret"? "Sanctuary"? "Bedtime Story"? Unlikely.
And yet, Bedtime Stories is one of her greatest albums. It might, actually, be the best. Secretly.
The triumph of an album is being reissued on vinyl in a few days courtesy of Rhino Records, right in time for Madge's birthday (August 16) — and you can order it now, if you'd like.
It's not just that Bedtime Stories is one of Madonna's best-aging efforts, or that it's one of her most forward-thinking — it stands as one of her greatest moments of defiance, and (yet again) challenges the notion of what Madonna could do, and say, and be as a pop star.
Let's get unconscious, honey…
Knickers up, Madam. Cease and desist with your oaken thespianism. Curtail your wrist-strengthening publicatory activities. And while you're at it, knock off the self-absorbed psycho-navel analysis. –Q Magazine, 1994
The year was 1994, at a time when the media was thoroughly over it with Madonna.
With her aggressively sexual persona, which bore the gritty 1992 S&M masterpiece Erotica, her smut-filled Sex photo book and her infamously bleep-happy appearance on Letterman among other public indecencies, she'd effectively annoyed herself right out of critical favor.
But Madonna desired a different side of herself by that point, too.
And so, she removed the ball-gag from her mouth, took her nose out of that boy's ass, relieved Dita of her duties for the night and replaced the S&M-laced street sound of her most recent LP with something far more warm and tender…but she sure as fuck wasn't going to come back with an apology, either.
With the help of a team of producers, including Babyface, Dallas Austin, Nellee Hooper and Dave Hall, Madonna found solace in the silky-smooth melodies of early '90s R&B that dominated the charts at the time via legendary acts like Toni Braxton and TLC, as well as the emerging sound of trip-hop and electronica imported from Europe.
"You'll be very happy to know that there are absolutely no sexual references on this album," she amusingly pledged at the time leading up the release of Bedtime Stories.
"Not because I'm ashamed. Not because I've changed. Not because I have a different outlook on life. I've exhausted that…genre, so to speak. It's a whole new me."
"I'm being punished for being a single female, for having power and being rich and saying the things I say, being a sexual creature — actually, not being any different from anyone else, but just talking about it."- Madonna, The Face, 1994
Madonna is not, and she never will be, the victim. Happiness lies in her hand. It's all about survival, in matters of love, war and critics.
"Here's my story / No risk, no glory," she declares from the get-go, standing her ground on the album's unflinching opener, an instant immersion into her slinky, relaxed new sound — and more importantly, a reaction. "Survival" is one of the two songs specifically catered to the backlash. (Well, three, if "Don't Stop" is to be interpreted as ignorance-is-bliss dance floor escapism.)
"Whether it's Heaven or Hell, I'm going to be living to tell."
An entire album's worth of sharp-tongued retorts to unsavory headlines would have been overkill. Though, to be fair, she's included at least one major sass attack since — from "Nobody Knows Me" to "Like It Or Not" to "She's Not Me" to "I Don't Give A" to "Unapologetic Bitch." It's a quintessentially M thing to do, and will likely continue the longer she dares to exist as a woman over 40 years old in the pop music industry.
But perhaps the most defining of Madge's myriad musical clapbacks is Bedtime's other diss track, "Human Nature," a sarcastic smirk aimed at the pearl-clutchers, slut-shamers and misogynists, armed with a misleadingly seductive purr above a velvety-smooth, hip-hop laced beat.
"Did I say something wrong? Oops! I didn't know I couldn't talk about sex." THUD.
"Human Nature" is Madge at her most assured and self-affirming ("Express yourself / Don't repress yourself"), arriving years before every other pop star hopped aboard the self-empowerment bandwagon en masse. At the same time, it's an essential addition to the catalog of double standard-damning, patriarchy-bashing pop bops by women challenging the status quo. The line "I'm not your bitch / Don't hang your shit on me" alone is like a fucks-free '90s update to Lesley Gore's own fiercely feminist '60s anthem, "You Don't Own Me."
The leather-clad, S&M-inspired, Jean-Baptiste Mondino-directed video for "Human Nature" is, to use one of Madonna's favorite words, ironic — and also one of her very best.
As opposed to its grainy, unwelcoming predecessor, "Erotica," the video for "Human Nature" creates the perfect balance of snarl and silly…with a cameo from her chihuahua-natrix, Chiquita, no less. The fluid choreography is executed precisely even within the confines of tight boxes, the bondage imagery that so scandalized during the Erotica era is given a joyful spin (and slap!), and the message — "I'm not sorry" — reads loud and clear.
Absolutely no regrets.
"Rejection is the greatest aphrodisiac." – Madonna, "Forbidden Love"
But even a Queen has her limits.
With Erotica, Madonna preached many truths; one being that there's a certain satisfaction in a little bit of pain. Bedtime Stories succeeds for that same reason, but at the hands of something far more crippling than the crack of a whip or the pinch of a nipple clamp: rejection.
On the flip side of the record's most defiant moments, Bedtime Stories is deeply rooted in themes of loss and depression, filled with songs dedicated to unrequited romance, loneliness, mourning — perhaps even a brief flirtation with death.
Twenty years before The Weeknd was lamenting a life full of strip clubs and pills, Madonna was waxing poetic about the pole life on the worldweary "Love Tried to Welcome Me," one of the album's most lush deep cuts — and one of her most devastatingly beautiful ballads, period.
According to the singer herself, the pensive track was inspired by a stripper she'd seen at a topless bar. "I felt sorry for her and made up her interior dialogue," she revealed in a 1996 Q&A in her Icon fan club publication, Icon.
"I am usually drawn to sadness and loneliness has never been a stranger," she confesses. "Love tried to break me."
The message of the song is not quite on-brand with signature Madonna anthems. And while rallying cries like "Express Yourself" and "Human Nature" will always ring loudest in Madonna's repertoire, Bedtime Stories is evidence that her artistry cannot be boiled to down to a single, blindingly optimistic inspirational platitude.
She isn't always relying on other people to tell sad stories: "Inside Of Me," which deceptively opens with a sexy horn riff a la "Erotica" and samples Aaliyah's "Back & Forth," is a breathy, beautiful ode to someone from her past— either a former flame or, as is speculated, her own late mother, who died when Madonna was only 5 years old.
"I will always have you inside of me / Even though you're gone, love still carries on," she wistfully reminisces.
On the tripping, Lou Donaldson-sampling "I'd Rather Be Your Lover," Madonna attempts to seduce her way into her unrequited love's heart — seemingly to no avail: "All that I know is I just don't understand / Why my, mmm…happiness / Always lies in the palm of your hands."
Meshell Ndegeocello, one of the first signees to Madonna's Maverick Records, who since became a prolific musician in her own right, raps along the bridge ("Tell me whatcha want / Tell me whatcha need") in one of her first solo features. (Not that Madonna's early record of advocacy and inclusiveness requires any receipts, but there's something to be said of her decision to sign and feature a queer black woman on a mainstream pop record in 1994.)
Speaking of queer, the seductive Babyface co-crafted bedroom jam "Forbidden Love," although not overtly a gay anthem, lends itself to the idea of taboo romance.
"I know that you're no good for me / That's why I feel I must confess / What's wrong is why it feels so right / I want to feel your sweet caress," she insists, ringing true for any kind of closeted desire.
For whatever reason, Madge can't act on her lusty fantasy — and we're all the more dejected (and hornier) for it.
"Take A Bow," the album's orchestral curtain closer also crafted with Babyface (and a #1 hit!) appropriately brings the entire production to one lonely, but gorgeous halt.
"All the world is a stage, and everyone has their part / But how was I to know which way the story'd go?" she sings. It's ostensibly a break-up ballad coated in strings and sorrow, but deeper (and deeper), it can easily read as a reflection on her own career. (To that end, the line "you're one lonely star" feels like a dark flip on "Lucky Star.")
"Sanctuary," though, is the album's lyrical and spiritual rock bottom before making a wondrous escape from reality in "Bedtime Story."
Gliding across an alluring, exotic Dallas Austin-crafted beat that samples Herbie Hancock's "Watermelon Man," Madonna recites lines from Walt Whitman's "Vocalism" ("surely whoever speaks to me in the right voice / Him or her I shall follow") — and even a bit of the Bible's Genesis ("And the earth was void and empty / And darkness was upon the face of the earth").
She'd never been one to shy away from religious references in the past (see: "Like A Prayer"), and it's (still) one of the motifs that has carried in her career for over 30 years and counting. But it's interesting to see how religion is used in the rather gothic lyrics of "Sanctuary," a song which, frankly, feels like an entranced surrender to a cult leader.
"It's here in your arms, I want to be buried," she sighs. "Is all this pain so necessary?"
Lana Del Rey, is that you?
Hello, all you cyber-heads. Welcome to the '90s version of intimacy. You can hear me. You can even see me. But you can't touch me. You recognize my voice? It's Madonna — often imitated, but never duplicated. Or should I say often irritated? … By the way, don't believe any of those online imposters pretending to be me. Ain't nothing like the real thing. Peace out.
Bedtime Stories wasn't just about exploring new terrain in music — but cyberspace, too.
The album's release coincided with the emergence of the World Wide Web (heard of it?), at a time when only the very first digital pioneers braved the drone of ancient modems and navigated early websites. (Back in my day, we had to wait an hour to see a grainy dick pic…)
Before the Bedtime Stories campaign, Madonna uploaded a sound file preview of the album's lead single "Secret" with a spoken intro on the Internet, which has (mercifully) been retained through the years. The idea might be unimpressive now, but a digital tease in 1994 when, as Billboard reported, less than 15% of the world had Internet access? Purely revolutionary.
"Secret,"  the song itself, feels equally pioneering even by today's standards.
Backed by an acoustic guitar and a propulsive beat, the song is a stark contrast to anything she'd ever done before, and plays like an early indication of what was to come with the largely stripped-down American Life (and beyond), allowing Madge's bare voice to do the heavy lifting, as opposed to a bright flare of synthesized glee.
"It took me much too long to understand how it could be / Until you shared your secret with me."
As for the secret itself? We were never made privy, although its message of self-reliance ("happiness lies in your own hand…") is generally understood to be that "secret." (It's not far off from the ideas preached in The Secret, ironically enough.)
Years later, on Britney 's 2008 documentary For The Record, Madonna takes a moment to reflect on her choice to cast Britney in the backdrop for "Human Nature" on her Sticky & Sweet Tour. In thinking about Britney's "what the hell was I thinking?" response to her Blackout years, Madonna shares some sage observations that — at least to me — have always spoke to me as the true "secret" of "Secret." (That, or I just love Madge's many worldly wisdoms.)
"I think 'What was I thinking?' is the first question a person who starts to examine themselves ask themselves because, up until that point, life is a series of random events. Life is just what happens to you. Then one day, you wake up and go 'Actually, I have control over my destiny. Actually, things do happen for a reason. Actually, there is order in the universe.'"
The album's namesake, "Bedtime Story," is one of Madonna's most experimental moments on record. It's not exactly a shock, then, that Top 40 radio wasn't too keen on the track.
Björk? Trance? Unconsciousness? If Erotica was crafted to challenge society's comfort level with sexuality, Bedtime Stories stretched every expectation of Madonna's sonic boundaries.
The strangely seductive, space-age dance floor gem stands out like an alien from the otherwise largely R&B-rooted record. With the help of then-newfound curiosity Björk, who'd only just landed stateside with her Debut in 1993, Madonna eerily travels through warm electronic pulsations, gliding across fragments of lyrics that only the Icelandic goddess could divine. (Björk's demo, "Let's Get Unconscious," isn't available to hear, but her "Sweet Intuition" is her own reworked version of the track.)
"Let's get unconscious, honey," she seduces — a line masterfully stretched and stuttered by Orbital for a remix used years later in a Re-Invention World Tour interlude.
Little did Madge know that Björk was very likely subtly shading her with those "useless" words.
"Björk figured the opportunity to have her words coming from Madonna's lips was too good to pass up, and so she gamely penned the lyrics for 'Let's Get Unconscious' with Madonna specifically in mind. The resulting lyric ('Today is the last day / that I'm using words / they've gone out / lost their meaning / don't function anymore') were borne out of Björk's own criticism of Madonna's aesthetic. 'When I was offered to write a song for her, I couldn't really picture me doing a song that would suit her,' she said. 'But on second thought, I decided to do this to write the things I've always wanted to hear her say that she's never said.' – Bjork: Wow and Flutter, 2003
Björk evidently wasn't too blown away by Madonna's final product: she rejected a request to sing "Bedtime Story" together at the 1995 Brit Awards. "I was supposed to get her personal number and call her up, but it just didn't feel right…I'd love to meet her accidentally, really drunk in a bar. It's just all that formality that confuses me," she explained.
Even later, she even admitted that Madge got her lyrics wrong. "I can't remember right now, but it was a really interesting mistake. It was something like 'Let's say goodbye to logic and reason' and she got it wrong so that it actually meant the opposite….I was like, 'Okay…'"
That Björk even collaborated with a pop star at all, let alone Madonna, remains pretty astounding to this day.
And then, there's the video — considered to be one of the most expensive videos ever made, coming in with a $5 million price tag.
Of course, it's got Björk written all over it (literally) — but it goes deeper (and deeper) than even the Icelandic singer's own brand of oddity. Replete with references to female surrealist painters (Madonna named Leonora Carrington, Remedios Varo and Frida Kahlo as inspirations), scenes from the ahead-of-its-time visual also drew comparisons to Parajanov's Color of Pomegranates and Tarkovsky's Stalker. Later films like The Fifth Element, The Fall and The Cell all seem evoke the same kind of surrealist techno-futurism.
Beyond being the inspiration behind true art-pop (ahem) housed at the Museum of Modern Art, "Bedtime Story" is like a mystical tease of what would be Madonna's several year-long reawakening as an enlightened Kabbalah-tronica disciple on Ray Of Light…and beyond.
Until Bedtime, even her most devoted fans might not have known she was capable of whipping out an acoustic guitar, finding happiness in her own hand and laying it bare — her soul, that is.
Granted, Madonna isn't always aiming for intellectual discourse. (Hard Candy, anyone?) She has plenty of fun-for-the-sake-of-fun record. Make no mistake, Madonna will always make her own fun. But Bedtime Stories is an after-hours record — the post-"Deeper and Deeper" experience — loaded with the same kind of wandering thoughts and doubts that fill our own minds when we go to sleep: nostalgia, lust, rejection.
Yet outside of the album's many moments of vulnerability are shining moments of defiance, including some of her most effective musical middle fingers to date, cast in the direction of those who criticized her voice, her artistry, her integrity and everything else in between.
"Don't hang your shit on me," she warns us.
Bedtime Stories is by no means an emergency appeal to the masses, and is certainly not an apology. What it is, however, is proof that she's not just Dita. Nor is she just an '80s dance-pop diva. You'll find that, in Bedtime Stories, Madonna Ciccone is much more complex character than on any record before.
Bedtime Stories is out now on vinyl.
Where else to buy: Rough Trade | Walmart | Barnes & Noble