The ladies of Red Velvet are no strangers to a creepy concept. The morbid, near-death experience glee of "Russian Roulette," anyone? The Strangers/Us-esque eeriness of "Peek-A-Boo"? Simply put: the girls do dork-sided well.
Enter Irene and Seulgi, who've come together in subunit form – Suelrene, if you're nasty – for what is a Sapphic, gun-wielding, demonic celebration of being a devious Little Monster.
And no, it's got nothing to do with a return to those halcyon Fame Monster days – although who knows, actually? Maybe our Stefani Germanotta, occasionally known as Lady Gaga, truly inspired the tune with her own song of the same name a decade ago.
"I'll horribly steal your heart and dominate you," they warn on the ominous ode.
"I'm a little monster, be scared of me."
There's also something very "Electric Chapel" about all that neon lighting and stained glass. Hm. On second thought, it's actually quite possible that Seulgi and Irene are actually outing themselves as Gaga Daily Forum trolls, ready to pounce if you haven't ordered your Chromatica jockstrap yet.
Released after a curious last-minute delay on Tuesday morning (July 7), the music video for the creeping, dubstep-infused banger (the enduring legacy of "Hold It Against Me") showcases the girl group sub-unit feeling their sinister oats, supplying some very cool spider-like choreography, militant couture, sparkly rainbow attire and Victorian dresses, and ample near-make out sessions between the two beauties.
If anything, the girls are actually giving us shades of 2016's erotic thriller The Handmaiden – just, you know, minus that…memorable ending. It's all too coincidental that their outfits were also designed by the same company that provided costumes for The Handmaiden, apparently – quite literally "Gay Rights!"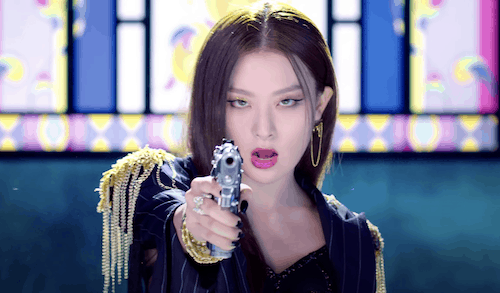 Ever the ahead-of-their-time girl group, Seulgi's saved stans the trouble of Photoshopping a weapon into their fave's hands and delivered the imagery right in the video itself.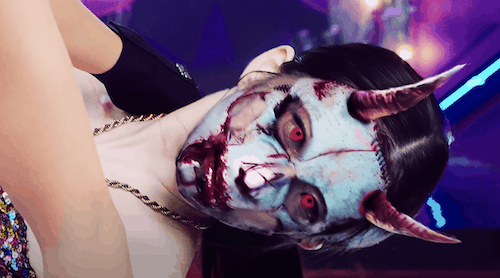 The most bizarre moment comes when Irene does a dip midway though the song, briefly transforming into…um, this. SM Entertainment clearly blew the rest of the budget and pushed back the music video's release just for this very impressive CGI. There's really no other choice but for Irene to star in a K-horror after this.
"Monster" also sticks out like a demonic thumb on the duo's otherwise smooth mini-album of the same name, including the slinky, jazzy "Diamond," the sexy, bass-heavy vibes of "Feel Good," the cutesy and playful "Jelly" and the hypnotic Seulgi solo, "Uncover." Digging deeper into the Monster mini provides the duo's best stuff. The title track's an attention-grabber for sure however, and ought to make for some thoroughly entertaining live performances in the near future. It's also nice to encounter a K-pop concept that isn't exactly for the kiddos.
In the meantime, take this as a friendly reminder to always be kind to your local Little Monsters: you never know if they're secretly two-fifths of one of the biggest South Korean girl groups-turned-murderous lovers.
This song is featured on the MuuTunes Spotify playlist. Subscribe!
You can also subscribe to MuuTunes on Apple Music.
Photo credit: SM Entertainment