The year is 2020, and our disco – the one that exists solely in our heads, for now anyway – needs Kylie Minogue now more than ever. And while stepping back in time is always fun to provide the finer feelings (speaking of which – happy 10th birthday, Aphrodite), it's time to run to the future and…jump.
Two years after her twangy foray into Dolly Parton territory with the Nashville-inspired Golden, Kylie's seemingly steering her glittery ship back towards more familiar dance-pop shores – which comes at a perfect time, as albums like Dua Lipa's Future Nostalgia, Lady Gaga's Chromatica and Jessie Ware's What's Your Pleasure? are turning the pop dial back to disco.
To keep up with the Mighty Aphrodite herself, any news about Kylie's recording sessions will be continuously updated right here, right now. And now without further ado, here's what we know so far about Kylie's fifteenth studio album – KM15, if you will.
December 22, 2019: While launching her Kylie's Secret Night special, Kylie says what's coming next year will be "shimmery" and "like grown-up disco."
"This year, with Glastonbury, with this TV show, it's marking this point in time, but what's great is what's happening next. I'm really jazzed about [the music] to come. I think it's going to be getting back on the dancefloor, like grown-up disco; that's where I want it to be. Shimmery," she told Alan Carr in a chat for The Guardian.
March 2: Kylie hits the studio with "Destination Calabria" Italian producer Alex Gaudino and "Horny '98" German producer Mousse T.
"My kinda Mondays… @kylieminogue @alexgaudino @sarmstudios #disco #newshizzle," Mousse wrote.

https://www.instagram.com/p/B9PFPpxIIJa/?utm_source=ig_embed

April 13: Kylie confirms recording is still happening remotely while celebrating the two-year anniversary of Golden.
"#LOVERS … 2 years ago today, Golden entered the charts at #1. It was such an exciting time for me and my team and connecting with so many of you around the world was truly wonderful. It seems a world away from where we are now but as I work (remotely) on new material, I send love and gratitude to you all. Stay safe everyone. 💖😘" she wrote on Instagram.

https://www.instagram.com/p/B-7tPwlgR-Y/?utm_source=ig_embed

May 19: BMG president Alistair Norbury explains how his acts are recording in the pandemic – including Kylie, who is teaching herself to engineer her own vocals at home.
"Kylie Minogue is learning to use [music software] Logic. She's got herself a home studio and decided that, if there's one thing she can do during this time, it's to learn to engineer and record her own vocals. So with some Zoom lessons and plenty of input from [BMG VP, A&R] Jamie Nelson, Kylie's learning to get herself to a place where she can be creative during this time," he told Music Week, via Official Charts.
The outlet also reports that Kylie's been working with French producer Mirwais, known for collaborating with Madonna on her most political output, including American Life and Madame X.
May 25: Kylie hits the at-home recording booth.
"Back to biz … 🎤💻🔌📝🎧!!!," she captioned a shot of her at-home microphone.

https://www.instagram.com/p/CAnyVjiglo5/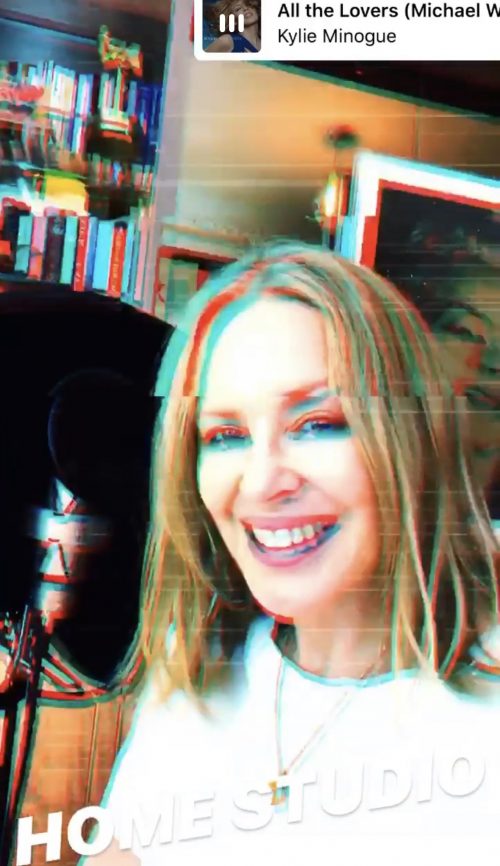 May 27: Kylie shares a screenshot from a Zoom session with Golden collaborator Sky Adams, who produced songs like "Dancing" and "Stop Me From Falling."
"Yup. Still going. Sessions. 💖🔌 There have been a dedicated few who have helped me navigate home studio writing and recording. Here's one of them! @skyadamsmusic," she captioned the photo.

https://www.instagram.com/p/CAsnN-bgnIO/

May 28: Kylie toasts the launch of her new wine collection with a GQ Magazine tease of what's to come from her new album – called Kylie.
Luckily for all of us, Minogue is working on a new album. Following 2018's Golden, which saw her mosey on down into the world of country-inflected pop, she would like to confirm that the new album – Kylie – is "grown-up disco. [It's] difficult even for me to explain," she said. "But even grown-ups need some pure pop fun."

It couldn't be better timed. This year has seen a neo-disco renaissance, from Doja Cat's sun-drenched 1970s roller disco anthem "Say So" to Jessie Ware's "Spotlight" or Sam Smith's reinterpretation of Donna Summer's "I Feel Love". "It's all cyclical, right?" agreed Minogue. "I loved disco as an eight-year-old, so it's been a long love affair. I'm loving the modern interpretations of the genre now." But it's not just disco that's having an upswing: artists such as Dua Lipa are taking the sounds of early 2000s female-led pop, itself fronted by Minogue, and touches of house and disco and finding new ways of playing with it. "There's a lot of early 2000s love around at the moment," said Minogue. "Both feel like good times for me, so I'm channelling that into this record."

Good juju is informing the album, but so are the much less pleasant circumstances of the moment. The age of self-isolation has played a role in how Kylie is shaping up, Minogue explained, whether that's in the lyrics or just in the hope that music will serve as an antidote. What better time to release a pop record? "The songs that are pure escapism have even stronger purpose," she said.
And yes, if you're doing the math correctly, that means Kylie Minogue's had an album called Kylie in 1988, Kylie Minogue in 1994, and now in 2020… (?): Kylie. After all, there is only one Kylie.
Kylie Minogue coming up with album titles: pic.twitter.com/euY1AMOLT9

— Bradley Stern (@MuuMuse) May 28, 2020
July 8: Richard "Biff" Stannard, the legendary pop songwriter responsible for Kylie's "Love at First Sight" and "The One" among many collaborations since Light Years, as well basically all the Spice Girls' hits, confirms his involvement.
"I've worked on every record since 2000, since Light Years," Biff said during The Zoe Ball Breakfast Show. When asked what he was working on next, he added: "Actually, Kylie…there's a new Kylie record. I can't say anything more."
July 13: Amid PopJustice forum rumblings of Kylie's impending comeback, the logo for the upcoming era was seemingly uploaded early on Kylie's web store before being removed, as captured by a handful of fans.
So apparently this is the new typo/logo of #Kylie15 it has been removed now from her store but I was lucky enough to take a ss a few hours ago. She's coming!!! pic.twitter.com/lXTAjPbXxC

— Ricardo ⚡️ (@ricardoanaya98) July 13, 2020
From her online store before being taken down earlier pic.twitter.com/2PCdzXyXCg

— Dan Orszewski (@dan2die4) July 13, 2020
July 20: Word is out! Kylie's coming with her lead single, "Say Something," on Thursday (July 23), according to The Sun.
"From what I've heard of it so far, the new record is set to be a disco classic. It's everything you want from a Kylie album. Fans are going to love it," a source told the outlet, which described it as "a huge disco floor-filler track."
"She has been working on her new music for a while now but everything has really come together in the last few months. 'Say Something' is upbeat and summery."
It's all happening…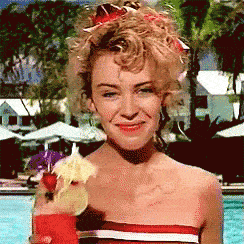 July 21: Amazon uploads the artwork and listings early for a standard, deluxe and limited color vinyl. And it's not called Kylie, after all – it's Disco.
The release date is set for November 6, and the deluxe edition contains 16 tracks according to the listing. And the album artwork looks like…this.
hi who how what is this real? Already obsessed with the dive bar disco aesthetic 🌟 pic.twitter.com/qxj5TaXbs2

— Rob Copsey (@RobCopsey) July 21, 2020
Kylie herself, at last, confirms that Disco and "Say Something" are coming – and she's given us a little taste of what's to come.

https://www.instagram.com/p/CC6WcVkAifg/

Shazam's revealed the "Say Something" cover – and it's got some signature Kylie red lips. Kiss me once again…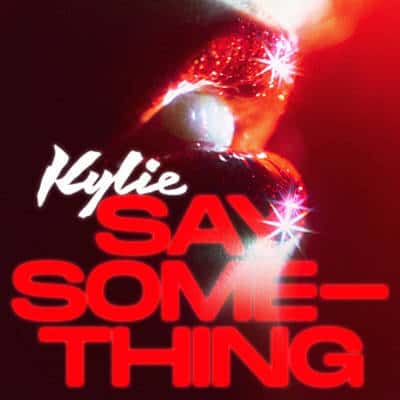 Stay tuned, and leave all your Kylie album hopes and dreams in the comments below…