A new Adele album? That'd be nice, right?
Know what else would be nice? The ability to socialize freely without the constant, underlying fear of falling critically ill. But we don't get everything we want – especially not during this, the most unholy year of 2020 – and unfortunately, the same applies to the promise of a fourth studio record from the "Rolling in the Deep" powerhouse vocalist, which…we'll just go ahead and (tentatively) refer to as 32 at the moment.
On Saturday (August 15), Adele shared a book recommendation that will "shake your brain and make your soul scream," called Untamed: Stop Pleasing, Start Living by Glennon Doyle. I've not yet read it myself, but if Adele says she just "flew into my body for the very first time" after reading it, I'm ready to book a flight myself.
Naturally, the comments underneath the recommendation were flooded with the usual "drop the ablum bitcht" fare – and Adele actually answered one.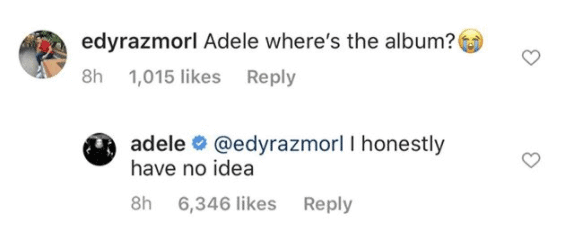 "I honestly have no idea." It's the mood of the moment. Who has any idea about anything anymore, anyway?
Adele's last studio album, 25, dropped in 2015, and her last single to date was 2016's "Water Under the Bridge." There were some stan rumblings that new music might arrive in September, but that rumor was swiftly denied earlier in the year.
Much as with everything else this year, Adele's keeping her plans on ice. The waiting and seeing continues – but one day, she'll be back. We'll just be a little less young then.
25 is available on vinyl.
Photo credit: @Adele