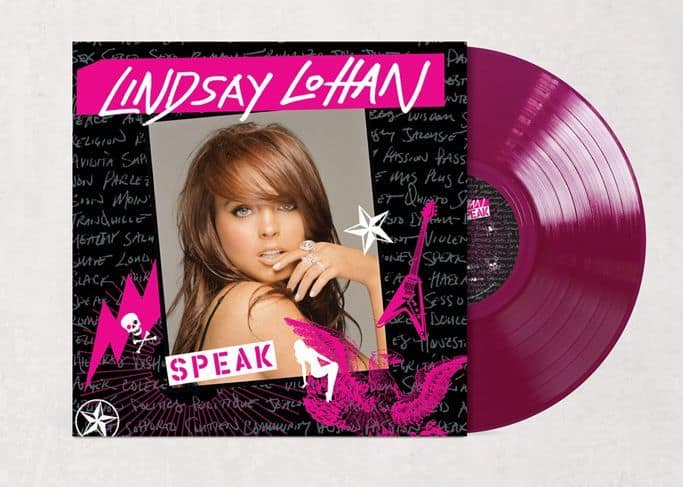 The rumors that keep starting are rarely worth being followed, but in this case, it's all true: Lindsay Dee Lohan's debut 2004 studio album, Speak, is finally seeing light of day in vinyl form…for the very first moment in time.
The Speak Limited LP is out today (August 7) at Urban Outfitters…in transparent violet, no less.
"Originally released in 2004, Lindsay Lohan's debut studio album, Speak is available for the first time on vinyl. Exclusively at Urban Outfitters on 2000 limited units of transparent violet vinyl, this record features the hit single 'Rumors' plus favorites like 'Nobody 'Til You,' 'Over" and 'Symptoms Of You.'"
The vinyl track listing is curiously different than the original CD format – it doesn't even kick off with "First," first of all – but the classics are all there nonetheless, including "Magnet."
Over a decade later, we can finally hear "To Know Your Name" blaring from turntable speakers with a vintage crackle, just as God originally intended.
You can grab the Speak vinyl like it's the very last record in time at Urban Outfitters. There are only 2000 units available, so it sounds like they'll honestly tell us that it's over sooner rather than later.
And if you haven't listened to Legends Only yet, we just did a deep dive into the record that you can listen to while you wait for the postman to bring you a (12″-sized) letter (REFERENCE).
Photo credit: Casablanca / Universal
Disclosure: Products featured on this website use affiliate links, and may earn me a commission for purchases made through the links.
[uncode_index el_id="index-133257″ loop="size:3|order_by:date|post_type:post|tags:277″ gutter_size="3″ screen_lg="1000″ screen_md="600″ screen_sm="480″ single_overlay_opacity="50″ single_padding="2″]