After dropping BAD Mode at the top of the year, performing at Coachella, teaming up with Cartier and, most recently, singing "Somewhere Near Marseilles" to sharks while clubbing in an aquarium – a scene plucked straight from my personal fan-fiction – Hikaru Utada has even more for us to get excited about this fall.
As previously announced, there's a Yuri Kanchiku-directed Netflix series coming, called First Love, inspired by none other than Hikaru's massively popular, instant ugly cry-inducing 1999 single from their record-shattering Japanese debut studio album, as well as 2018's "Hatsukoi."
Two years later, it's finally ready…and it's premiering on November 24.
As of Friday (September 23), there's now an official page for the series on Netflix, as well as the first teaser poster, and an official description.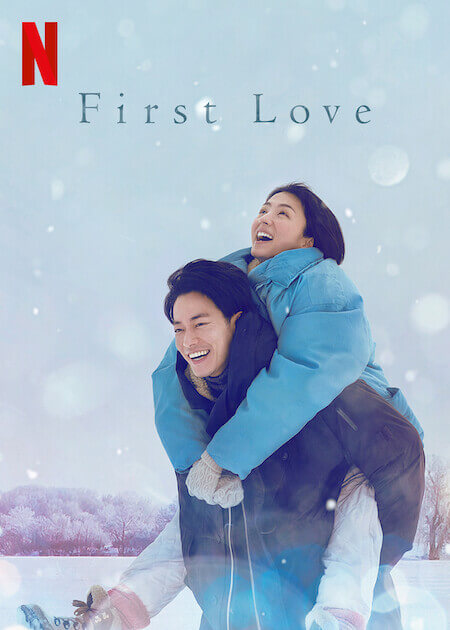 Per Netflix: "A cross-generational love story inspired by "First Love" (1999) and "Hatsukoi" (2018), two seminal songs by Hikaru Utada. Two teenagers fall in love for the first time in the late 90s; two decades later, one is about to get engaged, while the other is divorced with a teenage son who's falling in love for the first time."
The show is categorized on Netflix as "swoonworthy," "heartfelt" and "feel-good." Also: TV-MA rating. Hello! Let's celebrate that!
The cast includes Takeru Satoh, star of the Rurouni Kenshin film series, and Hikari Mitsushima, the idol singer-turned-actress who starred in 2006's Death Note adaptation, and more recently performed and danced in Mondo Grosso's "Labyrinth," a 2017 highlight!), as well as lending her captivating voice to this year's "In This World."
The first teaser from the show will be unveiled at TUDUM Japan, Netflix's global fan event on September 25.
But the news doesn't stop with the show.
That's right: on December 9, the 24th anniversary of Hikki's debut, Hikaru Utada will release Dolby Atmos versions of the two songs: "First Love (2022 Mix)," as well as "Hatsukoi (2022 Remastering)," plus a limited edition 7-inch vinyl "First Love / Hatsukoi" containing the two tracks, as well as a cappella versions.
The track was mixed by engineer Steve Fitzmaurice, who's worked with Hikaru since Fantôme.
"The meticulously designed three-dimensional acoustics bring a new and fascinating experience. The analog version of 'First Love (2022 Mix)' is newly mixed by the same engineer and 'First Love (2022 Remastering)' is done specially for this," the official website declares.
And yes, the "First Love" / "Hatsukoi" 7″ vinyl is available to pre-order right now. (There's an External Bonus item for the limited press, intriguingly listed as "a coaster.")
This is all very thrilling, and potentially massive: we've all seen how international TV shows on Netflix have become global events in the past few years. The idea of Hikaru Utada's classics taking on new life and reaching new ears is incredibly exciting. Plus, crisp new versions of "First Love" and "Hatsukoi" – and a collectible item to boot, just in time for Christmas. The Hikki Hive is nothing if not thoroughly being fed in 2022.
We will be streaming…the show and the music. Watch party with Kuma-chan?