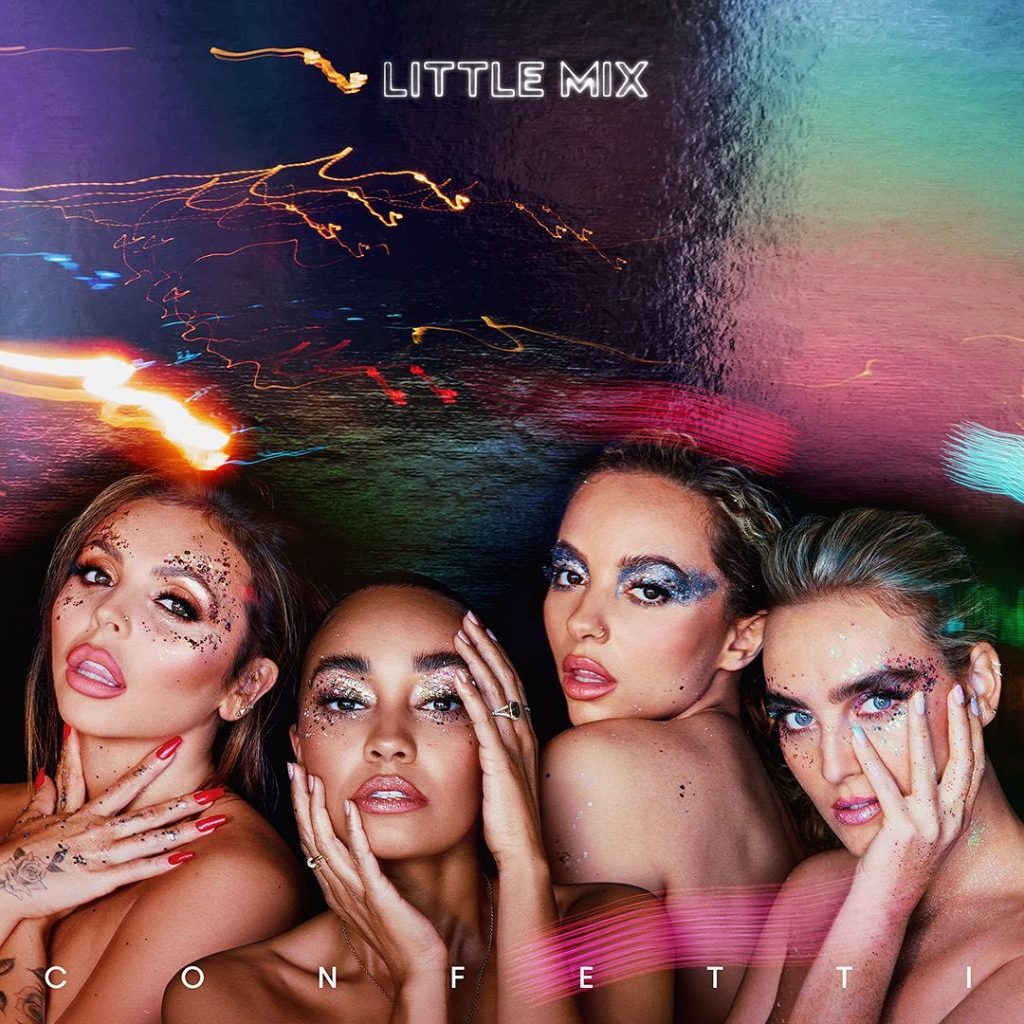 Little Mix might have had their plans a bit messed up in 2020 (to be fair, who among us has not?), but they're officially back in business, ready to make their next…move (REFERENCE).
The girls – known individually as Jade "RIP Geri" Thirlwall, Perrie Edwards, Leigh-Anne Pinnock and Jesy "Balegdeh" Nelson – made the exciting announcement on Wednesday (September 16) of their forthcoming sixth studio album, called Confetti. (A Hilary Duff cover? We can only hope.)
"We are soooo happy to share this news with you guys, our new album will be all yours 6th November 2020 and you can pre-order from this Friday. So much love, emotion and energy has gone into the making of this record and now the news is out we can finally get excited about it with you!!" they announced on Instagram.
The reaction to the news was, unsurprisingly, an explosion of glee and glitter on social media. The reaction to the equally glittery styling and design of the album artwork? Well…mixed, one might say.
Leave it to Jade to nail it perfectly with her own reaction to the cover on her Instagram.
Little Mix Jade is very good at the Internet. pic.twitter.com/qUGT7xf83P

— Bradley Stern (@MuuMuse) September 16, 2020
We don't know a ton about Confetti, aside from the fact that Leigh-Anne said it was their "biggest" album yet. The era's already kicked off nicely with their catchy "Break Up Song," followed by "Holiday."
There's also their upcoming competition series Little Mix: The Search, which is due to launch later this month. The group's going to be putting together a new band, which will eventually join them on tour…whenever live entertainment happens again. The idea that we could be on the brink of the birth of a baby Girls Aloud or Little Mix, of course, is also very exciting, even if we're not entirely sure how it's all going to go down amid the wavering levels of lockdown.
The album news also comes just after Little Mix made an appearance at BBC's Radio 1's Live Lounge, where they sang their current single "Holiday," as well as a gorgeous cover of Harry Styles' "Falling."
Things didn't exactly go according to plan, however, as our beloved Jesy suffered a panic attack mid-appearance, which caused a lot of fan distress, as it unfortunately happened on-camera just prior to their performance of "Falling." But like the professionals they are, they quickly made it work.
"So my nerves got the better of me today and I had panic attack right before we were about to sing this for live lounge today and like a pro @perrieedwards jumped in for my part last minute and smashed it 😇 this is what we originally did in rehearsals ❤️," Jesy explained on her Instagram, along with some rehearsal footage.
As an anxiety-riddled boy myself, who isn't even part of one of the world's biggest girl groups (yet), I certainly get it, so I'm sending lots of love and a big hug to Jesy. I hope she's feeling much better now – all the love and excitement around the new era should hopefully be helping, too.
Life is certainly testing all of us more than ever, but Little Mix are keeping it going, anyway. And for an act that has managed to defy the odds, considering the tumultuous trajectory of so many girl groups before them, they've done an incredible job of rolling with the punches and still managing to come out on top.
Confetti will be released on November 6.