Mariah Carey has some serious nerve.
As if all of the #MC30, The Meaning of Mariah Carey and The Rarities moments thus far weren't enough to Save The Day and cause for panic to last the remainder of the year, the Queen of Festivity is just continuing to find new ways to keep the Lambily fed – and absolutely penniless.
On Wednesday (September 9), Mimi revealed the highly anticipated tracklisting for her upcoming The Rarities, sending fans spiraling in all directions.
As promised, the collection goes the distance (REFERENCE) from 1990 to 2020, featuring much-adored fan favorites like "Slipping Away," the "Always Be My Baby" B-side meant for Daydream until the label felt "it was too R&B," mystery tracks like "All I Live For" from 1993's Music Box and "Out Here On My Own" from around the Rainbow sessions, songs only performed live like her cover of jazz standard "Lullaby Of Birdland," and "Loverboy (Firecracker – Original Version)," the original version of the Glitter anthem that originally sampled Yellow Magic Orchestra's "Firecracker" before Jennifer Lopez quickly snatched the sample early for the remix of "I'm Real." (Thus, one of the many reasons for "I don't know her," but we're not engaging in Stan Wars on this sweet day.)
The set ends with a new acoustic recording of Butterfly's "Close My Eyes," a song she's previously called her "life story," which she also performed live for Good Morning America in August. Blessings on blessings, truly!
And as previously revealed, the second disc is the "never-before-released full length audio from Live at the Tokyo Dome, Mariah's first concert performance in Japan in support of her 1996 Daydream World Tour."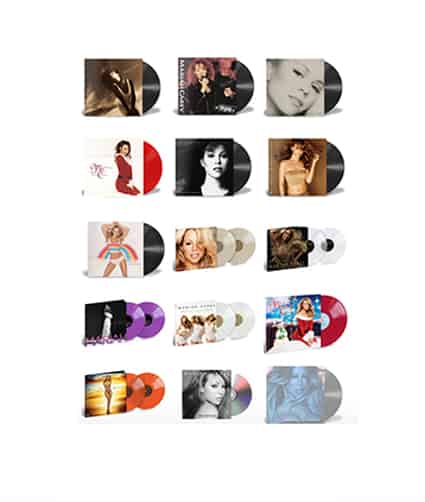 Along with the track reveal, Mariah also opened to floodgates on her official store – where every single one of albums was just made available on vinyl – some with exclusive limited edition colorful flairs – plus a handful of limited edition bundles. It's a vinyl/physical lover's wet dream, and the mere idea of owning the entire Mariah collection in gorgeous vinyl form is enough to bust open the piggy bank and fork over what few dollars still remain.
Check out the full collection on Mariah's official store, or on Amazon.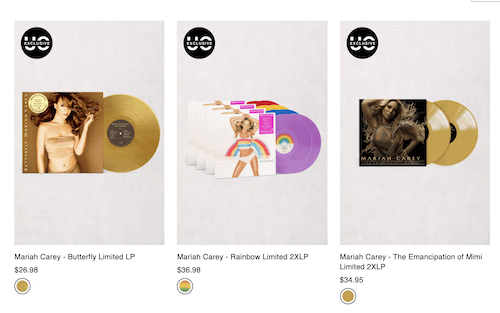 There are Urban Outfitters exclusive editions as well, including a limited Rainbow in a random rainbow hue, a limited gold Butterfly, and a limited The Emancipation of Mimi 2XLP in gold.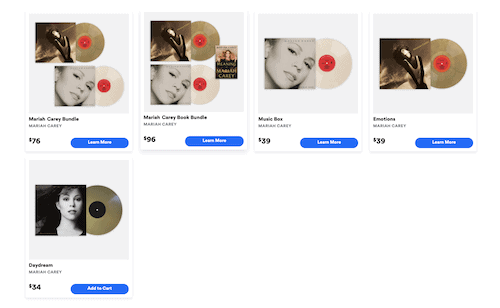 …And there are even more special variants available on Vinyl Me Please.
Good luck saving up for that home you speak of! Make sure to listen to "Slipping Away" while your coins do the same.