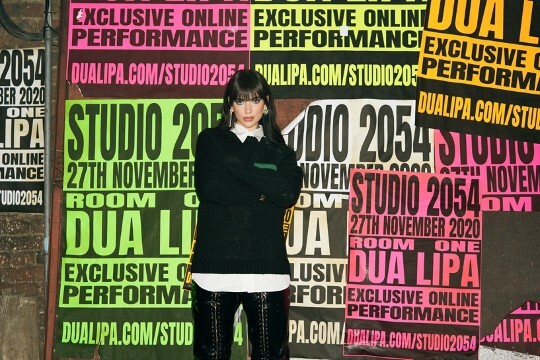 Dua Lipa is ready to take it back to the clubs, even if…well, you already know.
After unexpectedly kicking off the lockdown (the first time around, anyway) with her dance floor escape Future Nostalgia in March, which is still one of the year's best albums, Dua's continued to dua it well in spite of everything.
And so, it only makes sense that the superstar would put a bow on top of an otherwise sensational year-long campaign with a massive spectacle – even if we can't be in the same room quite yet.
Studio 2054 promises a night of "music, mayhem, performance, theatre, dance and much more" to be streamed on LIVENow, as part of the American Express UNSTAGED series.
The experience will feature songs from Future Nostalgia, Club Future Nostalgia and her debut album, and will be shot live in a massive warehouse location, including "custom built sets; surreal tv shows, roller discos, ecstatic raves, trashy rocker hang outs, voguing ballrooms and diva style dressing rooms."
"Accompanied by a cast of musicians, dancers, skaters, aerialists and acrobats, Dua will be joined by a host of surprise superstar guests to deliver a euphoric blast of happiness and good times," the announcement also declares.
It sounds major – but don't take my word for it!
To make the announcement herself, Dua hopped on IG Live on Wednesday (October 28), and was joined by none other than the legendary Elton John, who – despite a brief technical snag (basically, the live stream said "Don't Start Now") spoke to the experience of the original Studio 54 – and provided tons of praise to our Miss Peep, who also called her record one of the year's best.
"The thing about Future Nostalgia was, it caught the zeitgeist of what people wanted…you were the first out there," Elton said, citing some other incredible disco records that came next, including Lady Gaga, Jessie Ware and Roisin Murphy.
"It's so refreshing to hear someone make a great dance album," he added. Hard agree!
He also talked about the "mind-blower" that was the original Studio 54, and didn't hold back on the specific details, from giving Rod Stewart poppers to dance all night, to picking up barbacks in the after-hours (who among us has not?), to doing lines of coke while Liza Minelli proposed as he sprinted away. Dua even cutely offered up some trivia of her own about Chic's "Le Freak" originally having the lyrics "Fuck off!" after they weren't allowed into Studio 54, despite being invited in by Grace Jones. Basically, it was one delightful, future nostalgic disco gossip session.
Studio 2054 will be streamed via LIVENow on Friday, November 27, and these are the stream times:
Stream #1 – UK & Europe // 20.30pm London / 21.30pm Paris / 22.30 pm Moscow
Stream #2 – South America // 19.00pm Lima/ 20.00pm Manaus / 21.00pm Rio & Buenos Aires
Stream #3 – Central & North America // 18.00pm LA / 20.00pm MX / 21.00pm New York
Stream #4 – Asia Pacific // 16.00pm Bangkok & Jakarta / 17.00pm Manila / 18.00pm Seoul / 20.00pm Sydney / 22.00pm Auckland
Standard tickets are priced at £8.99 beginning on Friday (October 30), and there will be bundle tickets priced from £15.00, featuring access to exclusive pre-show behind-the-scenes footage and an After Show Party with Dua and guest DJs. For more info, head to dualipa.com/studio2054.
Between this and Kylie's Infinite Disco, we will be getting our disco experience on this year, pandemic be damned.
And if you missed it, check out Dua's chat with Elton John…
The limited Future Nostalgia LP is out now.
This album is featured on the MuuTunes Spotify playlist. Subscribe!
You can also subscribe to MuuTunes on Apple Music.