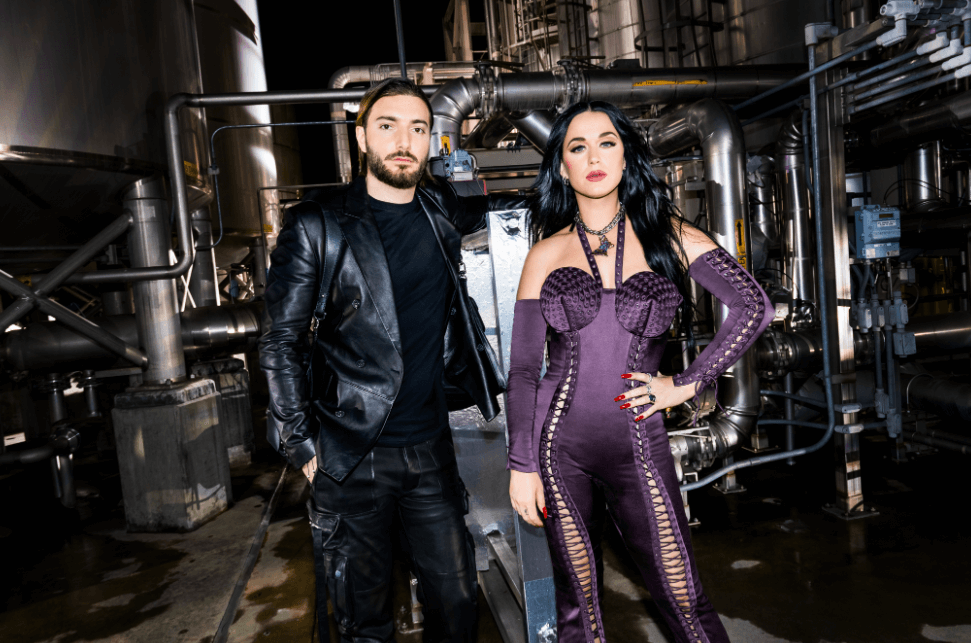 "When I'm gone, I'm never really gone / You think you're movin' on / But it won't be for long, you'll see…"
Katy Perry is back. Sort of.
Actually, she's staying put in one place: Las Vegas, to be exact.
The Teenage Dream pop titan is bringing her whipped cream and firework-filled bras to Sin City as part of her brand new residency PLAY, which kicks off tonight (December 29) at Resorts World Las Vegas.
Here's the set list. And before you ask, yes: shoulda-been-a-single "Walking on Air" is there. No, shoulda-been-a-single "Roulette" is not, despite the fact that she's…performing at a casino…I…anyway.
To mark the occasion, Katheryn Elizabeth's teamed up with superstar Swedish DJ Alesso for the first time – and gone back to dark hair, the real panic! – for a new collaboration called "When I'm Gone." (Or WIG, for short.)
First things first, yes: the track clocks in at a tight 2:41 minutes.
Do I think everyone involved should go to jail for that? I do. Should every pop star be charged with a federal offense for releasing songs under three minutes long? Absolutely, yes, they should.
But hey, whatever: Katy's here for a good time, not a long time. Well, actually, she's vowed to be here….forever.
The cocky, if slightly ominous, highly replay-friendly dance-pop bop is full of catchy Scandipop-crafted melodies and pulsating beats, and it's all about how Katy's presence lingers forever (she's singing about the smell of Katy Perry Purr Eau De Parfum, I can only assume), and how you're never gonna do better ("Look for me in strangers / All these pretty faces / No one can replace it / I'm always your favorite"), and how it's…never…really…over (REFERENCE).
It's also got a really good post-chorus moment ("Me on top of you / Touch you like I do / No, you'll never forget…") – maybe the best bit of all.
A small army also co-wrote the song, which will be featured in a medley with "Walking on Air" during her residency (!), including the legendary Rami Yacoub, Norwegian penner Alida Garpestad Peck (who wrote Kylie's "Real Groove"!), Nathan Cunningham and Marc Sibley from London DJ duo Space Primates and Alma Goodman, who co-wrote Alesso's mega-smash "Remedy."
"It started for me working with two other incredible songwriters, and Katy heard of it and she loved it, I guess. We met up in LA and then just vibed out to the song and started talking about it, doing some changes and making it more suitable for her and making it her song. Then a year later, here we are," Alesso explained to Apple Music.
"Alesso actually brought me the framework of this song about a year, maybe a year and a half ago. I was like, 'Well, I'm not ready…I'm not ready to go into a new album cycle, where I'm just going bam, bam, bam," Katy added.
"But preparing for Vegas, which is a huge undertaking…I mean that this show is larger than life literally. I have a 20 foot toilet. Don't ask, but it's so big and so wild that we wanted to inject some new blood into it. I have the perfect timing to put out a dance song that is through and through just so much fun and up, up, up. Then also with the music video that's coming, I'm just going for it. I've been in the dance studio for weeks. Mama can't just be pushing the pram. She's got to push the bam."
The bam-pushing visual is coming in January (Monday, January 10), and it'll premiere live during halftime of the 2022 College Football Playoff National Championship. Straight rights!
Katy also suggested during the interview that if the public approves, she might push it even further onto the dance floor.
"I think that if people like the dance stuff, I'd be willing to serve up more of that, but I also really want to go into an evolved space musically and start a new era. That's going to be starkly different, but I think duality is important," she said. Basically, F–Vegas, make some noise! Here's hoping.
"When I'm Gone" gets gone just a bit too soon, but when it's going, this WIG is real good.
Wait, did you just say WIG? I know, WIG. I feel that already…