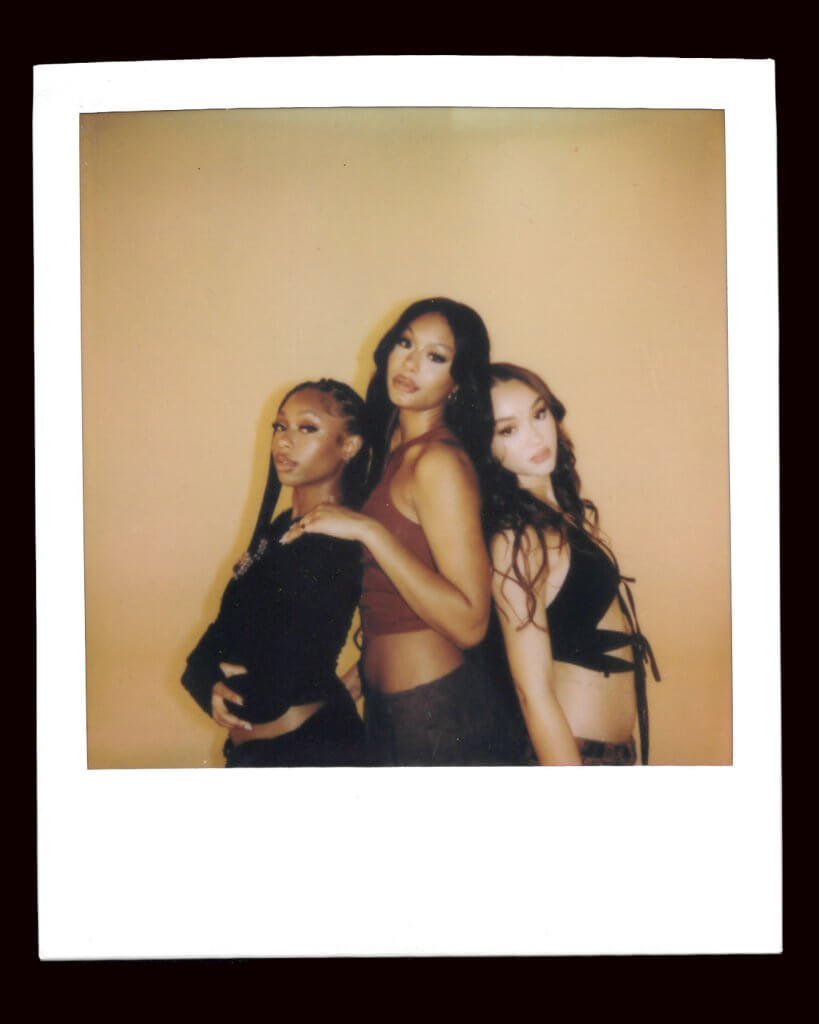 Girl groups are nearly on the verge of extinction…in the Western hemisphere, anyway.
While there's certainly no shortage of talented troupes hailing from South Korea and Japan entertaining Asia and beyond with sold-out tours and non-stop hits – the Girls (are) On Top, in fact – the same sadly cannot be said about this side of the globe.
With Little Mix on the way out with their goodbye (for now…?) tour, the Sugababes seemingly stalled once more, the Destiny's Child reunion rumblings gone quiet again, and a Pussycat Dolls reunion ripped to shreds between the dueling claws of Scherzy and Robin Antin in court, the flame atop the girl group torch is in serious danger of being snuffed out entirely. (And it doesn't look like Mini Viva, Girls Can't Catch or Neon Jungle are reforming anytime soon, either.)
Fear not, however: there is still some hope on the horizon, in the form of FLO.
The three-piece British girl group – made up of Renée, Stella and Jorja – arrived via Island Records at the top of April with their debut, "Cardboard Box," an instantly nostalgic bop pulling from late '90s-early '00s R&B-pop, reminiscent of everything from DC3, 702, TLC to the Sugababes.
"Mary J Blige, Aaliyah, Brandy, Whitney Houston, Faith Evans, Mariah Carey, Mýa – do you want us to go on?" the group adds of their myriad musical influences.
As opposed to becoming instant co-workers through a casting call or reality TV competition, FLO came together organically over the years.
Stella moved from Mozambique to the UK at the age of 5, and met Renée at school in London, bonding over their love for singing. They were aware of Jorja, who was born in Germany and grew up in Hertfordshire, through social media. She had won CBBC's talent show Got What It Takes in 2017 – and you've got to watch her performance of Adele's "All I Ask."
As the story goes, the trio first met by bumping into each other at an audition.
"I saw the girls and we screamed across the room. I knew from that moment we were about to start something big," Jorja says. They've worked together for the past two years ever since.
But back to the "Box": the song was written and produced alongside MNEK, who is not only a tried-and-true pop savant and early '00s scholar in his own right, but also an instrumental figure in the continued success of Little Mix, with whom he constantly collaborated with over the years from "Wings" onward. (In MNEK We Trust 'round these parts.)
Speaking of DC3, the track feels like a nod to Beyoncé's own breakup box anthem "Irreplaceable": "I'mma put your shit in a cardboard box, changing my number and I'm changing the locks," they declare.
"'Cardboard Box' is one of the first songs we wrote as a group and during the process we opened up about relationship struggles and experiences of moving on from an ex. It was a special bonding moment and feels fitting that it's our debut single! We are over the moon about our first child entering the world and we want people to feel refreshed and empowered – like it's okay to close a bad chapter of your life!" they told The Line of Best Fit.
The accompanying LOOSE-directed music video is also a loving homage to the era from which it sonically borrows, including some catchy choreo, Y2K-style crop tops and flip phones aplenty.
And unlike the small share of burgeoning girl groups who have attempted to launch in recent months and years, there's some actual energy behind their debut single already: one tweet alone featuring a clip of the video floated around with over 2 million views and over 100,000 likes, plus some very influential co-signs, including JoJo. The track's got half a million plays on Spotify alone, and the video's got a quarter million views.
Not bad for brand new – especially in this girl group-unfriendly climate.
They've also been having some moments on TikTok, building up for the past year with behind-the-scenes clips about their lives while showcasing their heavenly harmonizing skills, recalling those vintage home videos of the pre-debut Spice Girls bonding, singing and writing in songwriting sessions.
They've also been working with a bunch of talent on new music, including LOXE KABBA, Aston Rudi, Jamal Woon, Hannah Yadi and Lauren Faith.
Though we've only got one song and a handful of a cappella moments to judge from thus far, FLO feels both instantly familiar and fresh – and the increasingly large wave of support around them feels really promising, too.
Here's hoping this is just the beginning of good things to come for FLO – and for girl groups in general – and that a full-on girl group takeover of pop culture is upon us once more.